Description
DATE CHANGED: SNOW RESCHEDULED THE DATE
IS NOW HAPPENING ON JAN 20, 2018
Event name: Better Business Seminar
Subtitle: Make Your Next Year The Best Year!

Date: January 20, 2018 10AM-5pm

Location: Hilton Garden Inn 100 E Constance Rd Suffolk, Va

Hosted by: Dr Dwight Shawrod Riddick, II and the CMI Leadership Coaching LLC Team

Who is this for?: Entrepreneurs, Life Coaches, Business Owners, Ministry Leaders, Non-profit Organization Directors/Workers, Individuals desiring to Plan 2018 for success, Anyone looking for motivated to succeed like minded persons to network and partner with in both business and life.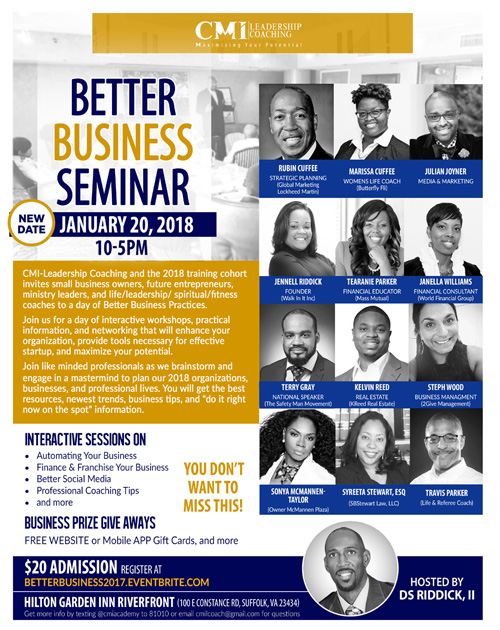 Get this $149 VALUE for A Pre-Registration of ONLY $20
CMI-Leadership Coaching and the 2018 training cohort invites small business owners, future entrepreneurs, ministry leaders, and life/leadership/spiritual/fitness coaches to a day of Better Business Practices. Join us for a day of interactive workshops, practical information, and networking that will enhance your organization, provide tools necessary for effective startup, and maximize your potential.Come All Day, or just drop in for a FEW HOURS. Either way, this day will change your life. WHAT A DIFFERENCE DAY CAN MAKE!Join like-minded professionals as we brainstorm and engage in a mastermind to plan our 2018 organizations, businesses, and professional lives. You will get the best resources, newest trends, business tips, and "do it right now on the spot" information. Interactive Sessions On:

Automating Your Business

Finance & Franchise Your Business

Better Social Media

Professional Coaching Tips

and more
Business Prize Give Aways (FREE WEBSITE or Mobile APP, Gift Cards, and more)
Guest Speakers (please add these names with thier pics please)
Tearanie Parker - Financial Educator (Mass Mutual)

Janella Williams - Financial Consultant (World Financial Group)

Terry Gray - National Speaker (The Safety Man Movement)

Kelvin Reed - Real Estate (KReed Real Estate)

Steph Wood - Business Managment (2Give Management)

Travis Parker (Referee Coach and Upward Bound Director)

Sonya McMannen (Owner of McMannen Plaza)

Marissa Cuffee (Lead Coach for Butterfli Fly Coaching)

Julian Joyner (Media & Marketing Guru

Jennell Riddick (CEO Walk In It Inc and non-profit management)

DS Riddick, II - Leadership (CMI-Leadership Coaching)

and many more.