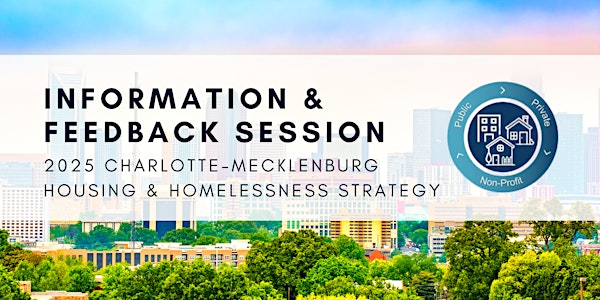 CMHHS Information & Feedback Community Session
We invite you to learn more about the Charlotte-Mecklenburg Housing & Homelessness Strategy and what this can mean for the community.
About this event
Since the launch of the Charlotte-Mecklenburg Housing & Homelessness Strategy (CMHHS) in April 2021, over 250 individuals and 115 organizations have signed up to participate in the planning and development work. Nine workstreams have been working since May 2021 to identify and prioritize draft recommendations informed by research and best practices. Five additional workstreams have focused on "how" the work will be accomplished: Unified Policy Advocacy; Coordinated Funding Alignment; Innovative Data Analytics; Effective Communications; and Ongoing Strategy Support. In addition, over 100 community members have participated in focus groups to provide feedback on the draft initiatives.
The CMHHS Information & Feedback Session will provide:
1) Information about CMHHS, including milestones and next steps
2) Overview of draft initiatives to be included in strategic plan
2) Opportunity to provide feedback on these areas and CMHHS
Attending the Session:
This event is virtual. You will receive the zoom link via email prior to the event.
Anyone can attend the session. Please share the link to register with others!
About CMHHS:
The 2025 Charlotte Mecklenburg Housing & Homelessness Strategy is the first comprehensive effort to address housing instability and homelessness in our community involving the public, private and non-profit sectors.
Led by Cathy Bessant, chief operations and technology officer of Bank of America and Eugene A. Woods, president and chief executive officer of Atrium Health, this effort is supported by leaders from Mecklenburg County, City of Charlotte, Charlotte-Mecklenburg Continuum of Care and Charlotte Center City Partners. McKinsey & Company is providing a fact-based analysis on a pro bono basis.
Charlotte-Mecklenburg has, over time, made significant investments in prevention, emergency shelter and permanent housing. In addition, Charlotte Mecklenburg ramped up response to the COVID-19 pandemic to ensure that every person as a safe place to isolate or quarantine. Yet, housing instability and homelessness continues to grow.
On a single night in Charlotte-Mecklenburg, there are at least 3,000 individuals experiencing literal homelessness, including in sheltered or unsheltered locations. The number of households experiencing housing instability has also risen. And because of the financial ramifications of the pandemic, as of January 2021 there was almost $70 billion owed by U.S. renters in combined back rent, utilities, and late fees.
A comprehensive, systemic approach to address the full continuum of need requires the public, non-profit and private sectors at the table. This new effort marks the first time in Charlotte-Mecklenburg's history that the public and private sector have come together to address the full housing continuum, from homelessness, to affordable housing and upstream to struggling households who have not yet lost their homes.
By October 2021, the 2025 Charlotte-Mecklenburg Housing & Homelessness Strategy will produce a comprehensive plan which aligns strategic objectives; employs a common lexicon; describes clear metrics; and develops a multi-year approach to prioritized actions. These actions must include a focus on funding alignment, policy, data, and the implementation structure. This effort will prioritize transparency and inclusivity.
To learn more, visit: www.charmeckhousingstrategy.com