Sales Have Ended
Registrations are closed
Thank you for registering! We look forward to seeing you in April 2021 online! Questions? Please contact Cecily Hendricks, Conference Coordinator at Info@CMHACY.org or call (831) 200-3679.
The CMHACY conference is the most recognized and longest-standing conference for children's mental health in the state of California.
About this event

VIRTUAL CONFERENCE
WEDNESDAY, APRIL 28 & THURSDAY, APRIL 29, 2021
ABOUT THIS YEAR'S CONFERENCE:
Due to the continued need for caution stemming from the COVID-19 pandemic, CMHACY's conference is going virtual again in April 2021. We will be continuing the conversation of our 2020 conference theme, Voices for Equity Inclusion & Access which addressed systemic racism head on at a moment when America was again forced to confront the institutional racism of its present services, and seeing with a clearer focus how that has challenged us for real change.
We will come together again in the midst of this nationwide reckoning on race, to address how the lack of racial equity and justice in our social services and healthcare systems has dramatically harmed communities of color. The CMHACY conference will present engaging workshops, panels, and powerful keynote speakers from across the state that will highlight meaningful avenues of change. This conference will empower attendees to learn about – and methods to create and maintain racial and social justice within our systems of care. , We encourage all potential sponsors and supporters to join us in creating a unified voice to demand social and health justice for all.
YOU ARE INVITED TO JOIN US AT OUR "VIRTUAL" ASILOMAR VENUE ON OUR DIGITAL EVENT PLATFORM, VFAIRS!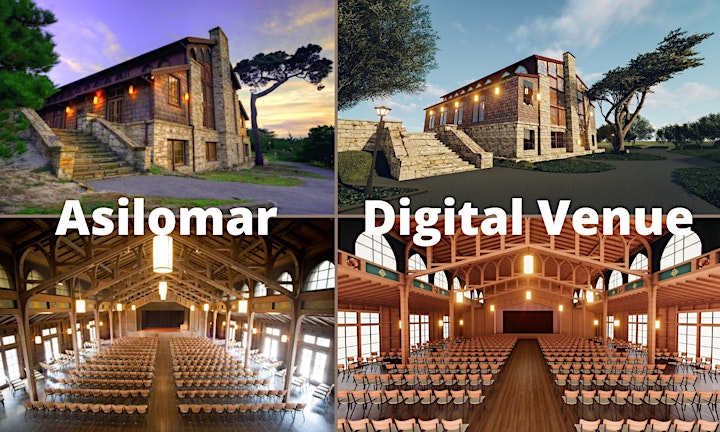 PAY BY CHECK: To pay by check or purchase order, please register through Eventbrite and select the "Pay by check" option at checkout. Please send and make out checks to: "CMHACY, PO Box 23223 Ventura, CA 93002"
I HAVE A PURCHASE ORDER TO PROCESS: To request an invoice for purchase orders, please register through Eventbrite and select "Pay by check" option at checkout. Email Info@CMHACY.org after you have registered for a customized invoice.
DOWNLOAD W9 FORM: Click HERE to download CMHACY's W9 form.
LOGIN INSTRUCTIONS FOR ATTENDEES:
**PLEASE NOTE: THE CONFERENCE PLATFORM WILL NOT ALLOW ANY ATTENDEES OR PRESENTERS TO LOG IN TO THE PLATFORM UNTIL EVENT DAY, 4/28 AT 8:00AM SHARP**
It's easy as 1-2-3!
This is our event landing page. Here you can view the agenda and session descriptions. This is the webpage where you will log in & enter the virtual conference.
STEP 2: CLICK THE "ENTER THE CONFERENCE" BUTTON
You can find the button right in the upper right corner of the screen and again below our banner photo. The login button appears like this image below.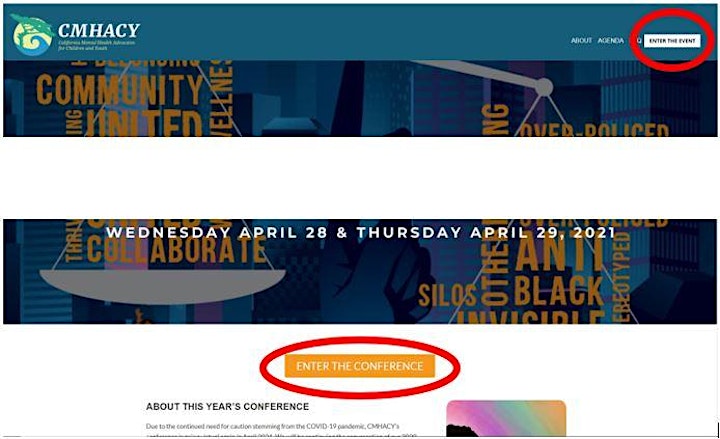 STEP 3: ENTER YOUR EMAIL ADDRESS
Once you have clicked on the "ENTER THE CONFERENCE" button, you will see a pop-up login box like the one pictured below.
Here, you will enter the email you registered for the conference with. After you have typed in your email, click the "Login" button in the pop-up box.

STEP 4: ENJOY THE CONFERENCE!!!
Once you have clicked "Login" you will be taken to the VIRTUAL Lobby outside of our virtual "Merrill Hall" where a short welcome video will pop up. From there, you can enter and enjoy our fully interactive conference!
**PLEASE NOTE: Unless you are a booth representative, no password is required to login to the conference!**
**DO NOT PERMIT SOMEONE ELSE TO LOG IN TO THE CONFERENCE USING YOUR EMAIL.** If someone else logs in using your email, you will be ineligible for any CE Credits.