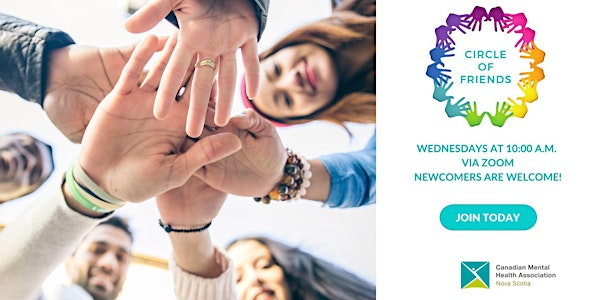 CMHA NS Peer Support Group: Circle of Friends
This workshop focuses on improving communication skills with the goal of building healthy relationships.
About this event
DID YOU KNOW connection is an important part of supporting our overall wellness. We are social beings and our well-being depends strongly on our connections with others.
Connections are important for overall mood enhancement and can help us through 'blue' periods as well as during times of isolation.
If you'd like to improve your communication skills and improve your ability to connect or just broaden your circle, join Circle of Friends!
This guided peer support group will help you learn about yourself, what you say, the way you act, and how your actions can affect relationships with others. Focusing on these aspects, helps us gain confidence in our relationships and we will be more likely to achieve our friendship goals.
CMHA Circle of Friends offers a safe, confidential place for peers to connect and share their journeys as they offer peer support to one-another.
DETAILS:
This program combines emotional support as well as practical information.
Schedule: Weekly | Wednesdays at 10:00 a.m. to 11:30 a.m. AST
Where: This is a virtual program held over Zoom.
Eligibility: This workshop is for everyone.
Fee: No fee.
Facilitators: The program is led by experienced CMHA NS peer support facilitators.
This group is :
Confidential
Held virtually
Non-Judgemental
Non-clinical
What does non-clinical mean? Non-clinical services are therapeutic, but relate to providing resource information, education, screening, and support until a professional health care provider can make appropriate referrals (if necessary) to primary care.
About the Facilitators:
Keith Anderson, Provincial Lead, CMHA NS Peer Support and Suicide Prevention
As the Provincial Peer Support Lead, Keith Anderson facilitates several peer support groups, including the Men's Peer Support Group. Keith has 13 years of experience working in the mental health field.
He sits on numerous committees and working groups, including the CBRM Diversity Committee and the Commonwealth Lawyers Association. Through his peer support work, Keith dedicates himself to making support systems available to others.
Keith has also spoke openly about his own mental health journey and depression. He first went public with his story in an Op-Ed published by the National Post called "How I Returned to a Life Worth Living" (February 20,2008).
Since then, Keith has spoken at national and international mental health conferences, legal conferences, universities, and fundraisers.
He has also served on numerous Boards of Directors and Committees for mental health non-profit groups. 
His articles have appeared in publications of the Nova Scotia Barristers' Society, the Canadian Bar Association, and the American Bar Association. Keith was a volunteer with Glenn Close's mental health advocacy group, Bring Change to Mind, for many years. In the fall of 2015, Keith launched Worth Living Mental Health Consulting, which offers a blog, podcasts, consulting, and conferences.
In July 2021, he published the book, Life Worth Living: A Mental Health Anthology.
Contact Keith: keith.anderson@novascotia.cmha.ca
About the Facilitators:
Tracy Hiltz, Provincial Lead, At Work Program
As Provincial Lead of the At-Work | Au Travail program, Tracy Hiltz helps individuals who self-identify with mental health issues find safe and sustainable employment. Within the role, Tracey works with clients to build their resume and cover letters, develop job search skills, and connect with employers.
Tracy has 12 years of experience working in the mental health field and lives with complex PTSD. She is passionate about empowering individuals to reach their full potential in life.
When not at work Tracy loves being in nature, whether it is hiking a trail, fishing, camping, snowshoeing or sitting watching the ocean. She also enjoys crocheting, which she taught herself over the pandemic.
Contact Tracy: tracy.hiltz@novascotia.cmha.ca