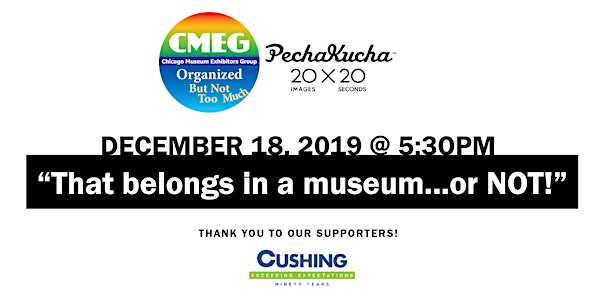 CMEG & PechaKucha 20x20 "That Belongs in a Museum… Or Not"
CMEG's First Collaboration with Chicago's PechaKucha 20x20! The theme to the SIX presentations is "That Belongs in a Museum… Or Not".
When and where
Location
Martyrs' 3855 North Lincoln Avenue Chicago, IL 60613
About this event
As Indiana Jones declared about the Cross of Coronado, "That belongs in a museum!" What do you think deserves to be on exhibit? There are countless objects that could be put on display, but are there also items that shouldn't be in a museum?
Join the Chicago Museum Exhibitors Group and PechaKucha to hear six presenters share their stories about objects that belong in a museum… or not.
*PechaKucha 20x20 is a simple presentation format where you show 20 images, each for 20 seconds. The images advance automatically and you talk along to the images.
Agenda:
5:30 PM ARRIVAL
6-7:00 PM CMEG PechaKucha (6 presenters)
7-8:00 PM Networking, Snacks and Cash bar
8-10:30 pm PechaKucha, Women's Edition- be sure to stay for the official Pechakucha event!
Buy your tickets $10 IN ADVANCE, $12/DOOR: https://martyrslive.com/wed-dec-18-8pm-10adv12door
Featured Presenters:
Patrick Pryor, "Family secrets that all long-term couples share"
Stacy Derby, "The mysterious suitcase"
Isabel Singer, "Teenagers belong in a museum...or not"
Sonia H Booth, "Thinking outside the archival box: new ways to share fragile artifacts"
Ben Hunt, "You Should Make the Fish Jump More"
Elena Gonzales, "Objects that enable curatorial work for social justice."
**Thank you to our sponsor Cushing Co., also a women-owned business!!!**