CMCC Development Committee Meeting: UNESCO Creative City Discussion Meeting

Friday, March 18, 2011 from 9:30 AM to 10:00 AM (PDT)
Event Details
Secretariat
Chiang Mai Creative City Development Committee
Chiang Mai, 6 March 2011
Dear Chiang Mai Creative City (CMCC) Development Committee Member and Associates,
Discussion and Update Meeting: Chiang Mai & UNESCO Creative Cities Network
การแลกเปลี่ยนความคิดเห็นและติดตามความคืบหน้าโครงการ Chiang Mai
& UNESCO Creative Network
On the 3 February 2011, the CMCC Development Committee invited Mr. Timothy Curtis, Head of the Cultural Section at UNESCO Bangkok Office, to Chiang Mai to present on the UNESCO Creative Cities Network and the benefits and application process for Chiang Mai.
สืบเนื่องจาก เมื่อวันที่ 3 กุมภาพันธ์ 2554 คณะกรรมการพัฒนาเชียงใหม่เมืองสร้างสรรค์ ได้เรียนเชิญ Mr. Timothy Curtis ผู้แทน UNESCO มาให้รายละเอียดเกี่ยวกับประโยชน์และการขึ้นทะเบียนเป็นหนึ่งในเครือข่ายเมืองสร้างสรรค์ของ UNESCO
The Secretariat of the CMCC Development Committee has since spent time analysing the pros and cons for Chiang Mai of joining this network. The Secretariat also further analysed the application process, criteria for success and benefits from joining. Particularly reviewed were the pros and cons of the categories that might be most applicable to Chiang Mai.
คณะทำงานของคณะกรรมการพัฒนาเชียงใหม่เมืองสร้างสรรค์ ได้ทำการวิเคราะห์ผลดีผลเสีย ของการเข้าร่วมเครือข่ายเมืองสร้างสรรค์ของจังหวัดเชียงใหม่ กระบวนการขึ้นทะเบียน ตลอดจนหลักการของความสำเร็จ และประโยชน์ที่จะได้รับจากการเข้าร่วมเครือข่าย โดยเฉพาะอย่างยิ่ง ผลดีผลเสียของประเภทเมืองสร้างสรรค์ที่มีความเหมาะสมกับจังหวัดเชียงใหม่
The CMCC Development Committee would therefore like to invite you to a meeting to discuss the UNESCO Creative City Network Opportunity further. 
เพื่อให้เรื่องนี้สามารถดำเนินการในขั้นตอนต่อไป จึงใคร่ขอเรียนเชิญท่านเข้าร่วมประชุมเพื่อแลกเปลี่ยนความคิดเห็นและติดตามความคืบหน้าโครงการ Chiang Mai & UNESCO Creative Cities Networks ในวันที่ 18 มีนาคม 2554 เวลา 10.00 – 12.00 ณ ห้องประชุมตะวัน กังวานพงศ์ ชั้น 4 สำนักงานมหาวิทยาลัย มหาวิทยาลัยเชียงใหม่
Date: Friday, 18 March 2011. Location: Chiang Mai University, Office of the University, Tawan Kangwanpong Meeting Room,  Registration 09:30am, Meeting 10:00-12:00.
Agenda 
09:30-10:00       Registration
10:00-10:30        Opening remarks by VIP Guests (Chairman of the CMCC Committee, Governor of                                Chiang Mai Province (confirmed), Mayor of Chiang Mai (confirmed), others)
10:30-11:00        Update information about the UNESCO Creative Cities Network by the Working Team the CMCC Development Committee
11:00-11:45        Q&A and discussion
11:45-12:00        Any other business, summary and next steps         
Preparations
In order for the meeting to be effective, it would be very useful if the materials provided on the CMCC Website have been reviewed www.creativechiangmai.com/activities/unesco-creative-city
สำหรับการลงทะเบียน คณะทำงานได้จัดเตรียมการลงทะเบียนออนไลน์ โดยท่านสามารถเข้าไปลงทะเบียนได้ที่ www.eventbrite.com/event/1394445825 หรือลงทะเบียนในเอกสารที่แนบมา แล้วแฟกซ์มาที่หมายเลข 053-217287 หรือทำการสแกนเอกสารลงทะเบียนที่แนบมา ส่งมาทาง       e-mail address cmcc@creativechiangmai.com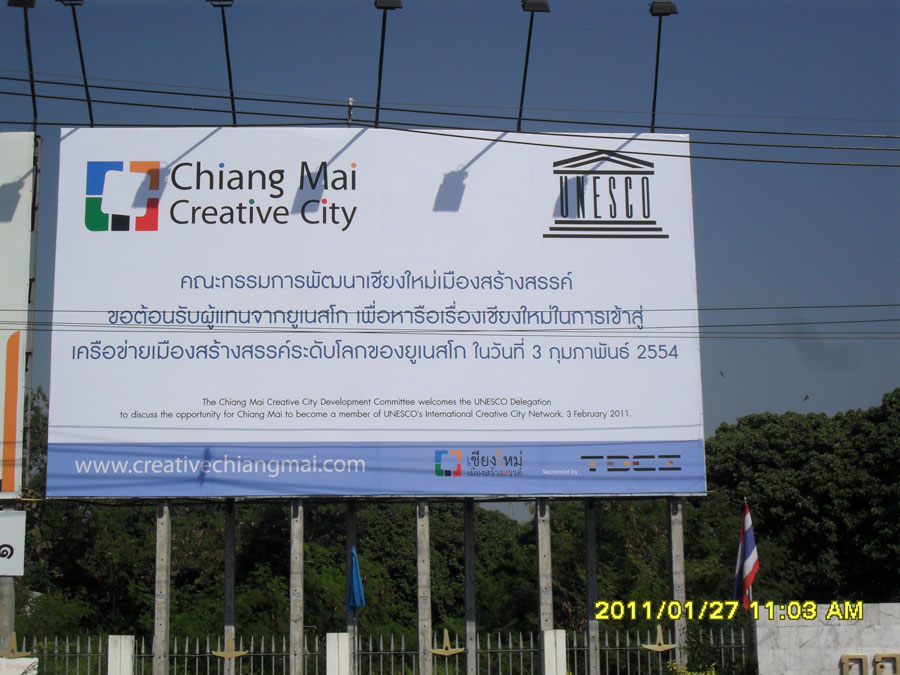 When & Where

Office of the University (President)
(ML Pin Malakun, Strategy Building) ห้องประชุมหม่อมหลวงปิ่น มาลากุล อาคารยุทธศาสตร์
Chiang Mai University



Friday, March 18, 2011 from 9:30 AM to 10:00 AM (PDT)
Add to my calendar
Organizer
Secretariat of the Chiang Mai Creative City (CMCC) Development Committee (TDCI)