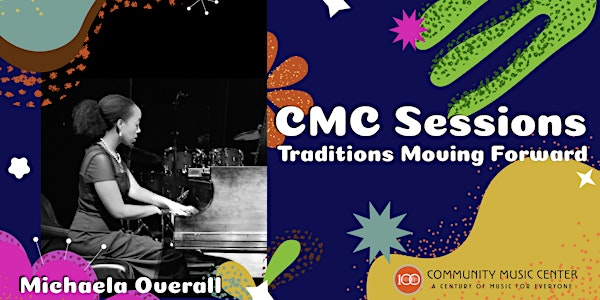 CMC Sessions: Traditions Moving Forward with Michaela Overall
Free online music workshops exploring musical traditions in flux.
About this event
CMC Sessions: Traditions Moving Forward
Make musical discoveries with faculty from Community Music Center as they explore their methods, approaches, and creative practices in adapting musical traditions to inspire and guide the musicians of tomorrow. CMC Sessions: Traditions Moving Forward showcases the talents of faculty from the CMC Cultural Traditions and Piano Departments who represent diverse classical and non-classical traditions in workshops and presentations. The online workshops will use video, audio, and lecture-demonstrations to illustrate the faculty members' influences and the musical education that shaped them, highlighting how their traditions impact their teaching and performing at CMC. Their personal stories illustrate the breadth of talent and creativity in CMC's faculty.
Meet these talented and inspiring faculty:
Michaela Overall, Teaching and Supporting the Neurodiverse Piano Student
June 23, 2022 at 7pm (PT) please note the updated date of this session!
Everyone learns differently! This session will address how to create a positive learning space for all students, specifically neurodiverse students. As a teacher, Michaela has worked in various non-musical settings, which has had a significant impact on her teaching. She will share ideas of how to support all students in their learning while considering verbal, cognitive, and social/emotional skills.
This event will be conducted online via video conferencing. RSVP to receive the link to join, emailed prior to the start of the discussion.
People who are interested in this workshop can dive deeper by exploring private lessons and group classes and ensembles.
Bio:
Michaela Overall is a native of the Bay Area, and enjoys teaching piano and music! She received a Bachelor's of Arts degree in Psychology from the esteemed Hampton University. In the field, Michaela has had the opportunity to work with children of various ages and abilities in a variety of educational settings.
Her love of music has brought her back to piano study as she completed a B.M. in Piano Performance from SFSU, and an M.M. in Piano Pedagogy. Michaela's background in Psychology has had a positive impact on her teaching style, and she enjoys working with diverse populations.