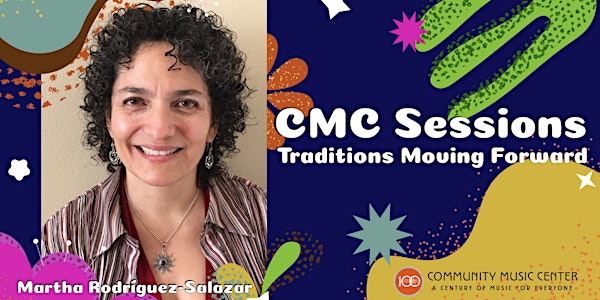 CMC Sessions: Traditions Moving Forward with Martha Rodríguez-Salazar
Free online music workshops exploring musical traditions in flux.
About this event
CMC Sessions: Traditions Moving Forward
Make musical discoveries with faculty from Community Music Center as they explore their methods, approaches, and creative practices in adapting musical traditions to inspire and guide the musicians of tomorrow. CMC Sessions: Traditions Moving Forward showcases the talents of faculty from the CMC Cultural Traditions and Piano Departments who represent diverse classical and non-classical traditions in workshops and presentations. The online workshops will use video, audio, and lecture-demonstrations to illustrate the faculty members' influences and the musical education that shaped them, highlighting how their traditions impact their teaching and performing at CMC. Their personal stories illustrate the breadth of talent and creativity in CMC's faculty.
Meet these talented and inspiring faculty:
Martha Rodríguez-Salazar, Bridging Cultures and Creating Communities: How My Binational Experience Shaped My Musical Perspectives.
June 30, 2022 at 7pm (PT)
Martha Rodríguez-Salazar will illustrate her musical journey as a classically trained musician in Mexico City, coming to the US to study at Mills College for her M.A,, and ending up learning more about Mexican and Latin American music in the Bay Area. She will share her appreciation for the richness of her cultural heritage and the importance of sharing it with her Bay Area community. Through her work at CMC, she has created multi-generational projects that have transformed lives and been deeply impactful to her. She will also talk about her work as the Día de los Muertos curator at the San Francisco Symphony and her performing life in the US, playing with different ensembles, such as Coro Hispano de San Francisco, the Bernal Hill Players, Chile y Limón Duo, and Ave Fénix Duo.
This event will be conducted online via video conferencing. RSVP to receive the link to join, emailed prior to the start of the discussion.
People who are interested in this workshop can dive deeper by exploring private lessons and group classes and ensembles.
Bio:
Singer, flutist, conductor, and producer Martha Rodríguez-Salazar has been bringing Latin American folk, classical and contemporary music to the Bay Area for more than 20 years. For her outstanding leadership in promoting and developing Mexican music and culture in the Bay Area Martha was recognized as a "Luminary" in 2011 by the Mexican Consulate in SF and as "Excelencia Latina" by LAM and Mundo Fox in 2013.
A native of Mexico City, Martha was classically trained in both Mexico and Mills College as a concert flutist and opera singer. She has been a faculty member of the Community Music Center since 2000, where she teaches voice, flute, conducts several older adult choirs, directs Coro de Cámara, and is part of the San Francisco Unified School District Mariachi Program. Martha has produced several Latin music shows at CMC including La Posarela and December Fiesta. She was also the MDYMP coordinator and Latin Vocal Workshop instructor for 12 years.
She currently performs with the Bernal Hill Players, the Latin folk duo Chile y Limón, and Ave Fénix Duo as well as curating the "Día de los Muertos" event at the San Francisco Symphony since its inception in 2008.