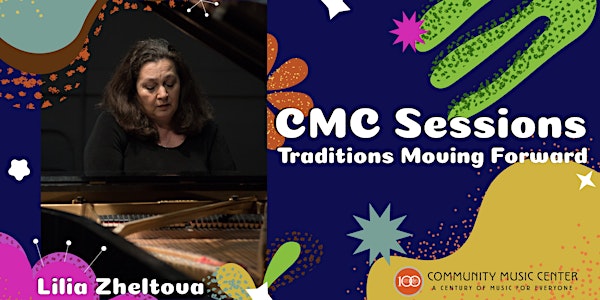 CMC Sessions: Traditions Moving Forward with Lilia Zheltova
Free online music workshops exploring musical traditions in flux.
About this event
CMC Sessions: Traditions Moving Forward
Make musical discoveries with faculty from Community Music Center as they explore their methods, approaches, and creative practices in adapting musical traditions to inspire and guide the musicians of tomorrow. CMC Sessions: Traditions Moving Forward showcases the talents of faculty from the CMC Cultural Traditions and Piano Departments who represent diverse classical and non-classical traditions in workshops and presentations. The online workshops will use video, audio, and lecture-demonstrations to illustrate the faculty members' influences and the musical education that shaped them, highlighting how their traditions impact their teaching and performing at CMC. Their personal stories illustrate the breadth of talent and creativity in CMC's faculty.
Meet these talented and inspiring faculty:
Lilia Zheltova, Traditions of the Russian Piano School and Their Implementation in Today's American Teaching
June 16, 2022 at 7pm (PT) please note the updated date for this session!
Lilia Zheltova will discuss the Russian tradition of music education for gifted students, which begins intensive training at an early age and continues for 16 years through graduation from a conservatory. Using examples from the standard text, Piano School by Alexander Nikolaev, she will illustrate developing the ear and the artistic conception along with technique, cultivating the quality and variety of sound, and teaching an understanding of the historical and cultural context for specific music pieces. She will show some of the exercises she uses now, and will discuss how she adapts the principles of her Russian training for contemporary American students, both in terms of technical development and the choice of music taught.
This event will be conducted online via video conferencing. RSVP to receive the link to join, emailed prior to the start of the discussion.
People who are interested in this workshop can dive deeper by exploring private lessons and group classes and ensembles.
Bio:
Lilia Zheltova was born in Tashkent, Uzbekistan (former Soviet Union), where she attended the special music school. She received her B.A. and M.A. degrees in musicology at the St.Petersburg Conservatory in Russia. She taught at the Petrozavodsk Music College, and then worked as lead musicologist at the Tashkent opera house and Philharmonic. Ms. Zheltova has also appeared as an Arts Commentator on TV and Radio programs and has published over 50 articles in newspapers and magazines. In 1990, Lilia immigrated to the USA. Currently, Ms. Zheltova teaches piano at the Community Music Center, and at her private studio. She also appears as an accompanist for several Bay Area companies, including SFSU, Marin Ballet, and ACT. Ms. Zheltova works as an accompanist for Eurythmy and Choir at the SF Waldorf high school. She has performed as a pianist in India, France, New Zealand, Netherlands, Belgium,Germany, China, Thailand, Taiwan, Philippines, South Korea, and Australia with the SF Youth Eurythmy Troupe.