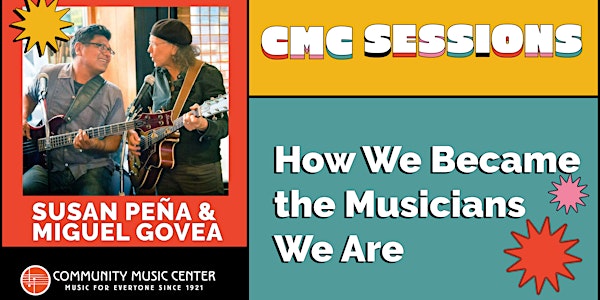 CMC Sessions: Inspiration & Influences with Susan Peña & Miguel Govea
Spark your musical imagination with CMC faculty as they delve into the inspiration & influences that have guided them as musicians & artists
By Community Music Center
Date and time
Thursday, April 13 · 7 - 8pm PDT
About this event
CMC Sessions: Inspiration & Influences
Spark your musical imagination with CMC faculty as they delve into stories about the inspiration and influences that have guided them as professional musicians and teachers at CMC. CMC Sessions: Inspiration & Influences is an eight-part on-line series hosted by CMC Cultural Traditions and Winds/Brass Departments, providing up-close and personal stories about the potent influences and galvanizing experiences that make up the "musical life." Told through compelling demonstrations, musical examples, and creative tips, the sessions will provide participants with inspiration on their musical journeys.
Meet these talented faculty members:
Susan Peña & Miguel Govea, How We Became the Musicians We Are
Thursday, April 13, 2023 at 7pm (PT)
Online via Zoom
FREE
Susan Peña and Miguel Govea had separate and distinct formative experiences as young people learning music from older friends, family members and mentors in their communities in the 1960s and 1970s. These experiences gave them a familiarity with American folk music, country and western songs, and Mexican popular music from the revolution and the golden era of Mexican cinema. Their subsequent years as musicians in the Bay Area, coupled with their four-decades-long marriage have provided them myriad playing experiences with their two daughters as a family band and with countless musician friends steeped in ethnic and folk musical traditions of the world.
In this presentation, Susan Peña and Miguel Govea will share their influences and their particular way of making music as a duet, using their voices and a variety of instruments, including guitar, fiddle, and button accordion.
This event will be conducted online via video conferencing. RSVP to receive the link to join, emailed prior to the start of the discussion.
About the Artists:
Miguel Govea grew up in 1960s-era Bakersfield, California. As a child, he began to seek out, learn from, and play with people in his community. He has continued this practice of study and learning since moving to the San Francisco Bay Area in the late 1970s. He began teaching at CMC in 2006 with the Mission District Young Musicians Program. He also teaches with the Mariachi program in partnership with SFUSD and as a private lesson instructor on trumpet, trombone, guitarron, accordion, and violin.
Susan Peña started playing guitar and collecting songs as a twelve year old growing up in Middletown, New Jersey during "The Folk Music Revival" of the 1960s and 70s. After moving to the Bay Area in 1976, she began to play the fiddle and to widen her repertoire of traditional American folk songs to include old-time, country, swing, Mexican, and Tex-Mex music. She teaches Mariachi music in San Francisco elementary schools as part of CMC's partnership with SFUSD.
People who are interested in this workshop can dive deeper by exploring private lessons and group classes and ensembles at CMC.
About the organizer
We believe in the power of music to connect people, celebrate cultures and transform lives. Community Music Center (CMC) is a cornerstone San Francisco cultural institution and a vital hub for music education and performance anchored in the Mission District. We envision students and faculty who are engaged and fulfilled in making music together, and audiences who are energized by their experiences. Inspired by their training, our students are empowered to find their own voice, develop lasting relationships, embrace learning, and give back to their communities.