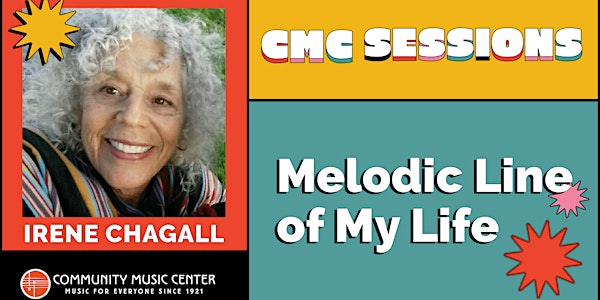 CMC Sessions: Inspiration & Influences with Irene Chagall
Spark your musical imagination with CMC faculty as they delve into the inspiration & influences that have guided them as musicians & artists
By Community Music Center
Date and time
Thursday, March 30 · 7 - 8pm PDT
About this event
CMC Sessions: Inspiration & Influences
Spark your musical imagination with CMC faculty as they delve into stories about the inspiration and influences that have guided them as professional musicians and teachers at CMC. CMC Sessions: Inspiration & Influences is an eight-part on-line series hosted by CMC Cultural Traditions and Winds/Brass Departments, providing up-close and personal stories about the potent influences and galvanizing experiences that make up the "musical life." Told through compelling demonstrations, musical examples, and creative tips, the sessions will provide participants with inspiration on their musical journeys.
Meet these talented faculty members:
Irene Chagall, Melodic Line of My Life
Thursday, March 30, 2023 at 7pm (PT)
Online via Zoom
FREE
Irene Chagall portrays the artistic contours of her life through tales and music. Beginning with two folktales that profoundly influenced her in childhood, The Ant and the Grasshopper and The Pied Piper, she will examine choices she made that influenced the development of her unique path. With the guitar as her life partner, she fashioned a modern version of a wandering minstrel. She will share some of her favorite experiences generated through sharing songs, dances, poetry and puppets. This culminates with a segment of her documentary film Let's Get the Rhythm on the global phenomenon of hand clapping games. Her approach is educational, informative, and fun.
This event will be conducted online via video conferencing. RSVP to receive the link to join, emailed prior to the start of the discussion.
About the Artist:
1967: Intensive private study of classical guitar with Don José Tomás in Spain.
1976: Master of Arts in Music and Theatre Arts, Lone Mountain College. Included writing a minstrel play Bello Jangles and the Giant Bagel and a study of the History of Minstrelsy.
1977–present: Artist-in-Residence and Music Specialist in numerous schools throughout the Bay Area, teaching music both as an artform and as enrichment to the standard curriculum.
1984–present: Music for Children teacher at Community Music Center.
1998-2014: Produced and directed Let's Get the Rhythm, a documentary on hand-clapping games, in connection with being named a Research Fellow with the Smithsonian Institution Center for Folklife and Cultural Heritage (2003-2006), received funding for Traditional Arts from National Endowment for the Arts (2006-2008) and a Fulbright-Hays Grant to travel to Rwanda with the film (2017).
People who are interested in this workshop can dive deeper by exploring private lessons and group classes and ensembles at CMC.
About the organizer
We believe in the power of music to connect people, celebrate cultures and transform lives. Community Music Center (CMC) is a cornerstone San Francisco cultural institution and a vital hub for music education and performance anchored in the Mission District. We envision students and faculty who are engaged and fulfilled in making music together, and audiences who are energized by their experiences. Inspired by their training, our students are empowered to find their own voice, develop lasting relationships, embrace learning, and give back to their communities.