The Gala-to-Go is the birthday celebration and fundraiser for the Children's Museum at Saratoga.
About this event
Support the Children's Museum at Saratoga (CMAS) on April 8th, from 5p-6:30p for our 31st Birthday Gala-to-Go!
This year, our Gala will feature takeout dinner made by Mama Mia's Restaurant. Meals (big enough for two to enjoy!) will be $35, an additional $20 for a bottle of wine (your choice of red or white), and the option to add a 4-inch, 3-layer Vanilla cake with chocolate or vanilla frosting for dessert for $25. Contactless dinner pick-up will be at The Children's Museum at Saratoga parking lot, between 5:00 and 6:30 pm.
Dinner choices include: Eggplant or Chicken Parmigiana, Spaghetti and Meatballs, or Chicken Florentine. Meals are able available either hot or cold. (Please specify what you would like when ordering your tickets). All meals come with side salad and bread.
Honorary Committee tickets are available for $125. Tickets include dinner, a bottle of wine, a birthday cake, and one raffle ticket. In recognition of your support, your name will be featured on our website, social media posts, and event promotional materials.
We will also have raffle tickets for sale for $10--raffle tickets will be available through in-person purchase and are cash only. Raffle prize baskets can been seen on the Museum's Facebook page: https://www.facebook.com/ChildrensMuseumAtSaratoga/?ref=page_internal
*We didn't forget about the kids! As an added bonus, for $25.00 (+tax) you can order a CMAS Birthday Activity Kit for two!
If you are unable to participate in our Gala-to-Go but would like to make a donation to the Museum, please visit the donation page on the CMAS website. Any amount is greatly appreciated!
https://cmssny.org/contribute/
This year the Museum honors David Martin, Jay Portnoy and Joe Murphy who always go above and beyond. They are generous with their time, committed to the Museum's mission and are always willing to lend a hand. The Museum is grateful to them.
Thank you for your continued support of The Children's Museum at Saratoga!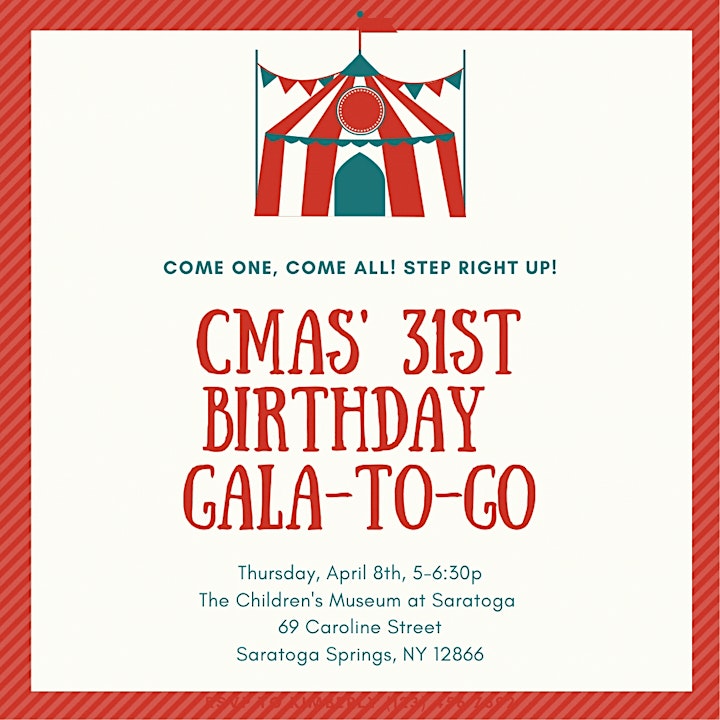 HONORARY COMMITTEE:
Jeffrey & Naomi Allen
Jennifer Allen
Sonny & Julie Bonacio
Samantha Bosshart
Diana Burke
Erin & David Conklin
Carly Conners and Dalibor Ritopecki
C.T. Male Associates
Mary & Dan McDermott
Katelynn Donovan* & Aaron Ethier
Ann & John Gamble
Heather & Peter Gregg
G. Willikers/Linda Ambrosino
Don & Mary Lou Hall
Elisa & Mark Haworth
The Manz Family
David & Shannon Martin
Randy & Alice Martin
Mark & Mary Kate Metwally
Marjorie Metzler
Carol & Ted Obloy
Frank & Delores Parillo
Jan & Nick Perrotta
Jay Portnoy & Jean Stamm Foundation
Rosemary Royce
Saratoga FMS
Lou Ann & Chuck Stewart
Frazier & Jen Taylor
Erika & Brandon Ture
*event chairperson