CM Guru Masterclass • Digital Governance • Lisa Welchman

Tuesday, June 30, 2015 from 9:00 AM to 5:00 PM (CEST)
Event Details
CM Guru Masterclass 'Digital Governance' met Lisa Welchman
Kom naar de CM Guru Masterclass met Lisa Welchman, internationaal erkend goeroe in digital governance en auteur van Managing Chaos: Digital Governance by Design. 
Lisa verzorgt een interactieve masterclass die laat zien hoe digital governance helpt om je digitale strategie succesvol te maken.
Veel organisatie zijn al 20 jaar online actief maar hebben nog steeds geen idee wie de eigenaar is van alles wat met 'digitaal' te maken heeft. Deze organisaties hebben geen vat op hun informatie en hun digitale omgevingen en zijn niet consistent in de online dialoog met hun publiek.
Dit gebrek aan duidelijkheid remt organisaties in hun digitale strategie. Dat is een riskante positie in deze tijd van continue verandering en disruptie. Digital governance helpt om een eind te maken aan onduidelijkheid en versnipperd digitaal beleid. 
---
Kom naar de CM Guru Masterclass als je:
Contentmanager, informatiemanager, informtie- of communicatiespecialist, projectmanager, business-manager of webmanager bent die:
- Een eind wil maken aan de digitale onduidelijkheid in de organisatie;
- Meer vat wil krijgen op de digitale strategie;
- Het belang van digital governance duidelijk wil maken aan het management;
- Behoefte heeft aan een duidelijk digital governance kader om teamleden en collega's te ondersteunen;
- De taak heeft om digital governance in te zetten. 

Tijdens de CM Guru Masterclass geeft Lisa je:
- Een duidelijk overzicht van wat digital governance inhoudt;
- Inzicht in de structuur, rollen en verantwoordelijkheden van een centraal en decentraal digitaal team;
-Duidelijkheid over het beslissingsproces rondom digitale strategie, beleid en richtlijnen.
- Aansprekende voorbeelden van digitaal beleid en richtlijnen;
- Best practices en instrumenten in digital governance die je direct kunt toepassen;
- Haar meer dan 20 jaar lange digitale ervaring die zij heeft opgedaan bij talloze internationale organisaties.
---
Gratis boek 'Managing Chaos'
Elke deelnemer ontvangt een gratis exemplaar van Lisa's boek Managing Chaos: Digital Governance by Design ter waarde van USD 39,-.
---
Lisa Welchman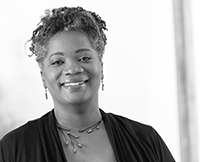 Lisa is een erkende autoriteit in digital governance. Haar expertise is het versterken van de digitale volwassenheid van organisaties door meningsverschillen tussen digitale stakeholders op te lossen en duidelijkheid te creëren in de strategie, het beleid en de richtlijnen. Zij werkt intensief samen met haar opdrachtgevers om de uitdagingen te begrijpen en vervolgens op te lossen.
Lisa heeft een B.A. in filosofie behaald bij de University of North Carolina en zij was een Philosophy Fellow aan de Columbia University.
---
Agenda
De CM Guru Masterclass 'Digital Governance' is Engelstalig.
| | |
| --- | --- |
| 8:30 | Inschrijving |
| 9:00 | Welkom & introductie |
| 9:30 | Governance overview: What is a governance framework?  |
| 10:15 | Your digital team: Who they are and what they do |
| 11:30 | Koffiepauze |
| 11:45 | Digitale strategy: Aligning digital expertise with organizational power |
| 12:30 | Lunch |
| 13:30 | Digital policy: Understanding digital policy accountability |
| 14:30 | Theepauze |
| 14:45 | Digital standards: Determining who has authority over digital standards |
| 15:45 | Wrap-up discussion / Challenges you might face at the office |
| 17:00 | Einde |
| 17:30 | Borrel in de Utrechtse binnenstad |
---
Veelgestelde vragen
Is mijn inschrijving overdraagbaar?
Ja, je kunt je inschrijving kosteloos overdragen aan een collega.
Kan ik mijn inschrijving annuleren?
Ja, je kunt je inschrijving annuleren. Tot 31 mei kan dit kosteloos.
Tot 15 juni betaal je 50% annuleringskosten. Na 15 juni betaal je 100% van de inschrijving. 
Hoe kan ik het beste naar de Masterclass komen?
Wij beginnen om 09:00 uur. Zorg dat je op tijd bent. 
De Faculty Club is op 15 minuten lopen van het Centraal Station Utrecht.
Met de bus stap je uit bij halte Neude of Janskerkhof. Het is dan nog 3 minuten lopen. 
De Faculty Club is in het centrum van Utrecht. Je kunt hier niet met de auto parkeren.
We raden je aan om te parkeren in een van de parkeergarages: Springweg, Kruisstraat, La Vie of Hoog Catharijne. 
Hou rekening met extra vertraging in de ochtend omdat veel mensen met de auto het centrum van Utrecht  willen bereiken en omdat er veel bouwwerkzaamheden zijn in en rond Hoog Catharijne.
When & Where

Utrecht University
7 Achter de Dom
3512 JN Utrecht
Netherlands


Tuesday, June 30, 2015 from 9:00 AM to 5:00 PM (CEST)
Add to my calendar
Organizer
Erik Hartman Communicatie is een onafhankelijk adviesbureau dat de top 500 van organisaties in Nederlands helpt bij het optimaliseren van hun informatiemanagement, -strategie, -architectuur en -governance.
Met advies, trainingen, publicaties en evenementen helpen wij organisaties en informatieprofessionals om vat te krijgen op hun digitale strategie. 
Met de CM Guru Masterclasses bieden wij mensen de gelegenheid om meer te leren over een specifiek onderwerp in informatiemanagement van een internationaal gerenommeerde goeroe.