Description
According to Syncsort's annual State of the Mainframe Survey, 61% of Mainframe organizations are looking for ways to optimize and enhance their applications, and 39% are planning to modernize their Legacy assets.
If you are already using CM evolveIT, you are likely knee deep in projects involving one or both of these challenges. This all-day technical workshop is designed to help you understand how to use the capabilities of CM evolveIT's powerful analysis technology to its full advantage. We will be covering topics such as: Advanced Impact Analysis, Extracting and Documenting Business Rules, and Managing Software Quality. If you are new to the product, we will also offer some optional basic training to get you started.
EVENT ITINERARY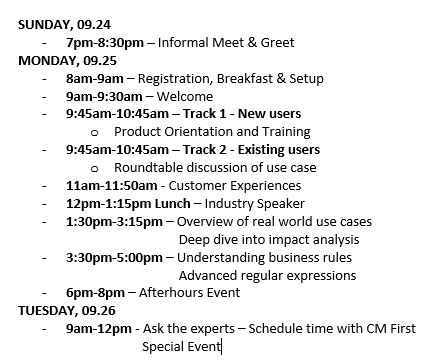 Bring your laptop and your toughest application challenges!