Description
Join Us For An Intimate, Life Changing Experience On The Beach Designed To Help You DE-CLUTTER Your Life, HEAL From Your Past And Get THE LOVE YOU DESERVE.
GET READY TO RELEASE, RENEW AND REBUILD YOUR RELATIONSHIPS SO YOU CAN HAVE THE PEACE, HAPPINESS AND FREEDOM YOU DESIRE.
We're developing in the areas of self love, self confidence and self esteem. We're healing from toxic relationships, turning break ups into breakthroughs and bouncing back after divorce. We're releasing the fears, doubts and insecurities that block you from receiving and reciprocating love, and causes you to repeat the cycle of unhealthy relationship. We're building healthy relationships with yourself, God and others- especially women. We're dealing with dating dilemmas, messy marriages, and life after divorce. We're exposing tricks of the enemy set to keep you single, suffering and settling. And so much more.
EXPECT REAL, RAW AND RELEVANT CONVERSATIONS THAT CREATE BREAKTHROUGHS…WE AREN'T HOLDING BACK!!!
WEEKEND AGENDA


*Friday November 8th
Grab your goodie bags and kick off your Clutter Free Weekend Friday evening with a PINK PARTY MOTIVATION MIXER. Connect with like-minded women over delicious complimentary appetizers, good laughs, music and many motivating moments…ending with a powerful message from your life coach Angel Richards. VIPs will have a private session immediately following the mixer.


*Saturday November 9th
Create space for what we want through MORNING MEDITATION on the beach. You will be releasing negative thoughts, limiting beliefs and toxic emotions- decluttering your mind, body, and spirit so you can start your day refreshed, renewed and reignited. There will be breakfast available to VIPs following this session.
Get ready to be inspired, ignited and instructed on how to get the love you desrve at Saturday's CLUTTER FREE CONFERENCE. You'll experience powerful speakers, panel discussions, empowerment sessions and more. Each moment curated to create the breakthrough you need to live your best life now. You'll laugh, cry and elevate as you move through each session. You'll also get a chance for one on one coaching with Angel during the live Q&A session. Plus, enjoy a swag bag with our favorite things from our amazing sponsors. Lunch will be provided for everyone. VIPs will have a private Q&A session with guest speakers during lunch.
*Sunday November 10th
End your weekend on a high note at our HAT & HEELS BREAKTHROUGH BREAKFAST- indulging in delicious food, mimosas and clutter free conversations. Enjoy your final empowerment session and awards ceremony as we celebrate the inner work you've done and breakthroughs you've created all year long. Because when you celebrate others…you create new possibilities for yourself.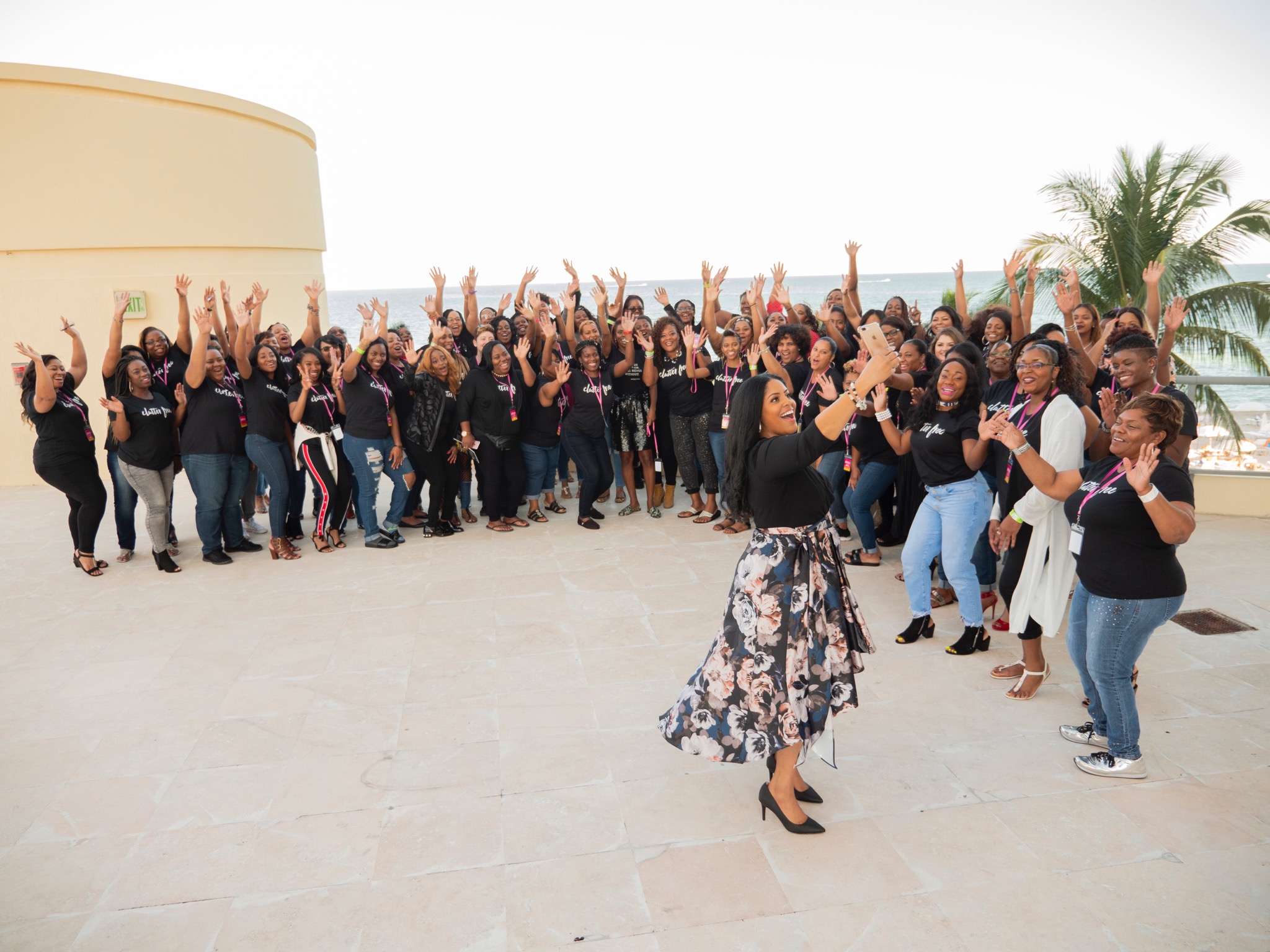 While Attending Clutter Free Weekend You Will:
+Learn how to seek and receive instant clarity in the most confusing times of your life.
+Detaching from the thoughts and things that hold you hostage to your past, fears, doubts and insecurities.
+Let go of any shame, guilt or embarrassment that is blocking your emotional breakthrough.
+Make bold, non-negotiable decisions with clarity, confidence and courage.
+Release resentment and bitterness, forgiving yourself and others to experience healing and happiness.
+Learn how to find freedom despite your past and current circumstances.
+Give yourself permission to be more, do better and have the best- even if you don't think you deserve it.
+Breakthrough the lies and limiting beliefs that are preventing you from being your best self and living your best life.
+Receive insight and inspiration on how to live your clutter free life unapologetically.
+Be encouraged and empowered through teachings, coaching and panel discussions.
+Engage in intimate conversations and share vulnerable moments with women who understand your challenges and support your transformation.
+Connect, bond and form friendships with other like-minded women on their clutter free journey.
+And so much more!
SECURE YOUR SPOT NOW...LIMITED TICKETS AVAILABLE.
TICKETS ARE NON-REFUNDABLE & NON-EXCHANGEABLE. You can transfer your ticket to someone else if you cannot attend. All transfer request must be received by October 20th. Tickets do NOT include hotel or travel expenses.
VENDORS & SPONSORS WANTED: Email clutterfreesociety@gmail.com for more info.
FOLLOW @CLUTTERFREEWEEKEND ON INSTAGRAM EVENT UPDATES