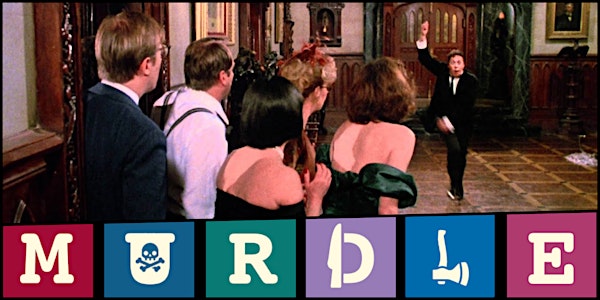 CLUE (35mm) + Live Murder Mystery Presented by Murdle.com @ The SMC Theater
CLUE (35mm) + Live Murder Mystery Presented by Murdle.com @ The SMC Theater
Date and time
Thursday, June 22 · 7:30 - 11pm PDT
Location
The Secret Movie Club Theater 1917 BAY ST 2ND FL LOS ANGELES, CA 90021
Refund Policy
Refunds up to 1 day before event
About this event
3 hours 30 minutes

Mobile eTicket
SECRET MOVIE CLUB presents
Part of our PARTNERSHIPS ARE FUN! Series on Thursday, June 22, 2023
LOCATION: The Secret Movie Club Theater, 1917 Bay Street, 2nd Floor, Los Angeles, CA 90021
*Please note entrance/parking is actually in the back of the building. Make a right on Wilson Street, then a right behind the building. We're the first set of black steps after the big gate.
7:30pm Live Murder Mystery with Murdle.com!
8:30pm CLUE (1985, dir. Jonathan Lynn, Paramount, USA, 97mns, 35mm)
SPECIAL NOTE: Yes, we've requested the 35mm print with all three endings of CLUE! Yes, this marks the return of MURDLE.COM who hosted such an awesome live murder mystery event last season before our screening of KNIVES OUT so we're now doing this every season! It's a blast. Your date night is done for the week, cuz!
Your ticket is for the entire event. All audience purchasing a ticket need to arrive by 7:30pm when the event begins. We will be closing the doors shortly thereafter.
Whaaaaattttt? Two movie and live events back to back? Yes, gurl. That's just how we do. Tonight marks the return of murdle.com writer/director G.T. Karber and the Hollywood Mystery Society who last season blew our minds and challenged our brains with their live murder mystery puzzler ahead of Knives Out.
Karber and Company are cooking up a totally new live murder mystery which will begin at 7:30pm in the Secret Movie Club Theater. You'll arrive, meet the suspects, hear the mystery, and then spend an hour talking, interviewing, looking for clues before the wrap up, prizes, and the finale.
Then we all sit down and watch the mid 1980's murder mystery comedy gem Clue based on the board game. Writer/director Jonathan Lynn and his performers pulled a kind of Christopher Guest here by casting all the board game parts with talented comedians and improv performers including Madeline Kahn, Michael McKean, Martin Mull, Christopher Lloyd among many others so that all the proceedings would be a blast.
You know the plot even if you don't know the plot: Ms. Peacock, Colonel Mustard, Professor Plum, Miss Scarlett and company all gather at a secluded New England Mansion where they all instantly become suspects in a murder.
Who did it? And to whom? And where? And with what? A murder mystery or the ground rules for some kind of safe word protected kinky sex game? You decide.
Come join us for a night of murder, mystery, movies, and just plain fun. On 35mm and live!
Best always,
Craig Hammill
Secret Movie Club Founder.Programmer
*Please note that though we strive to always show titles on 35mm film if advertised, we may have to screen digitally if the print we receive is in such bad shape or if we don't receive the print in time because of a shipping delay. We will do our best to alert the audience. When this does occur, we will offer each ticket holder who chooses not to attend a complimentary ticket to a future event in exchange. (Disclaimer: Good for 90 days – Future screening must have available tickets, cannot be a fundraiser, and must be comparably priced)
FREQUENTLY ASKED QUESTIONS
REFUNDS:
We can offer refunds up to 24 hours before showtime. Please request a refund through Eventbrite and we will process ASAP. After that, no refunds. Sorry.
However if something last minute comes up and you can't make the screening, for whatever reason, just write to us before showtime: community@secretmovieclub.com and we'll offer you complimentary tickets to a future screening, good for 90 days. (Disclaimer: Future screening must have available tickets, cannot be a fundraiser, and must be comparably priced)
HELPFUL SECRET MOVIE CLUB (1917 Bay Street, 2nd Floor, LA, CA 90021) THEATER PARKING TIPS:
We recommend that you park just outside our theater. Remember our theater is actually in a beautiful street art alleyway in the back of the 1917 Bay Street building. You get to our entrance by taking a right on Wilson, then a right behind the building. We are the first set of black steps on the right after the big gate.
There is also a parking lot at the corner of Mateo and Violet Street, just 2 blocks from our theater, which costs $7 per car.
HOW CAN WE STAY ON TOP OF NEWLY ANNOUNCED 35MM SCREENINGS, EVENTS, ETC?
You can follow us on Instagram/Twitter: @secretmovieclub or Facebook: @secretmovieclub35mm
You can also subscribe to our weekly email newsletter at secretmovieclub.com or by writing to us at community@secretmovieclub.com and using the header "SUBSCRIBE ME TO NEWSLETTER".
HOW CAN I CONTACT YOU IF I HAVE OTHER QUESTIONS/RECOMMENDATIONS:
You can always email us at community@secretmovieclub.com with any other questions, concerns, thoughts, recommendations.
About the organizer
We work to screen great movies (as many on 35mm as possible) in great theaters with a great audience.  Feel free to contact us at: community@secretmovieclub.com