Description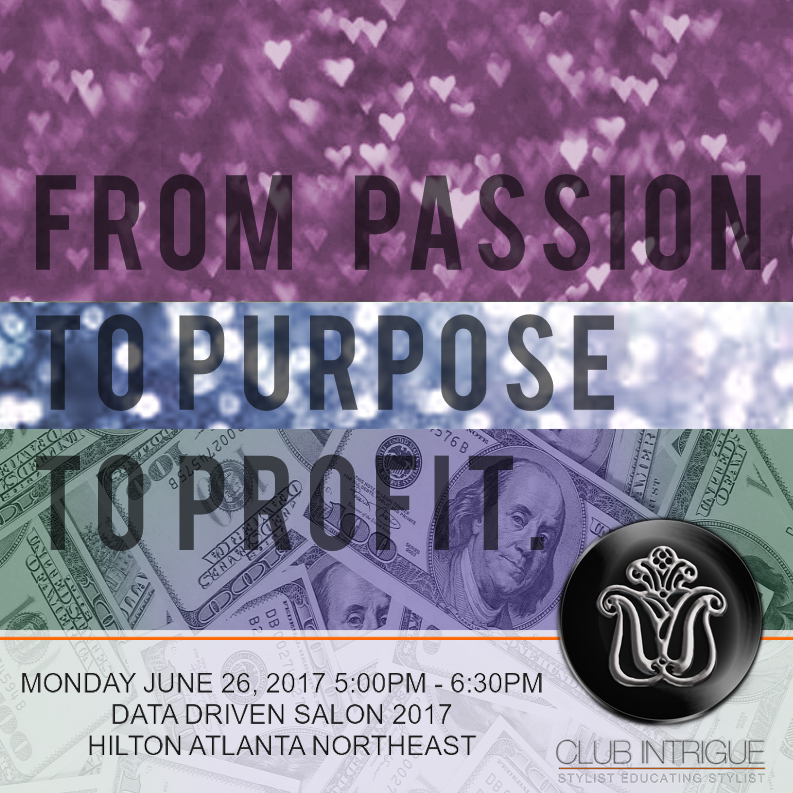 CLUB INTRIGUE : FROM PASSION TO PURPOSE TO PROFIT
SPECIAL PRESENTATION AT DATA DRIVEN SALON 2017
MONDAY JUNE 26, 2017
5:00PM - 6:30PM

Listen and learn from the real stories from industry stars, who share how they found their paths to success and satisfaction. Join us for a fun, informative evening at Club Intrigue on Monday, June 26, to start a dialogue about why you are in the business and what you want out of it.
No matter what your role is in our industry, our business demands that we be on the cutting edge. And one thing is guaranteed: Your career must constantly evolve as your big WHY? changes.
You'll hear from:
Jeff South, owner of Intrigue Salon, one of the top salons in Metro Atlanta and founder of Club Intrigue, a signature event that is a connecting point for industry professionals and provides education and relationships. Started four years ago, Club Intrigue has successfully been taken to several cities across the nation, building community by giving people a place where they can have fun, ask questions, make friends and grow.
Nick Arrojo, an internationally-known celebrity stylist, owns two successful New York City salons and one in Brooklyn. He also started an academy called Arrojo Education and his own popular line of Arrojo products. Nick has devoted much of his career to educating other industry professionals and is the author of several books geared toward the industry.
Amanda Hair, CEO of Bob Steele Salons based in Metro Atlanta, is a member of Vistage, a peer-to-peer membership organization for CEOs, and serves as Chair for The 2to10 Project by Qnity, a cooperative of elite multi-location salons and spas with between 2 and 10+ locations.
Brent Hargrave, a stylist who founded a concierge service called My Beauty Butler and who works at Jamison Shaw Salon once a week, is a Certified HairCoach, co-author of Hair Loss Master Plan, creator of The Brent Brush, a launch Artist for Eslabondexx Color Platform, and an artist on the Platinum Seamless panel for Hair+ Summit by Modern Salon.