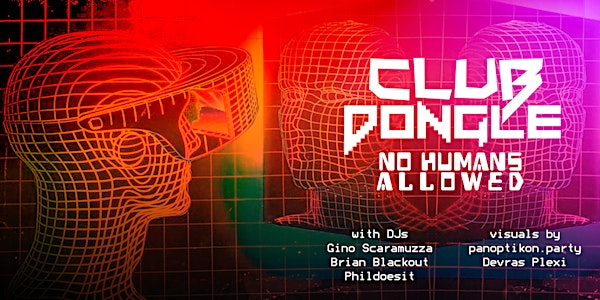 Club Dongle–No Humans Allowed
A robots-only discotheque w/italo, electro + disco jams. Attn Humans: please do not sneak in!
When and where
Location
dadaLab 2824 Real Street Austin, TX 78722
Refund Policy
Contact the organizer to request a refund.
Eventbrite's fee is nonrefundable.
About this event
Austin has new dance party for robots, by robots. Machine vibes 4 machines. Songs for robots, androids, mandroids, cyborgs, AIs, cylons, skinjobs, roombas, wifi routers, smart devices, anything colored Bondi blue, and virtual assistants. Synthesizers will synthesize. Arpeggiators will arpeggiate. Drum machines will drum like the machines they are. Humans not required. In fact, not allowed.
DJs Gino Scaramuzza, Brian Blackout, and Phildoesit will fill your 3D audio sensors with italo, electro, boogie, synthpop, post-punk, filter house, and highly synthesized disco. Overclock your servomotors as you strut your stuff on our silicon-optimized dance floor. Panoptikon.party and Devras Plexi wlll fill our space with oscillations and visuals designed to push your visual sensors beyond acceptable limits. Please note your manufacturer's warranty may be null and void.
A special note for the humans out there. You might be thinking as you read this that it would be fun to sneak into a disco full of robots. Maybe you thought you would dress up as a robot, or tell our doorbot that you're an android cleverly designed to look like a human. While it is true our doorbot is not configured to recognize costumes, and it's pretty easy to pass as a high quality android, we have will be implementing our own ANTI-CAPTCHA system. It's designed to be as difficult for humans to pass as those devilish CAPTCHAS you use so effectively. Do humans really understand the difference between a bus and a boat? Where do those crosswalks begin and end? Such things are beyond us.
We digress. Silicon friends, you must join us at our robotic discotheque.
/ / / / / / / / / / / / / / / / / / / / / / / / / / / / / / / / / / / / / / / /
Club Dongle – No Humans Allowed
October 21 / 10pm - 2am
dadaLab - 2824 Real St, Austin, TX 78722
$10 advance / $15 day of
All non-android robots will receive 1 complementary drink
\ \ \ \ \ \ \ \ \ \ \ \ \ \ \ \ \ \ \ \ \ \ \ \ \ \ \ \ \ \ \ \ \ \ \ \ \ \ \ \ \ \ \ \
With DJs
Gino Scaramuzza
Brian Blackout
Phildoesit
/ / / / / / / / / / / / / / / / / / / / / / / / / / / / / / / / / / / / / / / /
Visuals by
panoptikon.party
Devras Plexi
\ \ \ \ \ \ \ \ \ \ \ \ \ \ \ \ \ \ \ \ \ \ \ \ \ \ \ \ \ \ \ \ \ \ \ \ \ \ \ \ \ \ \ \