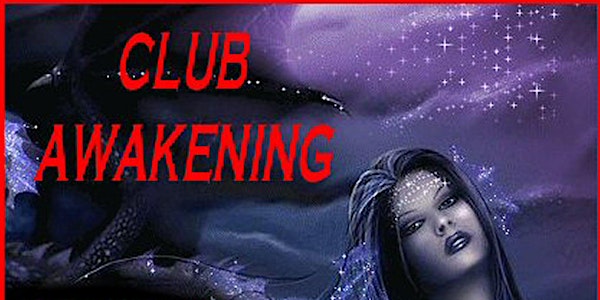 Club Awakening JUNE 2018
When and where
Location
Sanctuary Studios LAX 10914 So. La Cienega Bl. Inglewood, CA 90304
Description
CLUB AWAKENING!!!
A party designed for newbies!
I meet people that are new to the scene all the time. A very common question is, "what party is good for a newbie to start with?" Well – here's my new answer – CLUB AWAKENING!
So far each party has been a HUGE success! Let's make them bigger and better every time!! :-D
PRE-SALE TICKETS:
Discounted pre-sale tickets will be available to purchase online for $20/person or $35/couple.

TICKETS AT THE DOOR:
You can still purchase tickets at the door for $25/person
FREE RAFFLE TICKET FOR EARLY ARRIVAL
Arrive before 9:30pm and you get one free raffle ticket!
POTLUCK = RAFFLE TICKETS
Guests who bring a potluck dish will receive FIVE RAFFLE TICKETS! (Potluck dishes will no longer grant you a discounted ticket).
PRE-PLAY ANNOUNCEMENTS
Pre-play party announcements will happen at 9:45pm so we can open up the rooms and get to playing even sooner than ever! :)
All these amazing changes plus our usual bounty of awesomeness including:
RAFFLE BABY!!!
Looking for a way to add a unique toy to your collection? Last month we lots of generous gifts to raffle off – wonder what we will have this month? Get your FIRST TICKET FREE by arriving before 9:30pm. Then purchase additional tickets for a better chance to win! The raffle will happen at midnight – so don't miss out!!
COAT AND BAG CHECK: For just $3 you can check your coat AND your TOY BAG! A safe place to store your stuff until you're ready to play!!
PICTURE BOOTH: As soon as announcements are done the "picture booth" will open until 11pm in Hecate (the small red room at the end of the hall past shower). A volunteer will take your picture using YOUR CELL PHONE ONLY. Take this opportunity to get a pic in a dungeon before you go play!
VENDORS: Excited to announce we will have two vendors at this party! This is a great way to start or add to your toy bag!
Event page: https://fetlife.com/events/670384
Join the Group page for announcements and more info!: https://fetlife.com/groups/138431
This is the party for you if you are new to the scene (1-2 years or less) OR are bringing someone new. Don't worry - even if you aren't new, this party is open to ALL! It will feature more seasoned volunteers to run a handful of various "tasting booths", including hands-on play, crops and canes, paddles, floggers, and rope. (And a special surprise booth!) As well as "Volunteer Assistants" to not only welcome everyone, but also answer questions, help you through the process of negotiation for a scene, and/or simply point you in the right direction. In addition, there will also be experienced practice bottoms in case you want to try something new from the Top side!
To maintain safety and encourage Safe, Sane & Consensual (SSC) play there will be no alcohol or drugs allowed and no edge play (unless it is a booth taster).
Also – this is not a members-only event, therefore, no fluid exchange including genital/genital or oral/genital sex as well as no penetration. (There are plenty of other parties you can attend for that.) However, you can GET NEKKED! :-D
Water and soda is provided. Food/snacks will also be provided as well as any potluck items that people want to bring to share! Remember – if you bring something you will get 5 free raffle tickets at the door! This could be something you grab at the market or a homemade goodie – munchies are always appreciated no matter what!
**Note regarding parking – we have a limited number of parking spots and only so much curb – so if it's possible for you to carpool with friends or you're close enough to Uber I highly recommend doing that.
SCHEDULE OF EVENTS:
9-9:45pm: Social hour – time to nibble, socialize, and check out the vendors!
9:45pm: Jenn will gather everyone to explain the rules, basic party protocol, negotiation reminders and introduce the volunteers
Picture booth will open until 11pm
10pm (or as soon as announcements are done) until 2am: Booths will open and the play party begins!
MIDNIGHT: RAFFLE WINNERS!