Location
The Creative Technology Center
604 Moulton Avenue
Los Angeles, CA 90031
Sales Have Ended
Ticket sales have ended
Sales for this event have ended, but please be sure to check back for upcoming events!
An unforgettable afternoon of crypto art, keynotes, immersive technology, and interactive experiences. Welcome to CLUB137.NFT [04/24/22]
About this event
ALTERNITY is excited to present CLUB137.NFT in partnership with Innovation & Tech Today at the Creative Technology Center, located within the LA Brewery Arts Complex. CLUB137 will feature various speakers, artists, and companies within the Web3, NFT, and Immersive Media landscapes.
No prior experience with NFTs or cryptocurrency is needed to participate.
If you're interested in learning more about NFTs, Web3, and immersive technologies - this is the place. Or if you already know and love the space, join us for an afternoon of fun and joy!
Tickets are *extremely* limited, so be sure to act fast!
General Admission is $37, and VIP Admission is $137.
VIP Admission includes access to our VIP lounge, refreshments, and exclusive free access to upcoming events in the CLUB137 series.
All artwork will be both displayed via projection mapping and monitors, and will feature scannable QR codes for each artist's NFT. There will also be an augmented reality fashion show, where you can explore the future of wearables, NFTs, and augmented fashion. The evening concludes with an amazing live audiovisual performance by Torkom Ji and Michael Strauss.
Reliquary DAO will also be hosting an NFT Relic Quest for various fun prizes, over 50 in total! CLUB137 POAPs will also be issued to all attendees and a FREE digital subscription to Innovation & Tech Today!
There is a free digital event occurring in tandem, with virtual galleries and livestreams of all speakers and the fashion show. This can be accessed within VR, via smartphone, or on your browser. Event links for the digital gallery + livestreams will be provided the day of the event. (For the full lineup, scroll all the way down).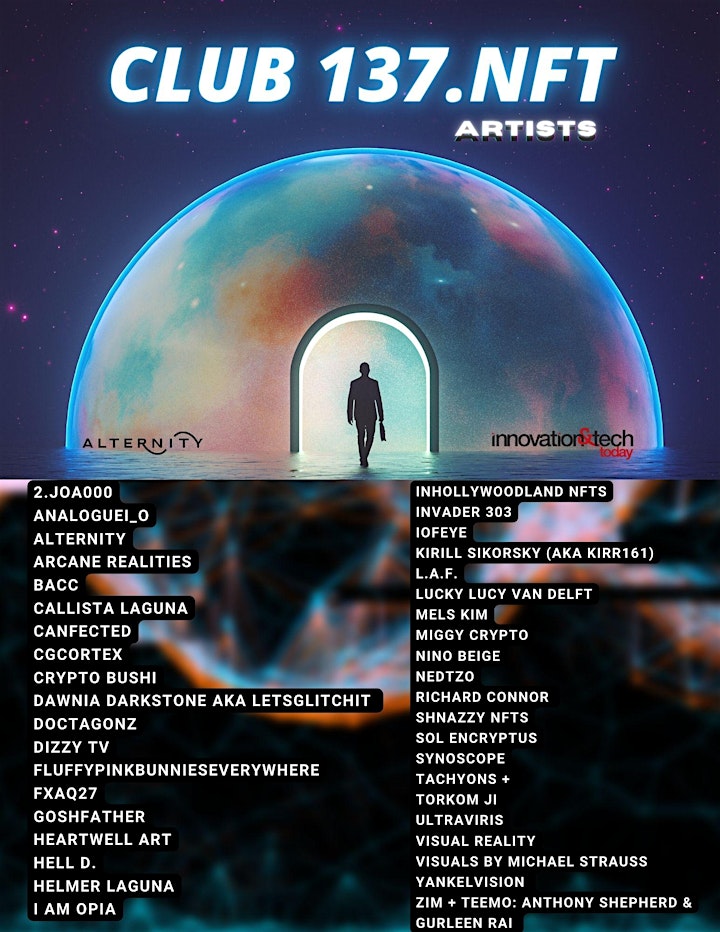 Navigate your way to join the NFT Relic Quest hosted by Reliquary. You can discover VIP Access, Free Beverages & Refreshments, Unlock Hidden Art, and more fun prizes!
Explore blockchain gaming and play-to-earn with an advance presentation of Green Rabbit Games' upcoming release, Green Rabbit Metaverse!
Gain insights into the future of innovation and Web 3 with Charles Warner of Innovation & Tech Today.
Enjoy phenomenal crypto art by a variety of NFT artists pushing the boundaries of creative expression and digital media, and hear directly from Heartwell Art and Shnazzy NFTs about their creative processes!
Experience an immersive audiovisual performance with live electronic music by Torkom Ji and visual projections by Michael Strauss!
Discuss the future of fashion with WEAV3, and explore Virtual Reality words with the likes of Arcane Realities, VR Vegan, The High Council 360, and Synoscope!
Hear about the exciting future of technology and music across a variety of verticals with Adrian Swish of Digital Currensy Inc.!
Learn from Dooya Media Group about OTT streaming and the future of streaming media.
Discover SpaceRanch DAO and The Web3 Space Industry with Jon Stokes! SpaceRanch DAO is the land management organization intended to purchase, develop and operate properties facilitating space launch, development and tourism.
Additionally, we will also feature a small Augmented Reality fashion show complete with LED fashion and wearable NFTs by Steven Galle!
**THERE IS NO PARKING AT THE BREWERY ARTS COMPLEX, PLEASE PARK OFF-SITE**
**Please be registered and ticketed prior to showing up to the event.**
The Brewery is private property, so please stick to our building once you are inside, thanks!
Please read the terms and conditions for entry: https://www.creativetechnologycenter.com/contact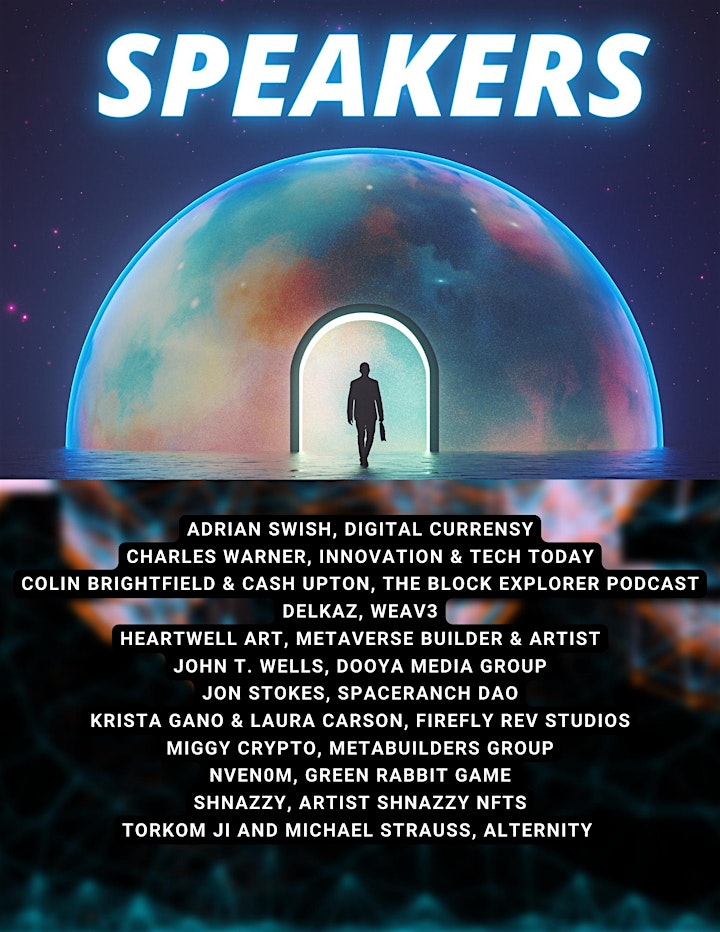 EVENT LINEUP
Speakers:
Nven0m, Green Rabbit Game
Adrian Swish, Digital Currensy
Colin Brightfield & Cash Upton, The Block Explorer Podcast
Charles Warner, Innovation & Tech Today
Delkaz, WEAV3
Jon Stokes, SpaceRanch DAO
Torkom Ji and Michael Strauss, Alternity
John T. Wells, Dooya Media Group
Heartwell Art, Metaverse Builder
Shnazzy, ShnazzyNFTs
Krista Gano & Laura Carson, Firefly Rev Studios
Miggy Crypto, Metabuilders Group
Live AV Performance:
Torkom Ji / Visuals by Michael Strauss
VR Companies:
VR Vegan
The High Council 360
Visual Reality
Arcane Realities
Synoscope
Gaming Preview:
Green Rabbit Game – Green Rabbit Metaverse
Augmented Reality Fashion (including a small fashion show):
Steven Galle (@galle.led)
ALT+CTRL+K
Digital/Print Magazines:
Innovation & Tech Today
The Fox Magazine
NFT Artists:
Synoscope
Nedtzo
Goshfather
Dawnia Darkstone AKA Letsglitchit
Tachyons +
Miggy Crypto
CGCortex
Crypto Bushi
Nino Beige
Glitchachu//Bernizeck
Visual Reality
Michael Strauss
Torkom Ji
Lucky Lucy van Delft
BACC
Heartwell Art
Sol Encryptus
Arcane Realities
Richard Connor
Hell D.
Dizzy TV
AnalogueI_O
2.joa000
Invader303
Fxaq27
ShnazzyNFTs
Canfected
I Am Opia
Ultraviris
Fluffypinkbunnieseverywhere
L.A.F.
Callista Laguna
Helmer Laguna
Zim + Teemo: Anthony Shepherd & Gurleen Rai
YankelVision
Additionally, featuring copyright cleared NFT photos of Marilyn Monroe with InHollywoodLand NFTs.
ABOUT INNOVATION & TECH TODAY: The award-winning team of journalists at Innovation & Tech Today celebrate innovation with a special focus on science, sustainability and STEM. As such, Inno Tech Today caters to a loyal audience of millions of technology enthusiasts and early adopters, especially in corporate and educational communities.
@innotechtoday's trustworthy content attracts a million+ annual readers, 300k+ monthly digital impressions, and thousands of engaged tech enthusiasts on social media.
Available to subscribers in print, online and onsite at expos and conferences, subscribe today and follow the conversation. Sign up today 👇
https://innotechtoday.com/new-digital-issue/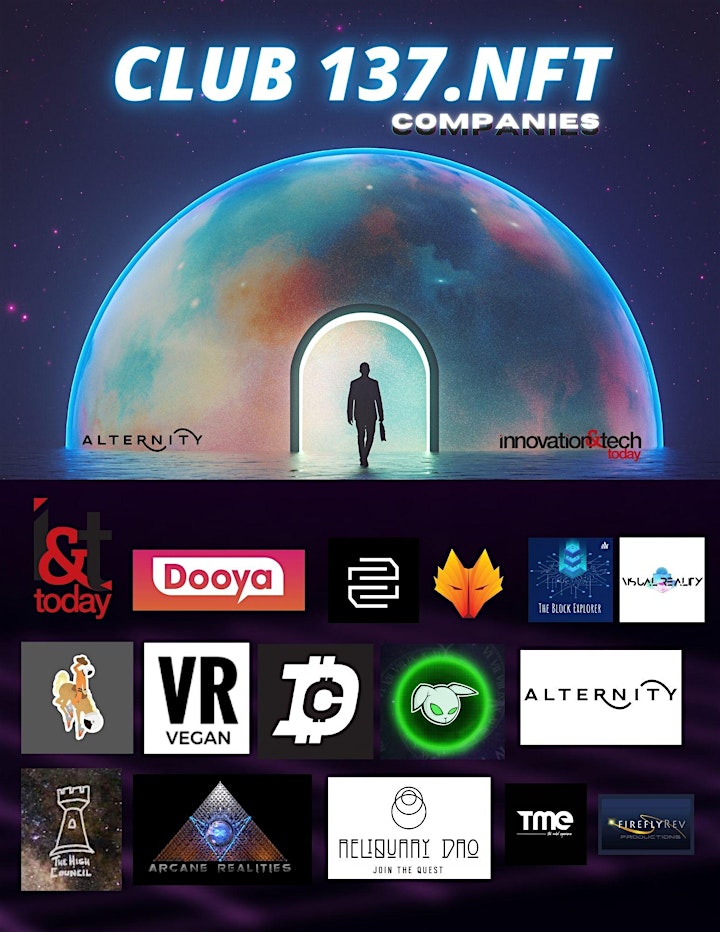 WHY 137? The number '137' has a special significance. 1/137 = 0.00729927007299270072992700..., its period value is palindromic and has a period length of only 8. 1/137 was once believed to be the exact value of the fine-structure constant.
137 has also been observed by physicist Wolfgang Pauli to have a special synchronicity throughout his life, which others in his field have also been known to have observed (see: "Synchronicity: The Bridge Between Matter and Mind" by F. David Peat). Richard Feynman had even suggested that all physicists put a sign in their offices with the number 137 to remind them of just how much they do not know! As such, we hope you will explore the fun of 137, and perhaps you too will start to observe for yourself the interesting and fun synchronicities that may begin to occur!
"Does the Universe around us have a fundamental structure that can be glimpsed through special numbers?
The brilliant physicist Richard Feynman (1918-1988) famously thought so, saying there is a number that all theoretical physicists of worth should "worry about". He called it "one of the greatest mysteries of physics: a magic number that comes to us with no understanding by man".
That magic number, called the fine structure constant, is a fundamental constant, with a value which nearly equals 1/137. Or 1/137.03599913, to be precise. It is denoted by the Greek letter alpha – α.
What's special about alpha is that it's regarded as the best example of a pure number, one that doesn't need units. It actually combines three of nature's fundamental constants – the speed of light, the electric charge carried by one electron, and the Planck's constant, as explains physicist and astrobiologist Paul Davies to Cosmos magazine. Appearing at the intersection of such key areas of physics as relativity, electromagnetism and quantum mechanics is what gives 1/137 its allure.
One use of this curious number is to measure the interaction of charged particles like electrons with electromagnetic fields. Alpha determines how fast an excited atom can emit a photon. It also affects the details of the light emitted by atoms. Scientists have been able to observe a pattern of shifts of light coming from atoms called "fine structure" (giving the constant its name). This "fine structure" has been seen in sunlight and the light coming from other stars.
The constant figures in other situations, making physicists wonder why. Why does nature insist on this number? It has appeared in various calculations in physics since the 1880s, spurring numerous attempts to come up with a Grand Unified Theory that would incorporate the constant since. So far no single explanation took hold. Recent research also introduced the possibility that the constant has actually increased over the last six billion years, even though slightly."