CLT SantaCon...Local Brewery Crawl

Sunday, December 11, 2011 from 12:00 PM to 9:00 PM (EST)
Event Details
Good Eats & Meets and The Charlotte Beer Club are super proud to invite you to SantaCon...What is SantaCon you ask?  SantaCon is a day of fun that is being celebrated in cities all across the WORLD. So we decided Charlotte needed one.  Who doesn't love Santa!!?  Who doesn't love beer!!?  Well, we are putting both together!
 ATTENTION...We will now be having LOCAL CLT Food Trucks at each stop serving food!
We are also asking for unwrapped toys to be donated to A Child's Place.  We will be having bins at each location for your toys!
Check out our Facebook Page...Like Us & pass it on to ALL of your FACEBOOK FRIENDS. We wants this to be HUGE!!
http://www.facebook.com/pages/Charlotte-SantaCon/198024196933841
Check out our Twitter page...Follow us and pass the info to all your Twitter pals...
cltsantacon
The Creators of Charlotte Craft Beer Week & The Charlotte Beer Club and Good Eats & Meets are bringing SantaCon to Charlotte NC! 2011 will be our inaugural year.
Mark your calendars now! Sunday, Dec. 11th 2011!
A Day Filled With Joy, Laughs, Friends, Tricks, Gifts, Singing & Lots of BEER!
A one time cover of $5.00 will get you in to ANY/ALL the breweries throughout the day. If you visit 1 brewery it's $5 cover. If you visit all 4 it's still ONLY a one time cover of $5.  
Please bring CASH! Credit cards and tabs will be VERY DIFFICULT for the establishments to figure out which SANTA just bought a beer!! CASH ONLY PLEASE...or just get your ticket here!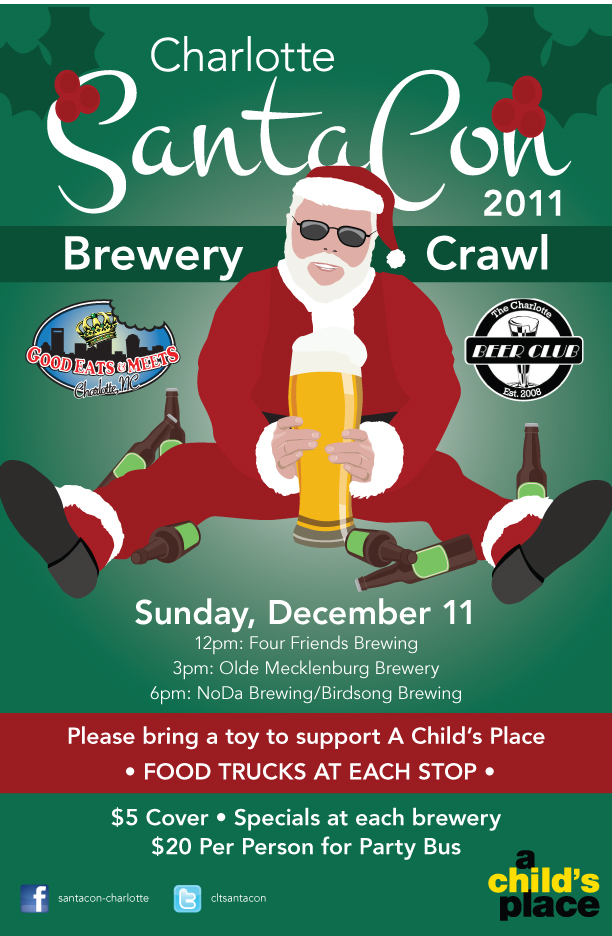 Our Schedule
12 Noon: Four Friends Brewery
3PM: The Olde Mecklenburg Brewery
6PM: (The New...) NoDa Brewing Company & (The New...) Birdsong Brewing Company (next door to NoDa Brewing Co.)  
Party Bus will be available to start you at 4 Friends-leaving at 2:45pm-leaving OMB at 5:45pm and will return you back there at 9:30pm.  The cost is ONLY $20 for use of the bus.  We will have ONLY 50 spots for the bus!  So, don't wait as  the bus will fill up QUICK!
Santa costume preferred, but not mandatory.  Holiday attire expected.
*NOT FOR KIDS! Sorry Mom and Dad, Leave the KIDS at HOME. This is a day of adult humor, songs and alcohol. Children will not be permitted.*

What is SantaCon? The first SantaCon took place in San Francisco in 1994 and was sponsored by The San Francisco Cacophony Society.
The original inspiration came from an earlier SF adventure club called The Suicide Club who's founder came up with the idea after reading an article about a Danish political who mobbed a Copenhagen Department store just before Christmas. However, the first American and all subsequent SantaCons around the world are non-political, purely surreal Santa prank events.
See More Website http://santacon.info/
Please contact(Darrin Pikarsky or Richard Gruica) if you would like to assist in organizing/promoting this event!
goodeatsandmeets@live.com
See you soon and come thirsty!
When & Where
10913 Office Park Drive
Charlotte, NC 28273


Sunday, December 11, 2011 from 12:00 PM to 9:00 PM (EST)
Add to my calendar
CLT SantaCon...Local Brewery Crawl