A British Car Show in Old Town Clovis. With16 British Marques listed, there is going to be a lot of excitement with events thru out the day
About this Event
2021 Schedule of Activities
Saturday, March 27
8:30am....Meet at Best Western Clovis Cole Hotel 415 N. Clovis Ave. & 4th St. for group rally through the Sierra Foothills.
Noon...."No Host" Rally lunch at Bobby Salazar's 434 Clovis Ave. & 4th St. across the street from Best Western Clovis Cole Hotel.
Sunday, March 28
9:00am-10:00am....Please arrive for registration & parking assignments at Bullard Ave. & Woodworth Ave.
10:00am-2:00pm....Car viewing, Antiques Fair & Old Town Clovis exploring. Hand crank contest and fill out participant's car choice ballots and turn in by 1:00pm.
2:00pm-3:00pm....Oil Spot Contest and People's Choice Class awards presentations.
3:00pm....Close of Show for 2021. See you next year!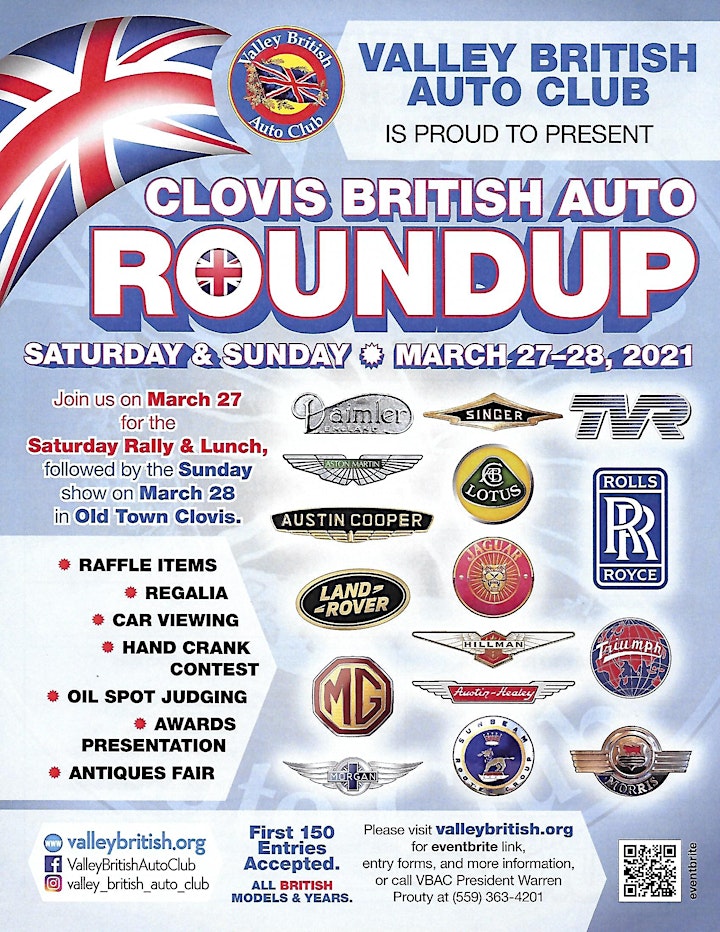 Last Day To Register
is Thursday, March 25, 2021
Registration cannot be guaranteed after March 25 deadline.
Please visit www.valleybritish.org for more information and to verify receipt of your entry form.