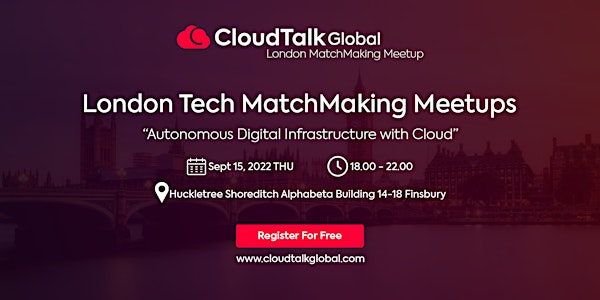 CloudTalk Global - London MatchMaking Meetups
Find out more at: https://cloudtalkglobal.com/london-meetups-2/
When and where
Location
Huckletree Shoreditch Alphabeta building 14-18 Finsbury Square London EC2A 1BR United Kingdom
About this event
About CloudTalk Global - London MatchMaking Meetups
CT London MatchMaking Meetups is the event of CloudTalk Global which is the biggest cloud computing event of Eurasia.
CT London Matchmaking Meetups is industry-led matchmaking meetup series, where senior technology leaders from the UK can share innovative ideas, challenge conventional thinking and build strategic relationships.
1ꓽ1 meetings and collective networking areas and private workshops, drink ups, and many more exciting additions based on experience and innovation. A perfect chance for networking and making new business contacts
Find out more at: https://cloudtalkglobal.com/london-meetups-2/
In this event:
We invite anyone who is passionate about the cloud industry to join and be in the same room as the speakers to take part in this discovery session. Looking forward to meeting you all and your feedback. Until then, keep it safe!
1ꓽ1 meetings and collective networking areas and private workshops, drink ups, and many more exciting additions based on experience and innovation await you!
| Hour | Program |
| ---- | ------- |
| 18:00 - 18:30 | Speed Networking |
| 18:30 - 19:15 | Panel: Enterprise Cloud Transformation and Supporting Autonomous Digital Infrastructure |
| 19:15 - 19:35 | Presentation: Sponsored Presentation |
| 19:45 - 20:45 | Networking & B2B Table Meetings |
What Awaits You?
Network with tech professionals from leading organisations entrepreneurs, advisors.
Engage with senior-level tech leaders working in technology.
Join the industry's leading experts and innovators for active debates, discussions, and high-impact interactions.
Meet the most relevant contacts for your business using our AI matchmaking tools.
Arrange in-person meetings directly by using our matchmaking software.
Speakers:
Burkay Gökhan Yapağcıoğlu - CloudTalk Global Chairman
İsmail Arslan - Digital Transformation Consultant, ArslanCo Board-Advisor, Scale-ups
Clive Deakin - Head of Cloud Strategy, CGG
Derya Sezen - Partner at Kloia & AWS Ambassador
Richard Simon - CTO, Cloud Transformation, T-Systems International
About the Organizer:
Cloud Markethink is a Marketing & Tech Event Agency based in London & Istanbul that delivers and implements event, marketing & PR services exclusively to the IT industry. Eurasia's biggest cloud computing event, CloudTalk Global, and the UK's No.1 Hosting event, HostingTalk Global is organised by CloudMarkethink.
www.cloudmarkethink.com
Find out more at: https://cloudtalkglobal.com/london-meetups-2/
Any questions, please feel free to email adrian@cloudmarkethink.com