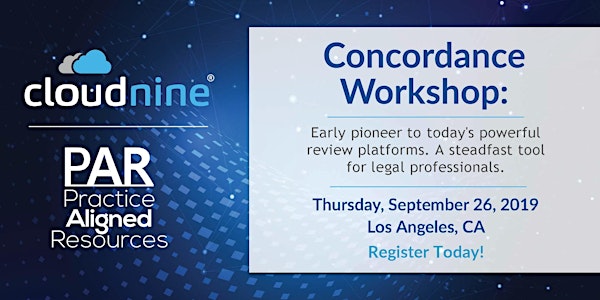 CloudNine Concordance Day!
CloudNine celebrates Concordance Day at The PAR Center!
When and where
Location
Practice Aligned Resources 601 West 5th Street Suite# 230 Los Angeles, CA 90071
About this event
CloudNine ∙ Concordance ∙ Community
Join team Concordance on Thursday, 9/26 to celebrate one of the pioneering products in legal technology: CloudNine Concordance.
Stop by The PAR Center for an opportunity to meet the CloudNine team and get (re) acquainted with one of the corner stone tools in eDiscovery.
AGENDA FOR THURSDAY, 9/26 at THE PAR CENTER
7:30 AM to 8:00 AM: Check-in and join us for Breakfast!
8:00 AM to 5:00 PM: See the roadmap for on-going development (current updates, features and release enhancements):
12:00 PM to 1:00 PM: Lunch at The PAR Center
Talk to the team about CloudNine LAW and other supporting products to Concordance.
Learn about the 64-bit Concordance Desktop platform.
Get a refresher with CPL's and various tips and tricks in the industry.
5:00 PM to 7:00 PM: Enjoy Happy Hour at The PAR Center while networking with professionals in the industry.
Please register to attend.
We're looking forward to celebrating with you!
Email Michelina.Gibbs@PracticeAligned.com if you have any questions.