Cloud, Security, Storage, DevOps, AI, Google, VMware, Microsoft: LA Nov 13
Description
Click register, follow prompts and enter promotional code for free pass. Email registration@angelbeat.com for the code.

Click here for the detailed agenda, scroll down to see speakers. Listen to Angelbeat CEO Ron Gerber's podcast on why you should attend.

The event is at the Sheraton Universal Hotel, conveniently located off the 101 with free parking. Registration begins and exhibits open at 9:00 am, though the opening talk and $100 gift card raffle is at 10:15, with the program ending by 3:15, with a second raffle for an Amazon Echo Dot and other prizes. This agenda/timing avoids morning and afternoon rush hour traffic, with financial and gift incentives to attend.

Specific topics covered include:
- Preventing DDoS, Ransomware and Cyberattacks
- Securing Cloud Infrastructure
- Identity and Access Management
- Stopping Hackers from Exploiting New Threat Vectors/Vulnerabilities
- Compliance with EU GDPR Data Regulations
- Social Media Security, Compliance, Archiving, eDiscovery
- Private/Public/Hybrid Cloud Strategy and Architecture
- LAN/WAN/Cloud Optimal Network Topology
- Storage/Backup/DR
- Capex vs Opex Spending: Financial Tradeoffs, Technical Considerations
- VMware and Amazon Web Services Integration
- DevOps, Migration of Legacy Apps to Hosted Platforms
- Containers and Dockers, Virtualization at O/S Level
- AI/IoT, Artificial Intelligence, Automation, Machine Learning

Every attendee receives meals, complimentary WiFi, plus 4 CPE credit hours towards your CISSP or other certification.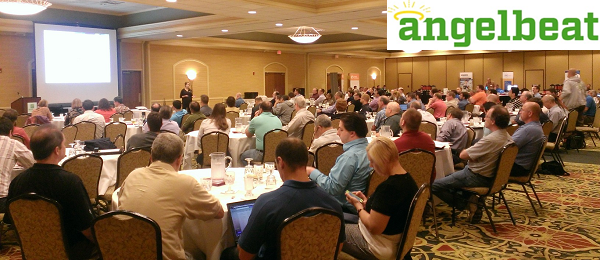 There are keynotes from Microsoft, VMware and Google, a lunchtime case study from the CIO at USC's Information Sciences Institute, plus additional talks from Check Point, Gluware, Thousandeyes, Reduxio, Cohesity, Actiance and Calligo, who all follow these presentation guidelines (no sales pitches). Angelbeat CEO Ron Gerber's closing comments discuss how encryption, wireless replacing wired networks, and Bitcoin/blockchain impacts your organization and career.

The presentations are mainly for IT, Security, Networking, Infrastructure, Storage, DevOps, Database, Developer, Application, Programming, Data Warehousing, e.g. technical professionals, though there is strategic/financial/business information that also makes it meaningful for (digital) marketing, compliance/legal and executive/line-of-business personnel.