About this event
4Geeks Academy, QCObjects y la Comunidad Cloud Native Chile unen fuerzas y presentan Cloud Rocket Summit (Despegando hacia la Nube)🚀☁️
Este evento tiene como objetivo capacitar a más personas para que utilicen herramientas en la computación en la nube.
En nuestra charla principal comenzaremos con un Intro To Cloud, dirigido por Jesús Rodríguez, Chief Technology Officer en Yapo.cl / Co-organizador Cloud Native Chile para luego pasar a manos al código con un workshop de cómo realizar una API en las distintas plataformas de nubes, dictado por Jean Machuca, Fundador de QCObjets, framework de desarrollo con una comunidad de cientos y miles de desarrolladores web, quienes buscan aprender mas acerca de nuevas tendencias en computación de las nubes.
Microsoft y Jetbrains también son los principales colaboradores de esta iniciativa y gracias a ellos: ¡los participantes podrán optar por sorpresas! 🎁 Premios que les serán de mucha ayuda a todos los amantes del coding🧑‍💻
Más información en la página web del evento: https://cloudrocketsummit.com/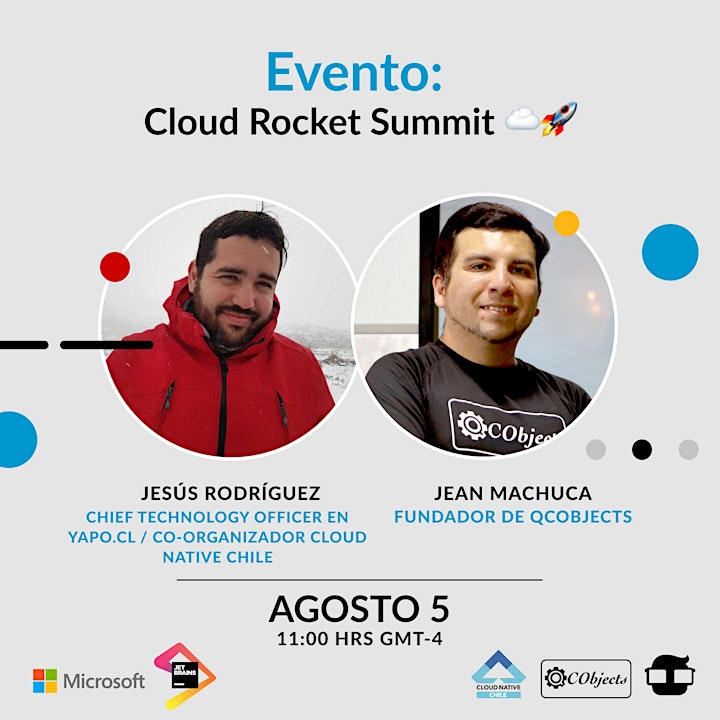 Organizer of Cloud Rocket Summit
4Geeks Academy somos un Bootcamp de programación con más de seis locaciones en el mundo. Estamos enfocados en desarrollar las habilidades necesarias para convertirte en un programador web completo y exitoso.
Nuestros programas están basados en dos etapas: Part-Time y Full-Time. En cada una de ellas, enseñamos las herramientas fundamentales de la programación.
Desde nuestra Academia, vamos de la mano con las tendencias tecnológicas como método de progreso en la educación.