Description
A monthly excursion into the world of Soul, brought to you by
Motown On Mondays LA
, every First Friday afternoon (3pm-8pm), "Upstairs" on the rooftop of Ace Hotel DTLA.
Join The MOM LA Players & Friends on 'Cloud Nine' to sip, vibe, dine, & unwind with a soundscape of swingin & psychedelic soul, laid-back funk grooves, disco-boogie steppers, Motown sounds, & more to set your mood. The rooftop of the historical building offers a breathtaking view of Downtown Los Angeles, perfect to enjoy the sunset from. Gourmet bites, tasty craft cocktails & beers are being served all afternoon/evening, and the poolside is open to the public. Come relax and kick off the weekend with us!
**Arrive early to catch Happy Hour specials, available till 5pm!**
This Month, October 4th features special guest DJ JAZZABELLA (of Girls Gone Vinyl), along with MOM LA's own DJ Expo.
SEE / SHARE / INVITE FRIENDS to this event on Facebook at: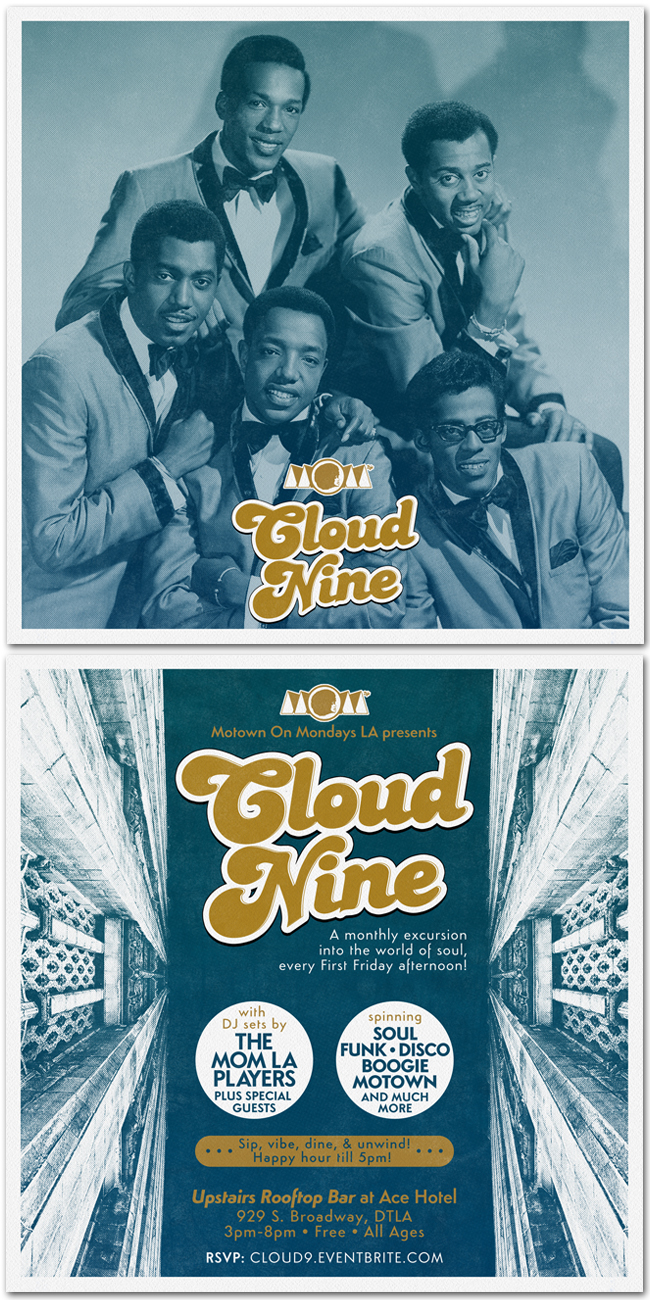 More About Motown On Mondays / MOM DJs:
What began in 2009 as a humble Monday night soul party in San Francisco (Motown On Mondays) has since exploded into a weekly multi-city dance party across the globe. MOM DJs is a worldwide family of DJs, producers, musicians and music enthusiasts that all share a passion for the convergence of soul music and dancing. The entire collective performs at and produces weekly, monthly, and special events across North America and beyond. Over the course of over 9 years, the MOM DJs family has touched down in more than 30 cities (San Francisco, Honolulu, Los Angeles, Oakland, San Jose, Sacramento, Austin, Phoenix, Seattle, Portland, Denver, St Louis, Chicago, Minneapolis, Philadelphia, Washington DC, New York City, San Diego, Manila, Nassau, Toronto, Winnipeg, Missoula, Sao Paulo, Las Vegas, Indianapolis, Berkeley, Tahoe, Long Beach, Miami, Vacaville, Charlotte, Houston, Reno, Salt Lake City).
The Los Angeles Chapter of MOM was founded December 12, 2011 and has been running for over 7 years strong at The Short Stop in Echo Park. MOM LA has hosted a long list of some of the world's best DJs/talents in the business, from local to worldwide favorites, including Prince Paul, Questlove, Peanut Butter Wolf, Z-Trip, Cut Chemist, DJ Spinna, Danny Krivit, Rich Medina, J.Rocc, DJ Rhettmatic, The Reflex, DJ Dez Andres, Skratch Bastid, Lord Finesse, The Beatnuts, Large Professor, J.Period, People Under The Stairs, DJ Spider, Mayer Hawthorne, Cosmo Baker, Stro Elliott, Tall Black Guy, and Jeremy Sole, to give just a short list of names. Over the years, MOM LA has received write-ups/features and reviews, from LA Weekly, Timeout LA, Flavor Pill, Urb magazine and much more. The team of resident DJs, The MOM LA Players, includes: Expo, DJ Jedi, Phatrick, Monalisa, Sloe Poke, and C-Minus. Each week, along with special guests, they gather under the disco ball to bring you the most classic soul tunes, forgotten gems, remixes and related off-shoots/inspirations from the Motown catalog, attracting a funky and diverse mixture of party goers, dancers, DJs, music talents, music lovers, & more! Once a best-kept secret in LA, Motown On Mondays has become a staple in the city of Los Angeles!