Cloud-Native and Kubernetes meetup in Silicon Valley
Description
Agenda
6:00 - Doors open. Networking. Food and drinks.
6:30 - Welcome.
6:40 - Local Storage Provisioning for Statefulset Workloads by Amarjit Singh from Toshiba Memory America
7:10 - Q&A break.
7:20 - Cloud-Native Development by Ramiro Berrelleza from Okteo
7:50 - Q&A break and wrap-up

Details
Talk 1
Title: Local Storage Provisioning for Statefulset Workloads

Speaker: Amarjit Singh, Director DevOps and Cloud Solutions Engineering at Toshiba Memory America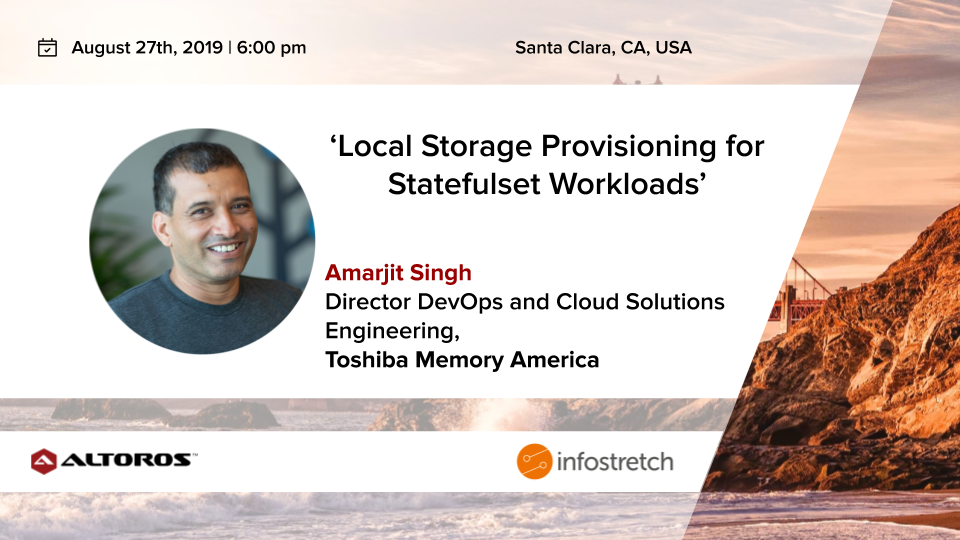 Abstract: Stateful workloads in Kubernetes require persistent storage which must be provisioned as new pods are scheduled. And when those pods are migrated or restarted, connections to persistent storage must also be migrated in a coordinated way. A traditional network/fabric based remote storage offers capability to migrate persistent volumes with stateful pods, but it comes at the cost of performance. Local storage offers highest performance without the flexibility. NVMe over TCP storage combines the flexibility of remote storage with the performance of local NVMe flash. Delivering NVMe volumes via Kubernetes' CSI driver framework brings scale, performance, flexibility and management benefits.
This session demonstrates how new pods get storage volumes on demand, and how pods rescheduled onto different nodes retain their original persistent volumes. Key takeaways from session include the ability to run, maintain and scale high performance stateful/database workloads in Kubernetes.

Bio: Amarjit Singh is a hands on private and public cloud enthusiast and leads DevOps and Cloud Solutions engineering at Toshiba Memory America. Amarjit has managed massive infrastructure in public clouds and data centers. Over the past 20 years Amarjit has evolved with evolution in cloud Infrastructure. Currently, at Toshiba, he is working on a new product category to enable NVMe flash as a service in modern cloud infrastructure.
Talk 2

Title: Cloud-Native Development

Speaker: Ramiro Berrelleza, Founder and CEO, Okteto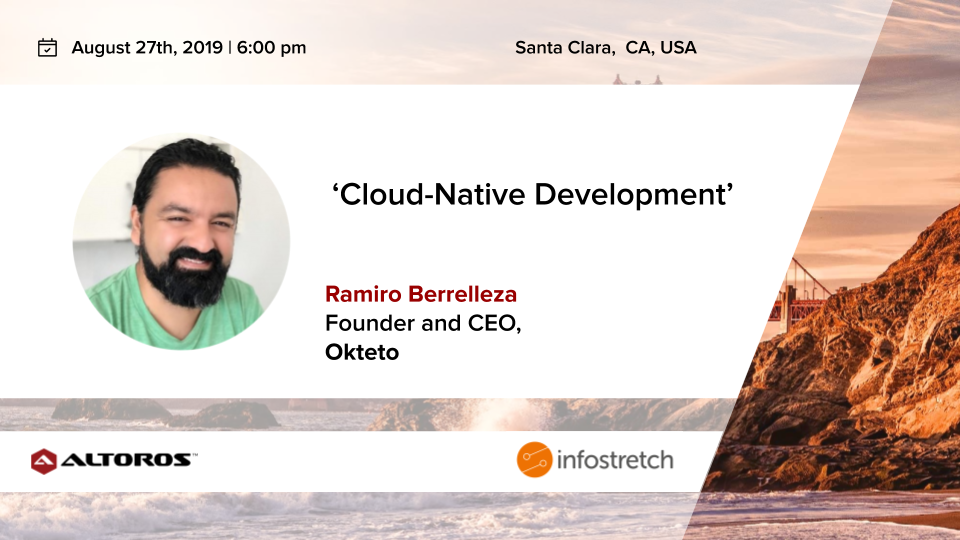 Abstract: Kubernetes has made it very easy to deploy applications to the cloud at a higher scale than ever. Projects like Knative, Istio, Envoy and Open Policy Agents enable us to run applications at a very high scale, with incredibly complex network and access rules. But at the same time, they make it really hard to develop and test locally. This pain goes away if we develop our cloud-native applications directly int the cluster.
In this talk, Ramiro will explain the concept of cloud-native development, the benefits and challenges of this approach, the different tools available for this and how we implement it at @Okteto
Bio: Ramiro Berrelleza is the co-founder and CEO of Okteto. He has spent the last 10 years of his career building cloud services and developer tools. Previously, Ramiro was an Architect at Atlassian and a Software Engineer at Microsoft Azure.
Sponsors: