Description
How do businesses build sustainable competitive advantages in an age of automated chat bots, AI & machine learning?
What kind of IT strategies are necessary to streamline scalability, growth, and security?
The journey to cloud is unique for every organization. Do you have to take a leap of faith and go with the most popular options?
Oracle cordially invites you to meet our international and local teams in person in Jakarta while we discuss and dine together. During our November seminar "Cloud Generation – Executive and Managerial Lunch with Oracle" we will show firms how Oracle is navigating the space and building bridges from traditional to modern and what firms must do to cope with this dynamic landscape.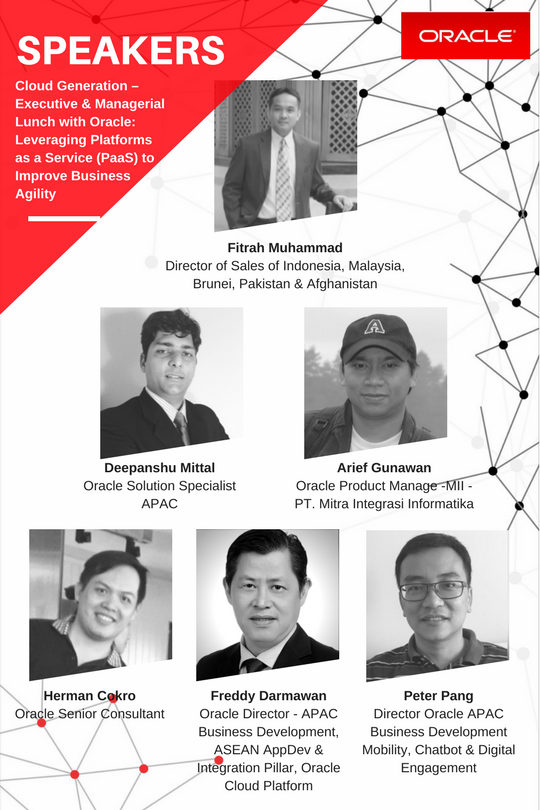 "Cloud Generation – Executive and Managerial Lunch with Oracle: Leveraging Platforms as a Service (PaaS) to Improve Business Agility"
Date: Thursday, November 16, 2017
Time: 08:30 – 13.30 PM
Venue: Will be informed by email
*Seats are highly limited and we will confirm your seat reservation via email/mobile.
For additional questions and other inquiries, please feel free to call or WhatsApp +62 8118899913
Speakers for this event include international members from the Oracle team focused on customer success, chatbots, cloud security and cloud specialists. We look forward to meeting you as we pave the way for the cloud generation.