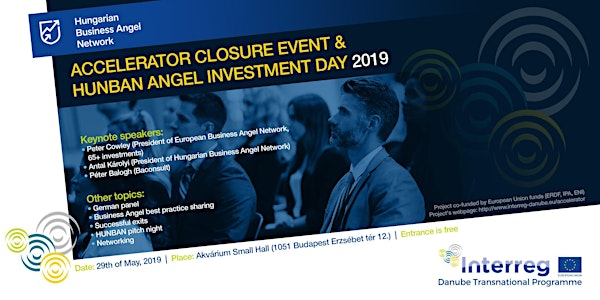 Closure event of Accelerator Project & HUNBAN Angel Investment Day 2019
Location
28th of May: BRKLYN Budapest / 29th of May: Akvárium Klub, Kis Hall
Kazinczy utca 48.
Erzsébet tér 12.
1075 Budapest
Hungary
Sales Have Ended
Registrations are closed
Registration ended. Please, contact info@hunban.eu
Final event of Accelerator project, Hunban Angel Investment Day 2019, Equity Thursday
About this event
1 EVENT, 1,5 DAYS, 2 LOCATIONS, 3 SESSIONS
TUESDAY AFTERNOON:
1ST SESSION: WHY STARTUPS FAIL? CEE EXPERIENCES FROM INVESTORS, FOUNDERS
**** This 1st session is FULLY BOOKED, join waitlist *****
Time&Date: May, 28th 3:45 pm - 7:45 pm, followed by networking until 9:30 pm
Place: BRKLYN - Budapest, Kazinczy u. 48.
Speakers:
József Török, director of SZTA (Széchenyi Venture Capital Fund Management)
Márton Medveczky, investment associate of Flashpoint VC
Kornél Kisgergely, CEO, Hiventures
Levente Zsembery, CEO of X-Ventures, former chairman of HVCA
István Simon, founder, CEO, Prefixbox
Zoltán Györkő, founder, Balabit
Endre Wagner, founder, Balabit
Modules: Startup mistakes during the pitch and investor negotiations; Startup mistakes after the investment, during the "real journey"; How founders see possible mistakes and failures; The BalaBit story
This program is part of Equity Thursday meetup.
Please, note, 1st session is fully booked, please, visit https://www.meetup.com/Equity-Thursday-Budapest/events/261350650/ and register to waitlist.
*****************************************************************
WEDNESDAY MORNING
2ND SESSION: THE ACCELERATOR PROJECT
Time&Date: May, 29th 10:00 am - 2:30 pm
Place: Akvárium, Kiss Hall - Budapest, Erzsébet tér 12.
Speakers:
József Török, director of SZTA (Széchenyi Venture Capital Fund Management)
Ákos Szépvölgyi , managing director of Central Transdanubian Innovation Agency
Wolfgang Schabereiter, mentor, KAIT Kapfenberg ACCELERATOR, Austria
Peter Szlavik, entrepreneur, mentor at ALBA ACCELERATOR, Hungary
Enikő Mátyus, Association of Small- and Medium Size Enterprises of Covasna county
Zoltán Bendó, managing director of Liontaria Ltd.
Katalin Szilágyi, Ministry of Finance, Hungary
Adrian Curaj , General Director, UEFISCDI, Romania
Marica Beric ,Head of Strategic Planning Department, Republic Agency for the Development of Small and Medium Enterprises
Modules: The story of Accelerator project, Round table with startups and mentors from Accelerator pilots, Perspective of policy makers and strategic stakeholders on future funding opportunities, Results of Access to Finance type projects in the Danube Transnational Programme, Presentation of joint strategy and joint recommendations
******************************************************************
WEDNESDAY AFTERNOON
3RD SESSION: HUNBAN ANGEL INVESTMENT DAY 2019
Time&Date: May, 29th 2:30 pm - 19:30 pm official program, networking until10:30 pm
Place: Akvárium, Kiss Hall - Budapest, Erzsébet tér 12.
Keynote speakers - Superangels:
Peter Cowley, President of European Business Angel Network (65+ investments)
Péter Balogh, Baconsult, Cápák között
Modules: Presentaton on angel workflow, best practice sharing, Germany panel, Successful exits, HUNBAN pitch night, Peter Cowley dedicates his book "The Invested Investor"
ENTRANCE IS FREE!
Sponsor tickets might be purchased to support Hungarian Business Angels Network by 10 000 HUF
Project co-funded by European Union funds (ERDF, IPA, ENI)
http://www.interreg-danube.eu/accelerator
Hungarian Business Angel Network is jointly organising this event with Széchenyi Venture Capital Fund Management Ltd and Central Transdanubian Regional Innovation Agency