Closing the Gap: An Evening to Celebrate and Rally for Alto Tunnel
Description
Alto Tunnel's Future Starts Here
Friends of Alto Tunnel (FOAT) and Marin County Bicycle Coalition (MCBC) are pleased to invite you to join us the evening of Wednesday, May 29 at the Mill Valley Community Center as we premiere our short but inspiring film Closing the Gap, narrated by Doug McConnell (host of Bay Area Backroads) and highlighting the incredible opportunity offered by Alto Tunnel.
This informative and engaging evening will showcase the support, passion, and need for this crucial walking and bicycling connection between Mill Valley and Corte Madera. It will be your chance to learn more about Alto Tunnel's history and what's now needed to realize its future potential.
The event will include several "workshop" stations at which people can connect with FOAT leaders, speakers, and filmmakers.

If you share our vision, want to learn more, and are interested in supporting FOAT's and MCBC's efforts, you won't want to miss this special evening!
This event is child-friendly. Appetizers and beverages will be served.
Ride your bike! MCBC is offering free valet bike parking. Look for MCBC's tent in the Community Center parking lot off of Camino Alto.
---


About Alto Tunnel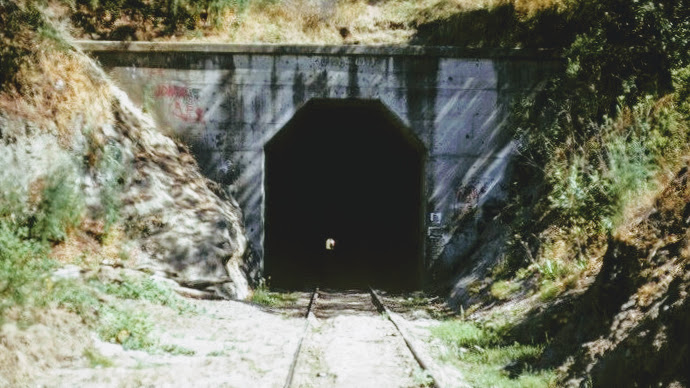 Looking at the north portal in Corte Madera, circa 1970. Image source: https://sites.google.com/site/pics19703/home
Alto Tunnel will connect Mill Valley to Corte Madera, and southern Marin to the rest of Marin, enabling people of all ages and abilities to walk or bike safely, leave their cars at home, and enjoy the beauty of our communities for generations to come.
Opening Alto Tunnel Will:
Connect the Mill Valley-Sausalito Pathway with the safe, flat bike routes to the north that connect to Larkspur, San Rafael, Ross Valley, and beyond.

Serve people of all ages and abilities travelling by foot, bike, and wheelchair.

Eliminate over 2,000 vehicle trips & 15,000 vehicle miles per day.

Provide an additional fire evacuation route.

Stop ongoing tunnel collapse and protect adjacent properties, roads, and utilities.

Enhance property values.
To learn more, head to FOAT's About Alto Tunnel page.