Description
Beloved Sister,
Your invited to join us in circle for a very special evening Closing the Circle.

Closing the Circle is inspired by a desire to create an opportunity, a sacred space where we can honour, shed and close chapters in our lives in a ceremonious way.

Closing circles, shutting doors, finishing chapters; are all thresholds, that ask to be energetically acknowledged and closed.
These moments/cycles in our lives that have reached completion also ask to be named complete, in the naming our completion we give power to our inner feminine knowing of when something has reached its end. In naming we also create space to leave the past as moments that are complete and create space for the growth of a new cycle.
This quote from Paulo Coelho describes the intention behind this night a little further, "Closing cycles not for pride, or inability, or because of arrogance, but simply because that no lovnger fits there in your life. Close the door, change the rocord, clean the house, shake of the dust, stop being who you were and transform into who you are"
This night is an invitation to reclaim ancient ways of acknowledging, change and initiation through the use of rites of passage. A rite of passage is a ceremony marking an important stage in womens life, especially transitional periods where she is shifting from one roles in her life and prepare them for new role. This event will be part women's circle, part ecstatic dance and part ritual.
This event is for you if you are:
Feel called and are ready to close and mark a major times of transition in your life (marriage, divorce or the end of a relationship, moving home, transitioning between jobs, menopause, post birth anything that you feel that you need to close. This closing could be of something that has happened recently or many years ago)

Ceremony and dance will helps us to create a bridge between our mind and soul, between the sacred and the mundane. Once we enter a ceremonial space we are reminded that the line between our everyday world and the world of our soul.

Timeline of Night
7:15 Doors Open (please arrive early to get your self settled, we will start promptly at 7:30)

7:30 Opening the Circle & Intention Setting
7:45-8:45 Dance
8:45-9:45 Closing the Bones Ritual
10:00 Closing Circle
10:00 -10:30 Social & Clean Up
There are two types of ticket; single, 'bring a sister' which is for two, please be sure to select the right one. If you want to avoid the credit card fees, send me an e-transfer liz@lizdiaz.ca please make password "ceremony"

If you are in financial need and would like to attend, please email me liz@lizdiaz.ca to talk about sliding scale options.
About the Dance
Liz will lead a DJ'ed dance (a fusion of Ecsatic Dance & DOWH non-facilitated and lightly facilitated practice) for deep connection and expansion and exploration. Ecstatic Dance is a a unique freestyle dance experience, guided by music. There are three simple basic guidelines to Ecsatic Dance. We dance barefoot. Silent Space. No drugs or alcohol. What is Dance Our Way Home (DOWH)? DOWH supports women to embrace and celebrate our Sacred Feminine, to be free from restraints, to be enamoured by our own breath and dance, and to fall head over heels in love with our self and with everything and everyone" - Erica Ross co-founder of DOWH
About the Ceremony
I recently came back from Guatemala, where I received my doula training and pre & post natal yoga training. Part of our training, was to learn about how to use Rebozos (shawls), and traditional rituals for working with birthing women. One of the rituals we learn is called. Closing the Bones or El Cerrado de Huesos, it is a central and south american Postpartum Ritual, that supports a new mother in completing a cycle, and stepping into a new one. Physically, closing the bones helps to realign the hips, pelvis and spine following the birth of a baby. However, closing the bones also offers an energy healing and provides space for the mother to feel nurtured and to release emotions associated with the birth and motherhood.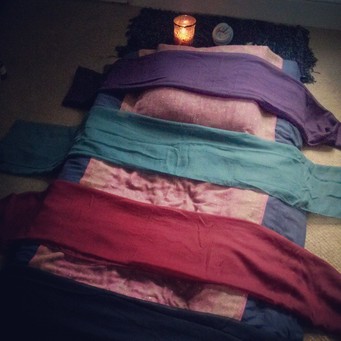 Closing the bones, it is not an exclusive postpartum ritual. It has been used in ceremonies to support times of transitions and closing of cycles. From marriage, divorce, end of a relationship, moving home, transitioning between jobs, menopause, this ritual has even been used with combat vets returning home to help them recover.

Closing the bones ritual can be a great way to find closure from an expeirence or cycle of life. This ceremony provided me with space and time to heal, gifting me a deep sense of completion and renewal.

Read more about my personal experience here http://www.lizdiaz.ca/closing-the-bones-a-ritual-for-closing-cycles/
Closing the Bones is a way to support a our transitions, a way to celebrate our amazing abilities; and a way to create moments of stillness, peace and reflection.

The Closing

The 'closing' done by 2 or more women companions who will hold space. The woman who is receiving the closing will share her intention for what she is closing before gently having her cranium, the midsection, the pelvic area, and feet wrapped. Once complete, the women will be allowed to lie quietly and integrate her experience. When she is ready she will ask to unwrapped. If she so choses, she can briefly share with the women who have been holding space for her about her experience.

About Liz
Liz believes that dance and rituals are practices for self-discovery, celebration and transformation. Liz's calling and passion is to hold and create spaces that inspire women to explore and cultivate embodied awareness and connection to the divine feminine within! Liz is a Women's Spiritual Empowerment Coach, Reiki Practioner & Yoga Teacher at the Rock Store in Toronto. She is a lover of music and is the founder and creator of Conscious Dance Parties Toronto, teacher of Dance Our Way Home (DOWH) (a sacred dance practice for women, that incorporates goddess wisdom & expressive arts) and is a resident DJ with Ecstatic Dance Toronto

Visit lizdiaz.ca for more about services and upcoming events.
Policy: Please note, due to the nature of this event, tickets are nonrefundable.