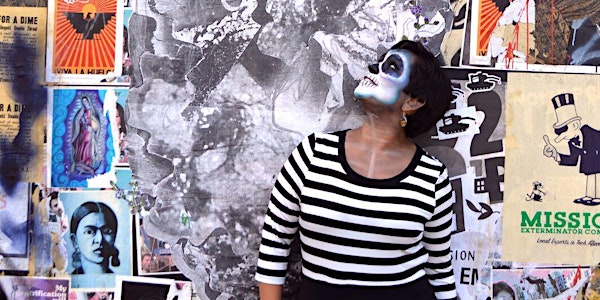 Closing Reception of Honoring our Ancestors by Fighting for the Future: Día de los Muertos 2018
When and where
Location
SOMArts Cultural Center 934 Brannan Street San Francisco, CA 94103
Description
Now in its 19th year, SOMArts' Día de Los Muertos exhibition is one of the most internationally diverse Day of the Dead celebrations in the United States. Over the years, this group exhibition has brought together a wide variety of perspectives to honor, remember, and celebrate the dead.
Since its inception, Día de Los Muertos at SOMArts has offered a space for collective mourning, healing, and refusing to forget the people and places who have been lost. Merging traditional altars with contemporary installations, Dia de los Muertos continues to be a multigenerational gathering of remembrance while imagining the possibilities of the future. Now more than ever, it is imperative that our creative practices be rooted in social action that inspire a better world for generations to come.
Curated by Rio Yañez and Carolina Quintanilla, this year's theme, Honoring our Ancestors by Fighting for the Future, reflects on how those we've lost have shaped our creative and political work. How does the wisdom and work of the dead show us a path and means to a better future? What about your past must you take to your future?

The closing reception, Friday, November 9, 6–9pm, $7–10 sliding scale admission with a Dia de los Muertos inspired artist market, and performances by La Doña and El Trio Cambio!
Exhibiting Artists
Adrian Arias, Mara Hernandez
Adriana Garcia
April Martin Chartrand, M.S.
Ayana Ivery
Azucena Hernandez
Brenda Rasmussen
Candi Farlice
Carla Caletti
Choppy Oshiro
cj grossman
Cynthia Tom, Cris Matos
Dean and Juliet MacCannell
El Chicano– David Tafolla
Elena-Maria Bey
Elly Rojas Blancas
Elizabeth Addison
Elizabeth Benson
Gustavo Vasquez
Howie Katz
John Mayne
Josephine Torio
Kathy deRosas
Keiko Kubo, Stephanie Lowe
Kristian Kabuay
Kristiana Chan, missTANGQ
Lia Tealdi, John Latham, Alice Latham
Libby Paloma, Ace Lehner
Lilli Lanier, Rachel-Anne Palacios, Emily Winslow-Cabrera
Mara Lea Brown
Mary Molly, Ernie
Marco Razo, Kate Razo
Maya Chinchilla
Michael Dingle
Michelle Bonilla Garcia
Miranda Bergman
Monique D. Lopez
Nancy Hom, Pam Wu
Nick Gomez
Patricia Montgomery
Patrick Piazza
Rio Yanez
Rosario Sotelo
Sarah Davis
Shizue Seigel
Susan Mathews
Susana Aragon
Veronica Rueda, Jose Luis Rueda
Victor-Mario Zaballa, Calacas Atomicas
Yohana Junker, Coletivo Desbordar
Curators
Carolina Quintanilla
Rio Yañez