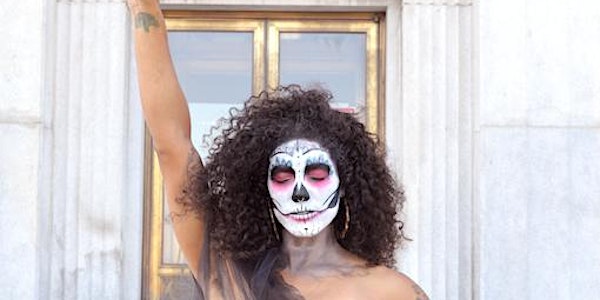 Closing Event for Remembrance and Resistance: Día de los Muertos 2017
When and where
Location
SOMArts Cultural Center 934 Brannan Street San Francisco, CA 94103
Refund Policy
Contact the organizer to request a refund.
Description
Now in its 18th year, the annual Day of the Dead exhibition at SOMArts Cultural Center offers one of the most internationally diverse Día de los Muertos celebrations in the United States. Merging traditional Mexican altars with contemporary art installations, the exhibition presents an incredibly wide array of perspectives remembering, honoring, and celebrating the dead. Inspired by cherished relationships, current events, and personal and collective histories, more than 25 altars by over 60 participating Día de los Muertos artists build a dense environment of creativity that creates space for meaningful reflection and community engagement.
Chosen by father and son curators René & Rio Yañez, this year's theme, Remembrance and Resistance emphasizes the importance of mourning in the context of resistance struggles. In the Trump era, the intense focus on political resistance can overshadow the need for collective mourning. Since its inception, Day of the Dead at SOMArts has offered a space for community reflection and remembrance, refusing to forget those who have been lost to police brutality, gentrification and displacement, and environmental destruction. Now more than ever, it's imperative to honor the dead and reflect on their legacies. What can the lives of our ancestors teach us about resistance and creativity in the current political climate?
Remembrance and Resistance is dedicated to San Francisco activist Ebony McKinney, known by many for her tireless advocacy to advance equity in the arts through her work with the San Francisco Arts Commission and as co-founder of Arts for a Better Bay Area (ABBA)advocacy group. The exhibition is also dedicated to the generation of Americans known as Dreamers — To young people everywhere who are threatened by Trump administration policies, the exhibition will assert "You are welcome here."
The exhibition closing event, Thursday, November 9, 6–9pm, $7–10 sliding scale admission, is the last opportunity to view and interact with the altars. The evening features a Día de los Muertos inspired artist market and live performances by San Francisco band Candelaria, led by lead singer Lilian Herrera, and inspiring performance by dance collective Rising Rhythm Project. Advance tickets are strongly encouraged.
RELATED EVENTS
Opening Event
Friday, October 7, 6–9pm
$12–15 sliding scale admission
remembranceopens.eventbrite.com
Exhibition unveiling features a Día de los Muertos inspired artist market, live music by Puerto Rican funk, rock and reggae band Manicato and live comedy and spoken word by Baruch Porras-Hernandez.
Mission Salon
Friday, October 20, 6–9pm
$12–15 sliding scale admission
missionsalon.eventbrite.com
Experience the cultural vibrancy of the Mission District with an interactive salon curated by David Kubrin and featuring San Francisco poet laureate Kim Shuck. Performances by Trio Cambio, Los Nadies, Josue Rojas, and Musical Art Quintet.

Exhibiting artists:
2AM
Adriana M. Garcia
Adrian
Aja Archuleta & Heather Clark
Alexandra Blum, Cecile Robles-Blum & Calixto Robles
Alicia Cruz Hunt
Ana Rivero Rossi
Azucena Hernandez
Beatriz Vasquez
Beth Benson & Brandy McDaniel
Brenda Rasmussen & Luna Olcott
Candi Farlice & Ann Schnake
Carla Caletti & Nikki Pratchios
chicXicana & Adelgadoart presents
Chris Watts
CJ Grossman
Collective in honor of Luís Góngora Pat
Dean MacCannell & Juliet Flower MacCannell
Elizabeth Addison assisted by Mague Calanche
Emma Brown y Mara Lea Brown
Enkhtuvshin Ganbold
Francis Li & Mark Hellar
Gianna Paniagua
John Mayne
Josephine Torio, Kate Rosenberg, Denise Sullivan & Chloe Villegas
Josue Rojas
Jsun Adrian McCarthy, Linda Trunzo, Rosario Sotelo, Michael Daddona, Gera Lozano, Werc Alvarez, and Jeremiah Jenkins
Kathleen McDonald + Carmina Eliason
Katynka Martinez & Mia Gonzalez
Lara Gallardo
Lia Tealdi, John Latham & Alice Latham
Melorra Green & Karen Seneferu
Michael Roman courtesy of Mike Dingle
Nick Gomez and Johnny Gonzalez
Priya Handa
René Yañez
Rio Yáñez
Robin Henderson & Jos Sances
Shizue Seigel & Ben Pease
Staff of the San Francisco Arts Commission & Grants for the Arts
Susan Matthews
Susana Aragón R
Toshia Christal
Veronica A. Rueda
Victor-Mario Zaballa & Las Calacas Atómicas
We are all Janet.
Xavier Viramontes
Ytaelena
Image credit: Carrie Love, photo by Rio Yañez.
ABOUT THE CURATORS
Rene Yáñez, founder and former Artistic Director of San Francisco's Galería de la Raza in San Francisco's Mission District, was one of the first curators to introduce the contemporary concept of Mexico's Day of the Dead to the United States with a 1972 exhibition at the Galería. Each subsequent year he curated a Day of the Dead exhibition either at the Galería or at the Mission Cultural Center for Latino Arts. Then, in 1994 and 1998, he curated Rooms for the Dead and Labyrinth for the Dead at the Yerba Buena Center for the Arts. His first year curating a Day of the Dead exhibit at SOMArts Cultural Center was 1993.
Active as both a visual and performing arts curator and artist, as well as an outspoken activist, Yáñez co-founded the successful Chicano performance trio Culture Clash. In 1998, he received the "Special Trustees Award in Cultural Leadership" from The San Francisco Foundation for his long-standing contribution to the cultural life of the Bay Area.
Yáñez has curated numerous exhibitions including Chicano Visions (2001–2007), an exhibition hosted by museums such as the de Young Museum (in San Francisco), El Paso Museum of Art, and the Smithsonian Institution.
Notable recent projects include programming produced for the de Young Museum's Picasso: Masterpieces from the Musée National and The Fashion World of Jean Paul Gaultier: From the Sidewalk to the Catwalk. This programming featured Yáñez' interpretations of the works of Pablo Picasso in anaglyph 3D, as well as a fashion runway show Viva Frida: From the Blue House to the Catwalk.
In 2009, 2011, and 2012, Yáñez created a living altar for the San Francisco Symphony's Day of the Dead concert featuring a large cast, crew, and suite of musicians, curated Four Juan Five, an exhibition about the San Francisco Mission District at Alley Cat Books, and performed in Guillermo Gomez-Peña's Corpo Illicito at the New Performance Gallery in San Francisco.
In 2014 Yáñez printed a popular zine, Zine a la Mode over a Pot of Coffee, with a circulation of over 800 copies. His recent work includes a collaboration with artist Patrick Piazza for an installation on the De-Appropriation wall on Valencia street, an exhibit with the S.F. Print Collective about displacement, and Las Chicas de Esta Noche, a drag queen review show at the de Young Museum in collaboration with comedian Marga Gomez. With his collective The Great Tortilla Conspiracy he has participated in art events benefitting the San Francisco Coalition on Homelessness and the St. Peters Dining Hall.
Rio Yañez, born and raised in San Francisco, is a curator, photographer, activist and graphic artist. As an artist he has exhibited his work from San Francisco to Tokyo and created artwork installations for Jean Paul Gaultier's touring exhibit The Fashion World of Jean Paul Gaultier: From the Sidewalk to the Catwalk. His Bay Area solo exhibitions include Pocho Adventure Club at Galería de la Raza in San Francisco, Cholas to Picasso: The 3D Artworks of Rio Yañezat Asterisk Gallery, Bubblegum Crisis at Ginger Rubio Salon and Pochos & Pixels at the University of California, Santa Barbara's Multicultural Center.
Yañez is a curator of more than 10 exhibitions. As with his curatorial work, a part of Yañez' visual art practice is dedicated to exploring how Chicano and Asian Youth have used social media to exchange aesthetics and language. In addition to creating graphic art, Yañez is a founding member of The Great Tortilla Conspiracy, the world's first and only tortilla art collective. As a tortilla artist he silkscreens art and political graphics onto tortillas using edible inks and serves them to eat to the public as interventionist performance art. Yañez' recent projects include self-publishing board games designed around Chicano pop culture icons and a collaborative series of portraits with activist and performer April Flores.