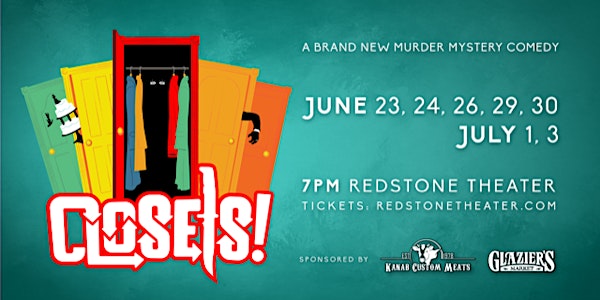 Multiple dates
Closets! - A Murder Mystery Comedy
A brand new comedy play debuts in Kanab! Locally written and performed, Closets! is a classical farce with a modern murder mystery twist.
Date and time
June 23 · 7pm - July 3 · 9pm MDT
Location
The Redstone Theater 29 West Center Street Kanab, UT 84741
Refund Policy
Contact the organizer to request a refund.
About this event
A brand new comedy play debuts this summer in Kanab! Locally written and performed, Closets! is a classical farce with a modern murder mystery twist.
The setting is the deceased grandpa's living room, which has five closets—a homage to the legacy he built, the second largest closet manufacturer in the northeast, called "Closets."
It's the morning of the wedding. But the Groom lies dead on the couch. He's been murdered.
The Brother of the Bride would like to marry his girlfriend, but to gain her father's permission, he needs something to show for himself. If he can convince the Bride to sign over her interest to the family business, then he'll be CEO and can confidently get engaged. When he stumbles across the dead Groom, he figures he can hide the body in the coat closet just long enough until he gets the Bride to sign over the company.
But as a string of guests arrive for the wedding, bringing with them their own baggage, the Brother finds himself juggling more and more. His grandpa's widow won't stop hitting on him. His wanna-be detective Uncle tries to solve the whodunit case but his aloofness only makes things worse. The Bride's vegan ex-boyfriend shows up unannounced, "as a friend." His Dad won't stop doing magic tricks that keep resulting in dead pets, and his Mom keeps trying to get others to read her screenplay about a zombie love story.
As closet doors are swung open and slammed shut, hiding bodies, fur coats, and leg lamps, the dysfunctional family is forced to confront their own skeletons in the closet.
Support the local arts by coming alone, with a date, or your family. Shows are at the Redstone Theater at 7 pm. June 23, 24, 26, 29, 30, July 1 and 3rd.  Tickets are available at the provided link or at the door. Don't miss out!
Sponsored By: Garkane, Glaziers, Honey's Fuel, Kanab Custom Meats, Quality Printing, Sego, State Bank.
About the organizer
THE REDSTONE THEATER IS THE PREMIERE PERFORMING ARTS CENTER IN KANAB UTAH. CONCERTS, STANDUP COMEDY, PLAYS, CONFERENCES, CLASSIC FILMS AND MUCH MORE.