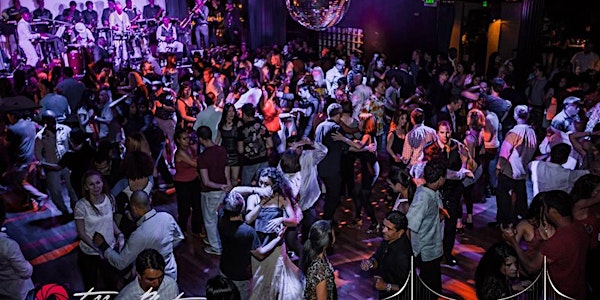 CLOSED TONIGHT ONLY Join us Next Week for Salsa Dancing, Bachata - Lessons
Dance Fridays is CLOSED TONIGHT ONLY. Please Join us Next Week, January 13th, 2023 for FUN Salsa, HOT Bachata, and Dance Lessons for ALL
When and where
Location
Dance Fridays 550 Barneveld San Francisco, CA 94124
Refund Policy
Refunds up to 30 days before event
About this event
HAPPY NEW YEAR! Just a reminder that Dance Fridays is Closed this Friday (the first Friday of the New Year). Join us NEXT WEEK, for our Grand 2023 Reopening.
Dance Fridays is CLOSED TONIGHT ONLY, Friday, January 6th, 2023.
Please Join us Next Week, January 13th, for our Grand 2023 Reopening and FUN Salsa Dancing, HOT Bachata and Dance Lessons for ALL.
https://linktr.ee/dancefridays (Get on the VIP List for Future Events) 
GET TICKETS FOR NEXT WEEK'S EVENT, FRIDAY, JANUARY 13th, 2023, CLICK HERE!
...But first, have you heard about the Dance Fridays 2023 Yearly VIP PASS?
We have a special Dance Fridays 2023 VIP Pass Available Now, which allows entry into all Dance Fridays in 2023, plus some amazing bonuses, take a look:
VIP Pass for 1 person includes Entry into ALL Dance Fridays Events in 2023
Starting January 13th, 2023. Our Grand Re-opening! $1280 Value
GET YOUR VIP Entry into every Dance Fridays event in 2023, including any dance lessons, live music, special concerts, dance lessons and classes. EVERY Friday!
PURCHASE A VIP PASS - https://dancefridays2023vip.eventbrite.com
All you need each week is to simply show your ID! Your ID Must match VIP Pass holder.
EXCLUSIVE VIP PASS BONUSES (in addition to entry every week):
* BONUS 1: Your Birthday Party! Celebrate your Birthday with your VIP Pass (must be within 2 weeks of your actual birthday), and get 20 Friends to party with in for FREE! VIP PASS BONUS, $400+ Value
* BONUS 2: Includes 1 "Bring a Friend" Day each month (3rd Fridays)! $240 Value
* BONUS 3: Includes 2 "Dance Party Night" with 10 Friends in for FREE (any 4th Friday)! $400 Value - You pick the Date!
PURCHASE A VIP PASS - https://dancefridays2023vip.eventbrite.com
-----
Don't worry if you don't want the VIP PASS, Don't forget to JOIN US for next week's Dance Fr