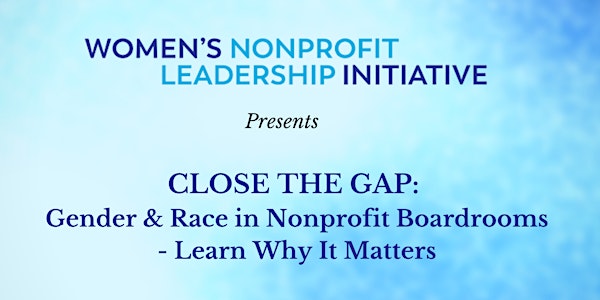 Close the Gap: Gender & Race in Nonprofit Boardrooms - Learn Why It Matters
Learn why boardroom diversity matters, what the challenges are, and how local leaders have overcome those challenges to reshape their boards
About this event

The program will be moderated by JoAnne Epps, current professor and former Dean of Temple Law School, former Executive VP and Provost of Temple University and WNLI Strategy Committee member.
Presenter and Panelists include:
Carolyn Adams, former Dean of the College of Liberal Arts and President of the Faculty Senate, Temple University and founding member of WNLI. Carolyn is one of the co-authors of both the national and regional studies on "Closing the Gaps."
Jack Lynch, President and CEO of Main Line Health.
Ellen Reilly, current Chair of the Board of Trustees at La Salle University.
Jo Surpin, Current member and past Chair of the Board of Trustees at Salus University.
Program Details:
• Welcome and introductions
• Carolyn Adams presents the survey and study findings
• Panel discussion and audience questions
For background on the state of board diversity at Philadelphia area health and higher ed institutions, see "Closing the Gaps: Gender and Race in Nonprofit Boardrooms".