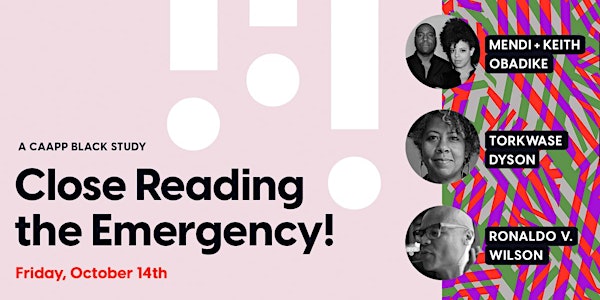 Close Reading The Emergency! Finale—Obadike, Dyson, &, Wilson
Mendi + Keith Obadike are joined by Torkwase Dyson & Ronaldo V. Wilson in creative collaboration.
When and where
Location
Miller Institute for Contemporary Art 5000 Forbes Avenue Pittsburgh, PA 15213
About this event
90 minutes // Live & In-Person!
The fourth and final event in CAAPP's Close Reading the Emergency!
Toward a gesture of community care, we're encouraging all attendees to wear masks during the event.
Parking Information: You may park in the East Campus Garage info here: https://www.cmu.edu/parking/park/visitor.html
There is also metered parking available on Margaret Morrison Street, Tech Street and Frew Street.
"Disaster requires acts of imagination…emergency can be, and almost always is, a moment of emergence." —Alicia Schmidt Camacho, Yale Professor of Ethnicity, Race, and Migration
Mendi + Keith Obadike make music, art and literature. Their early works include The Sour Thunder, an Internet opera (Bridge Records), Crosstalk: American Speech Music (Bridge Records), Black.Net.Art Actions, a suite of new media (internet art) works (published in re:skin on M.I.T Press), Big House / Disclosure, a 200-hour public sound installation (Northwestern University), Phonotype, a book & CD of media artworks, and a poetry collection, Armor and Flesh (Lotus Press). They have contributed sounds/music to projects by wide range of artists including loops for neo-soul singer D'Angelo's first album and a score for playwright Anna Deavere Smith at the Lincoln Center Institute. They were invited to develop their first "opera-masquerade" by writer Toni Morrison at her Princeton Atelier. Their recent projects include a series of large-scale sound art works: American Cypher at Bucknell University and The Studio Museum in Harlem, Blues Speaker (for James Baldwin) at The New School in New York, Free/Phase at the Chicago Cultural Center, Sonic Migration at Scribe Video Center and Tindley Temple in Philadelphia, and Fit (the Battle Of Jericho) at The Metropolitan Museum of Art in New York. Their other honors include a Rockefeller New Media Arts Fellowship, Pick Laudati Award for Digital Art, a New York Foundation for the Arts Fellowship in Fiction, and the Louis Comfort Tiffany Biennial Award. Their intermedia work has been commissioned by The NY African Film Festival and Electronic Arts Intermix, The Yale Cabaret, Whitechapel Art Gallery (London), and The Whitney Museum of Art, among other institutions. Their music has been featured on New York and Chicago public radio, as well as on Juniradio (104.5) in Berlin. They are currently exhibiting in the group show I Was Raised On The Internet at the Museum of Contemporary Art Chicago and developing new work as artists in residence at the Weeksville Heritage Society in Brooklyn, NY.
Keith received a BA in Art from North Carolina Central University and an MFA in Sound Design from Yale University. He is a professor in the Department of Art at Cornell University. Mendi received a BA in English from Spelman College and a Ph.D. in Literature from Duke University. After working as a Cotsen Postdoctoral Fellow at Princeton University, she became a poetry editor at Fence Magazine and is currently an associate professor in the Department of Humanities and Media Studies at Pratt Institute. Mendi and Keith also serve on the boards of Rhizome and The Vera List Center for Art and Politics.
Ronaldo V. Wilson, PhD, is the author of Narrative of the Life of the Brown Boy and the White Man (University of Pittsburgh, 2008), winner of the 2007 Cave Canem Prize., Poems of the Black Object (Futurepoem Books, 2009), winner of the Thom Gunn Award for Gay Poetry and the Asian American Literary Award in Poetry in 2010. His latest books are Farther Traveler: Poetry, Prose, Other (Counterpath Press, 2015), finalist for a Thom Gunn Award for Gay Poetry and Lucy 72 (1913 Press, 2018). Co-founder of the Black Took Collective, Wilson is also a mixed media artist, dancer and performer. He has performed in multiple venues, including the Pulitzer Arts Foundation, UC Riverside's Artsblock, Georgetown's Lannan Center, Dixon Place, the Atlantic Center for the Arts, and Lousiana State University's Digital Media Center Theater. The recipient of fellowships from Cave Canem, the Djerassi Resident Artists Program, the Ford Foundation, Kundiman, MacDowell, the National Research Council, the Provincetown Fine Arts Work Center, the Center for Art and Thought, and Yaddo, Wilson is Associate Professor of Creative Writing and Literature at U.C. Santa Cruz, serving on the core faculty of the Creative Critical PhD Program, and co-directing the Creative Writing Program.
Torkwase Dyson (b. 1973, Chicago) describes herself as a painter working across multiple mediums to explore the continuity between ecology, infrastructure, and architecture. Dyson's abstract works are visual and material systems used to construct fusions of surface tension, movement, scale, real and finite space. With an emphasis on the ways black and brown bodies perceive and negotiate space as information, Dyson looks to spatial liberation strategies from historical and contemporary perspectives, seeking to uncover new understandings of the potential for more livable geographies.
Dyson builds the paintings slowly, accumulating washes, building surface, and configuring minimal geometric elements that lend a productive tension between image and object. The paint-handling producing various visual qualities using brushwork and other tools is made poetic by a juxtaposition of delicate marks and scored diagrammatic lines. This compositional rigor imbues the works with an architectural presence and optical gravity.
Dyson considers spatial relations an urgent question both historically and in the present day. Through abstract paintings, Dyson grapples with ways space is perceived and negotiated. Explorations of how the body unifies, balances, and arranges itself to move through natural and built environments become both expressive and discursive structures within the work.
Mark your calendars for CAAPP's Fall Black Study series "Close Reading the Emergency!" which will run from Tuesday, October 11th through Friday, October 14th. The series will feature a mix of virtual and in-person events and features the following invited guests in conversation and collaboration: Hanif Abdurraqib, Kimberly Drew, Namwali Serpell, Ashon Crawley, Coco Fusco, Dante Micheaux, D. S. Marriott, Diedrick Brackens, Mendi + Keith Obadike, Torkwase Dyson, and Ronaldo V. Wilson.
CAAPP's programming is made possible by the generous support of the Kenneth P. Dietrich School of the Arts & Sciences and The Dietrich Foundation.