Description
Co.Station Belgium is pleased to welcome Clo Willaerts for the launch of her forthcoming handbook: 'Digital Marketing Like a PRO'
Mother, teacher, girl geek, tech optimist and published Author!
Clo Willaerts is an amazing and very inspiring woman and above all she is one of the first tech influencers in Belgium. Digital Marketing has no secret for her! Internet is her playground with over 30,000 Twitter followers and extensive experience in internet business. Clo is a kind of media virtuoso, she is never tired of teaching and learning about digital technology and the impact it has on our daily lives.
Digital has become the new normal for today's marketing and communication professionals. There is, however, still a knowledge gap for what actually generates a return on investment, and what is merely a fancy form of magical thinking. This hand book has the ambition to fill that gap. 'Digital Marketing Like a PRO' is an easy to follow, step-by-step marketing guide that helps you maximize all digital channels.
Whether you're new to marketing or a long-time professional seeking to boost your skills, this digital marketing handbook will help you make your marketing dreams come true.
---


Clo Willaerts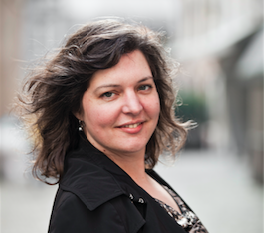 Clo Willaerts (°1970) is a Belgian marketing professional with a large social media following and extensive experience in digital business (communities, streaming media, portals, social media, digital transformation) for the travel, finance, automotive, media and telco industry. Her popular technology blog has been a go-to resource since 2004. Now, after working almost twenty years as an internet and media professional, she travels around the world as a consultant, speaker and author.
A new media virtuoso, Ms. Willaerts never tires of teaching and learning about digital technology and the impact it has on our daily lives. She is a natural on stage and frequently lectures in Belgium on social media, online privacy, digital marketing, artificial intelligence and future technologies at Karel de Grote Hogeschool, Thomas More, EHSAL Management School, and UBA Academy.
Follow Clo Willaerts through her online alter ego: @bnox
---
'Digital Marketing Like a PRO' was a group effort


Neil Patel is a New York Times bestselling author. The Wall Street Journal calls him a top influencer on the web, Forbes says he is one of the top 10 marketers, and Entrepreneur Magazine says he created one of the 100 most brilliant companies. He was recognized as a top 100 entrepreneur under the age of 30 by President Obama and a top 100 entrepreneur under the age of 35 by the United Nations.
Joke De Nul, Geert Van den Eijnden, Polle De Maagt, Elly Cools, Gerrie Smits, Peter van Wijnaerde, Chris Van Gils, Jan Seurinck, Sara Van de Velde, Johnny Waterschoot, Olivier Muys, Kristof Van den Branden, Miel Van Opstal, Stijn Vercamer, Ilse Lambrechts, Tim Raeymaekers, Alexander Freitas, Dennis De Cat, Dennis Peeters, Arno Melotte, Peter Forret, Frédéric De Vries, Monica Monté, Sofie Verhalle, Gaelle Helsmoortel, Koen Thewissen, Philip Weiss, Fiona De Brabanter, Chris Demeyere, Maarten Schenk, Ine Dehandschutter and Dimitri Samaras.
---
'Digital Marketing like a PRO' reviews


"Complete, pragmatic and actionable...if you're tasked with digital marketing in a company, you can't afford not to read this book."
Steven Van Belleghem, Keynote speaker & inspirator on customer centricity in a digital world. Author of When Digital becomes Human, Conversation Manager/Company.
"This book guides you through all aspects of digital marketing, in easy-to-understand terms and provides you tips and best practices to get you started."
Gregory Delens, Managing Director The House of Marketing
"This book is not just a must-read for anyone involved in the world of digital marketing, but it should be a requirement for anyone in business, especially entrepreneurs and startups."
Alex Thoré, CRM, Branding & Communication Director Proximus