Event Information
Refund policy
Refunds up to 7 days before event
Experience a new form of wellness event held safely at various venues around Seattle. Clear stress, refresh your mind, spark your creativity
About this event
6/13 Clinton Fearon
---------------------------------------------------
Safe, distanced, very small music experiences
See COVID Safety Info at the bottom of this page under Abbey Arts Presents
Thanks for helping keep our community safe!
---------------------------------------------------
"Clinton Fearon is a composer, songwriter, singer and player of instruments since his early teens, and a professional since the age of 19.
He was born in Jamaica and become the bassist, vocalist and lyricist for the mythic Gladiators, as well as a session musician for Coxsonne Dodd in Studio One and Lee 'Scratch' Perry's at Black Ark, two of the main producers on the island at this time. He also composed some everlasting bass lines for well-known artists like Yabby You, Jimmy Riley, Max Romeo, Junior Byles and many others.
After leaving Jamaica 1987, Clinton Fearon start a new career from Seattle. With other musicians of the Gladiators, he decided to stay in the US and to found The Defenders. The band built a nice following in the Northwest. After five years the band split and Clinton Fearon formed the Boogie Brown Band with local musicians in 1993.
Clinton Fearon recorded eight albums with Boogie Brown Band and two albums in solo acoustic.
Each song of Clinton Fearon is a strong message coming from the heart of a man who dedicates his life to help a better world to come. With chiselled music and poetic lyrics, he opens reggae to a wider audience who simply loves his beautiful songs."
-Artist Bio
Venue Preview: https://www.instagram.com/seattlewellnessevents/
@ Ballard Homestead, 6541 Jones Ave NW, Seattle
EARLY SHOW: 5:00p show, 4:30 doors
LATER SHOW: 7:30p show, 7:15p doors
All ages, seated
Quiet picnics welcome
If other pod sizes are sold out you can select a larger pod even if attending with a smaller group. Thanks for supporting local artists!
About
Experience a new form of wellness event held safely at various venues around Seattle. Clear stress, refresh your mind, spark your creativity
Bring your pod and enjoy a relaxing and very very small "house concert" type music experience with local LIVE musicians. Small groups will be distanced in a large space with 12+ windows open and all safety guidelines followed.
Audience size will be very limited, approx 25% capacity, in large spaces rated for 150-250 people normally. Various creative activities will be included in the lobby. Some shows will be hosted outdoors when noted and weather permitting.
Some snacks/nonalcoholic beverages will be available for purchase, but no other food or bar service at this show.
Audience is welcome to bring quiet picnics.
Pods will be spaced out in chairs & benches, all windows open.
EVENT & VENUE INFO:
Please refrain from talking during the show.
Please enter quietly if the show has already begun.
Please leave quietly, it's a very quiet neighborhood.
For ADA information at Ballard Homestead, please see www.ballardhomestead.org/rent or email arts(at)fremontabbey.org There is a ramp around back on the south side of the Homestead for wheelchair access. Fremont Abbey is ADA accessible on both levels.
--------------------------------------------------------------------------
ABOUT ABBEY ARTS, SEATTLE:
NONPROFIT 501C3, NON-RELIGIOUS, EST. 2005
Presenting welcoming music, arts & cultural experiences for people of all ages & incomes.
Home Venue: Fremont Abbey, 4272 Fremont Ave North, Seattle, WA 98103 / 206-414-8325 Ballard Homestead: 6541 Jones Ave NW, Seattle | + UHeights Auditorium, St Mark's Cathedral, & more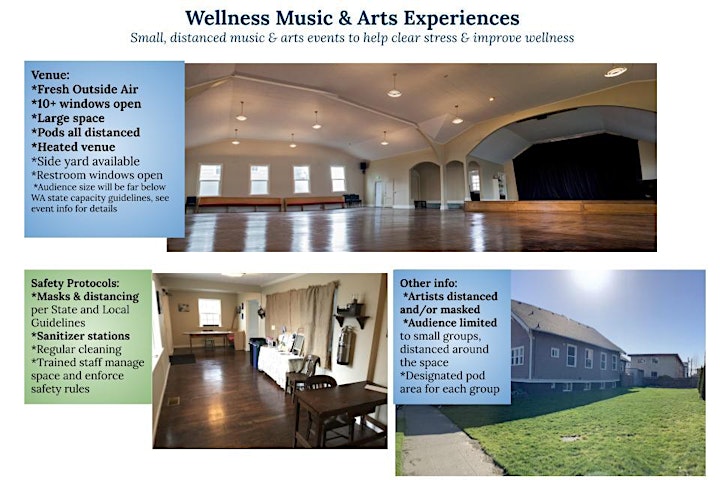 Location
Refund policy
Refunds up to 7 days before event
Organizer of Clinton Fearon, solo (DISTANCED, IN PERSON)
COVID Safety Info:
All state and local health guidelines must be followed
12+ windows open and lots of fresh air flowing
Musicians & attendees must pre-screen and be free of any symptoms
Masks are required for any indoor locations except when eating/drinking
Safe distance of 6 feet or more required for all participants/pods
Musicians will distance further when singing
Individual events may have additional safety measures in place
-----------------------
ABBEY ARTS, SEATTLE:
NONPROFIT 501C3, NON-RELIGIOUS, EST. 2005
Fremont Abbey | Ballard Homestead | St Mark's Capitol Hill | The Auditorium @ UHeights |  & more
Independent nonprofit, non-religious, all ages/incomes. 
Low Fee Tickets! No hidden high fees like Ticktmstr. :-)
  (Note: Comedy shows may have different ticketing fees)
[ Click here to subscribe to our optional text messages. ]
[The views and opinions expressed at events are those of the artists and performers and do not necessarily reflect Abbey Arts. About Page | Respect Policy.]
Refunds may be available per event settings.
No refunds due to support act changes.
Tickets for rental events may be via their website.