Description
Boogie Brown Productions & Nectar present:
"The Seattle Reggae Nights #5" featuring
CLINTON FEARON
& Boogie Brown Band
Unite-One
DJ Selecta West
$13adv
21+
Nectar Lounge
412 N 36th St
**TABLE RESERVATIONS: We are now offering our table reservations on our mezzanine level at check out. Table reservations are sold on a first come first serve basis. See "Additional Items" on the bottom of check out page.
All table reservations are guaranteed within the first hour of doors opening. Although we'll do our best to hold your table, we cannot guarantee table reservations after the first hour.
Please check door opening times. We offer food service once doors officially open. See listing above for specific door times.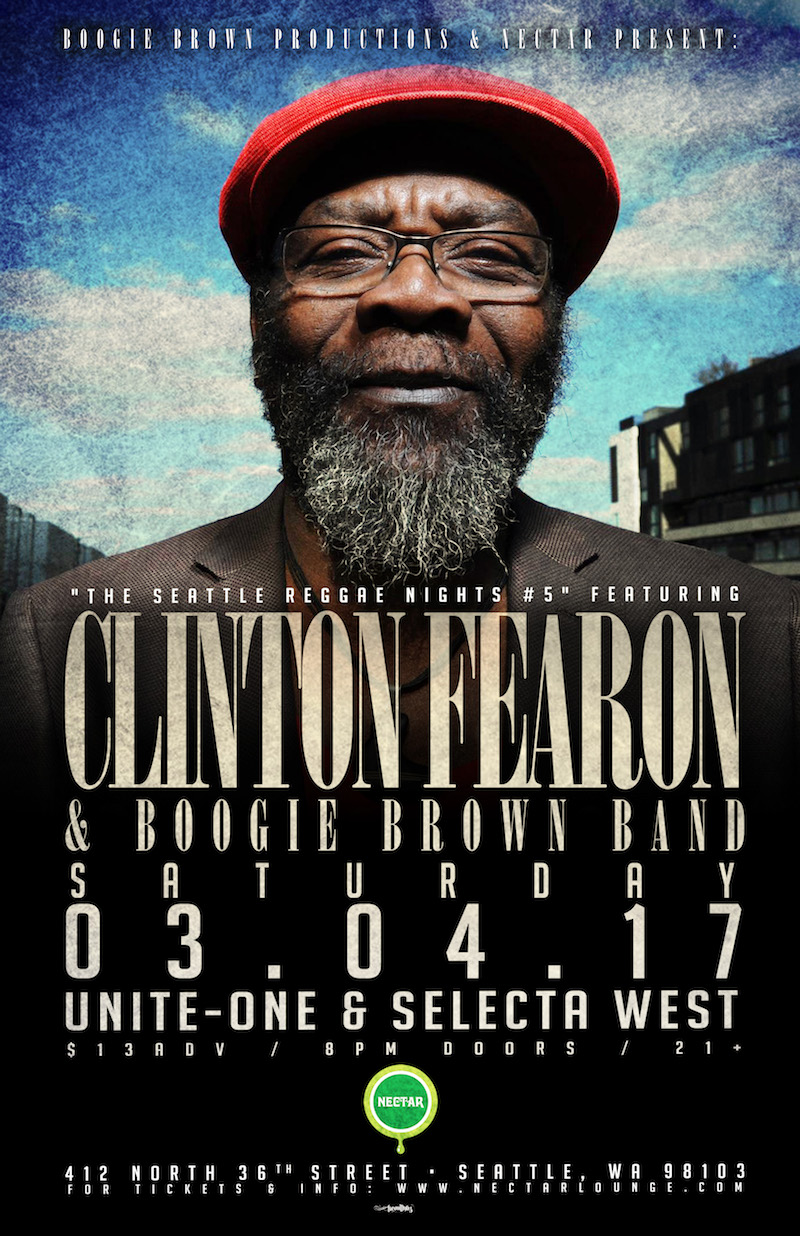 Clinton Fearon
Clinton Fearon is a composer, songwriter, singer and player of instruments since his early teens, and a professional since the age of 19.
He was born in Jamaica and become the bassist, vocalist and lyricist for the mythic Gladiators, as well as a session musician for Coxsonne Dodd in Studio One and Lee 'Scratch' Perry's at Black Ark, two of the main producers on the island at this time. He also composed some everlasting bass lines for well-known artists like Yabby You, Jimmy Riley, Max Romeo, Junior Byles and many others. After leaving Jamaica 1987, Clinton Fearon start a new career from Seattle. With other musicians of the Gladiators, he decided to stay in the US and to found The Defenders. The band built a nice following in the Northwest. After five years the band split and Clinton Fearon formed the Boogie Brown Band with local musicians in 1993.Clinton Fearon recorded eight albums with Boogie Brown Band and two albums in solo acoustic. Each song of Clinton Fearon is a strong message coming from the heart of a man who dedicates his life to help a better world to come. With chiselled music and poetic lyrics, he opens reggae to a wider audience who simply loves his beautiful songs.
Boogie Brown Band
Boogie Brown is a character born in the imaginary world of Clinton Fearon. A brain child, a free spirit with a distinctive beautiful smile. Boogie Brown Band was formed by Clinton Fearon in 1994. At the origin it was four local musicians coming from the jazz and the reggae scene. Members changed over the years and today the band is counting five to seven musicians alongside Clinton Fearon.