Description
We are excited to invite you to our next quarterly OPCA Clinician Leaders' Peer Network Gathering. Our VGMHC colleagues are graciously opening their doors to host our July meeting.
Harness the power of your peers to transform healthcare!
Registration closes July 14th, 2017.
---
General Information
This gathering takes place on Friday, July 28th at two Virginia Garcia Memorial Health Center locations (VGMHC). It's a fantastic opportunity to meet with your peers, discuss hot topics of interest, take a deep dive into a high functioning and innovating Oregon community health center and tour its Wellness Center. For more information on VGMHC visit http://virginiagarcia.org/
This Clinician Leaders' Peer Network Gathering is $75 to attend. OPCA can only provide refunds for cancellations made prior to July 21st, 2017. Please notify OPCA as soon as possible should you need to cancel.
Agenda
The Clinician Leaders' Advisory Group continues to work on the agenda for the day. Although the agenda is not yet final, key highlights of the event:
Experience the structure, strategic direction and organizational/operational highlights of VGMHC

Take a deep dive into panel management

Discuss empathic inquiry– what is it? How can you support its implementation?

Share what you have done within the last 6 months to support provider/team vitality

Spend invaluable time with your health center peers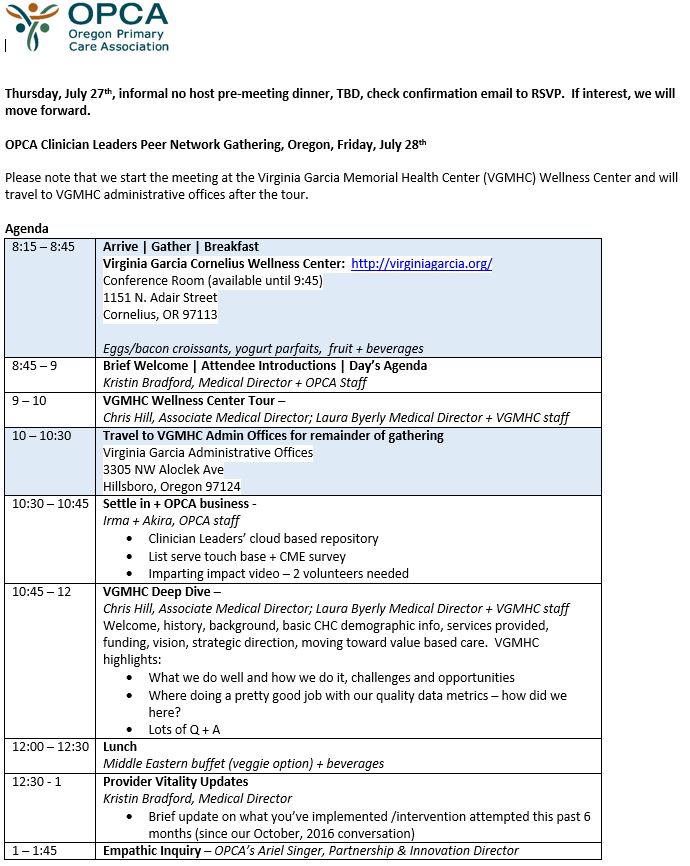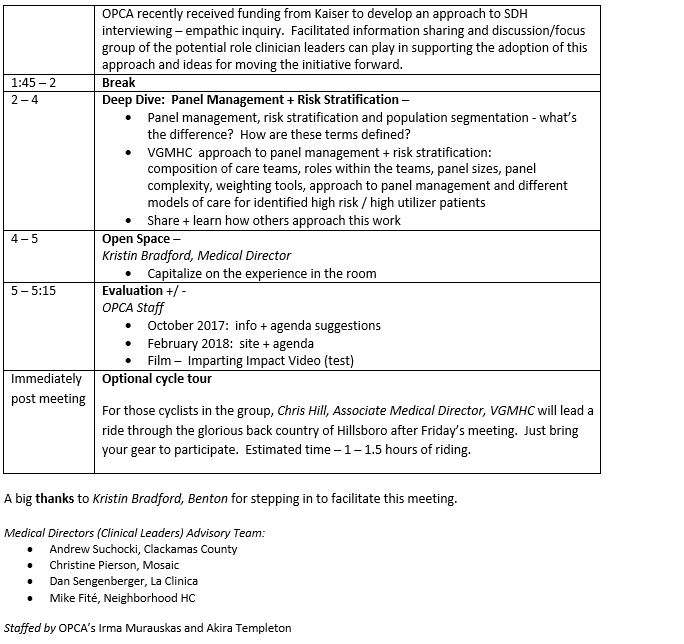 Additional Information
As a reminder, this gathering is a Clinician Leaders/Medical Directors only event. The full executive team Peer Network Gathering comes together again on the afternoon of October 2nd and morning of October 3rd in Sunriver. This all network meeting is followed by OPCA's Annual Strategic Planning Retreat on the afternoon of October 3rd and morning of October 4th.
Venue + Lodging
This event takes place at two Virginia Garcia Memorial Health Center locations (VGMHC) – in both Cornelius and Hillsboro. You are responsible for all personal travel arrangements and costs incurred.
We will begin our day at the:
Virginia Garcia Cornelius Wellness Center
1151 N. Adair Street
Cornelius, OR 97113
And will be transitioning to the:
Virginia Garcia Administrative Offices (30 min drive)
3305 NW Aloclek Ave
Hillsboro, Oregon 97124
The hotel suggested by VGMHC staff is a 2 minute drive from VGMHC's Administrative Offices, Hillsboro: https://www.ihg.com/holidayinn/hotels/us/en/hillsboro/hioho/hoteldetail
Questions?
Please contact Irma Murauskas @ imurauskas@orpca.org or 503-228-8852