Clinical Nursing Conference: Cardiovascular - Critical Care - Trauma
Description
When registering its recommend that you use a personal email over work; many companies will block/junk large emails from outside the company. Your confirmation, communications and the handout link will be sent to the email address used during registration.
*Confirmations are sent instantly, if you do not receive verify that you typed your email address correctly.
DETAILS FOR FEBRUARY 27 & 28, 2018
TARGET AUDIENCE
This conference is designed for nurses and healthcare professionals who wish to increase their knowledge in providing care to cardiac, trauma or intensive care unit patients.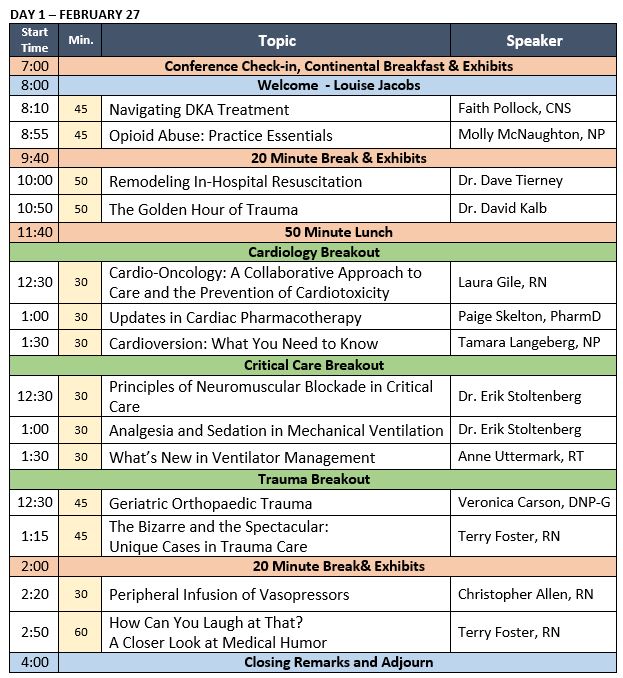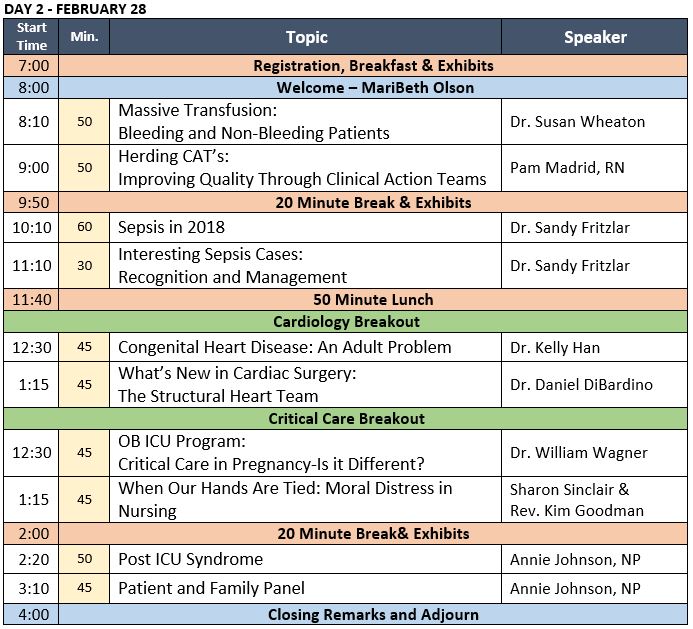 PURPOSE & OBJECTIVES
This two day program is designed to provide current, evidence-based information relevant to the care of cardiac, trauma, and critically ill patients.
At the completion of this conference, participants should be able to:
DAY 1
1. State the 4 goals in the treatment of DKA.
2. Identify opioid misuse, overdose and treatment options.
3. Explain the clinical rationale behind the Allina In-House Resuscitation Program.
4. Demonstrate knowledge and develop optimal plans for the trauma patient in the 1st hour of arrival to the hospital and Identify potential complications in the trauma patient and identify ways to prevent them
5. Identify ways to reduce cardiotoxicity in cancer patients receiving cancer therapies.
6. Recognize and understand new cardiac medications and their use within the cardiac patient population.
7. Improve understanding of cardioversion procedure and Update anticoagulation recommendations pre/post cardioversion procedure
8. Describe the fundamental principles of neuromuscular blockers (NMBs), their clinical utility, and to recognize the primary role of the bedside nurse in ensuring safe and dignified care of these most critically-ill patients.
9. Apply knowledge of the pharmacology of analgesics and sedatives to better care for patients requiring mechanical ventilation to decrease the duration of mechanical ventilation and improve patient survival.
10. Describe the latest in mechanical ventilation equipment and the latest features to improve patient care.
11. Describe the physiological differences in geriatric trauma
12. Describe the common factors associated with an unusual emergency case.
13. Describe the evidence supporting the infusion of peripheral vasopressors.
14. Analyze appropriate and inappropriate uses of medical humor.

DAY 2
1. Discuss massive transfusions in bleeding and non-bleeding patients and identify key factors in successful massive transfusions.
2. Describe the dynamics of having staff engaged in the quality improvement process on a unit.
3. Summarize the importance and process of early identification and treatment of severe sepsis and septic shock.
4. Explain that patients with CHD are increasingly surviving to adulthood, and that a multidisciplinary approach is needed to care for this complex group of patients.
5. Describe the new and future model of heart care which includes a multidisciplinary Heart Team offering Hybrid and Trans catheter therapies for heart valve conditions.
6. Explain the interrelationship of critical illness to mother and fetus.
7. Identify the experience of moral distress and understand factors contributing to this experience.
8. Define Post Intensive Care Syndrome, associated risk factors, and long term consequences.

ACCREDITATION
Nursing - This activity has been designed to meet the Minnesota Board of Nursing continuing education requirements for 12.50 hours of credit. (6.25 hours per day)
Other(s) - Individuals representing other professional disciplines may submit course materials to their respective professional associations for 12.50 hours of continuing education credit.
COURSE MATERIALS
In an effort to Go Green, a link will be provided to those registered 5 business days (Feb 22) prior to the conference to give you an opportunity to download/print the presentations prior to the event. You will be provided with a handout that contains note sheets and the Wi-Fi detail.
PLACES TO STAY IN THE AREA
If you need a place to stay close to the U of M Conference Center, you can visit the www.visitroseville.com and then click on Hotels. Each hotel is listed there with their amenities and you can even make reservations at the hotel of your choice.
REGISTRATION DEADLINE - Tuesday, February 20th.
Tuition fee includes conference educational credits, continental breakfast and lunch. To ensure a comfortable environment, attendance may be capped; early registration is recommended.
CANCELLATION POLICY
Tuition is non-refundable after Tuesday, February 20. Substitutions are accepted at any time; to complete your substitution contact Krista.lee@allina.com. In the unlikely event the program is cancelled Allina Health will not be responsible for air fare, hotel or other costs incurred by participants.
ALLINA HEALTH EMPLOYEE REIMBURSEMENT
For questions regarding reimbursement call HR at 612-262-4688, press #2.
FACULTY
DAY 1
Christopher Allen, BSN, RN, CCRN, CNRN
Nurse Clinician, Neuroscience, Nursing Practice & Research
United Hospital
Veronica Carson, DNP, APRN, GNP-BC
Geriatric Medicine
Regions Hospital
Terry M. Foster, RN, MSN, FAEN, CCRN, CPEN, TCRN, CEN
Critical-Care Clinical Nurse Specialist
Emergency Departments
Ambassador, St. Elizabeth Foundation
St. Elizabeth Healthcare
Edgewood, Kentucky
Laura Gile, BSN, RN, RNFA
4 Heart
Mercy Hospital
David Kalb, MD
Trauma Medical Director
Mercy Hospital
Tamara Langeberg, NP
Cardiac Electrophysiology
Minneapolis Heart Institute at Abbott Northwestern Hospital
Molly McNaughton, MSN, RN, CNP
Nurse Practitioner, Chronic Pain Team
Abbott Northwestern Hospital
Faith Pollock, APRN, CNS, BC-ADM, CDE
Diabetes Clinical Nurse Specialist
Abbott Northwestern Hospital
Paige Skelton, PharmD
PGY2 Cardiology Pharmacy Resident
Abbott Northwestern Hospital & Minneapolis Heart Institute
Erik Stoltenberg, MD
Intensivist
Abbott Northwestern Hospital
David Tierney, MD, FACP
Program Director – Internal Medicine Residency
Abbott Northwestern Hospital
Anne Uttermark BS, RRT
Manager – Respiratory Therapy, Pulmonary Rehab & Sleep Disorders Lab
Abbott Northwestern Hospital
DAY 2
Daniel J. DiBardino, MD
Acquired, Congenital and Structural Heart Surgeon
Minneapolis Heart Institute at Abbott Northwestern Hospital
Site Director of Cardiac Surgery and Surgical ECMO Director
Hennepin County Medical Center

Sandy Fritzlar, MD
Emergency Medicine
United Hospital
Rev. Kimberly Goodman, BCC-APC
Program Coordinator, Allina CPE Center
Lead for Clinical Ethics, Abbott Northwestern Hospital
B. Kelly Han, MD
Director of Advanced Congenital Cardiac Imaging
Director of MACC (Midwest Adult Congenital Center)
Minneapolis Heart Institute/Children's Hospitals and Clinics of Minnesota

Annie (Andrea) Johnson, APRN, ACNP-BC, CCRN
Critical Care, Instructor in Surgery
Mayo Clinic College of Medicine
Pam Madrid, RN, MS, CCNS, CCRN
Critical Care Clinical Nurse Specialist
Mercy Hospital
Sharon Sinclair, MA, LP
Manager, Employee Assistance Program
Allina Health

William E. Wagner, MD
Department of Critical Care Medicine, Abbott Northwestern Hospital;
Co-Director OB ICU Program, Abbott Northwestern Hospital;
Surgical Director Morbidly Adherent Placenta Program;
President, Minnesota Perinatal Physicians
Susan Wheaton, MD, FCAP
Anatomic/Clinical Pathologist and Blood Bank Medical Director
Abbott Northwestern Hospital and Mercy Hospital
ALLINA HEALTH PLANNING COMMITTEE
Carol Anderson, RN, BSN, CNML
Abbott Northwestern Hospital

Cris Bickman RN, BSN, CCRN-K, PHN
Regina Hospital & River Falls Hospital
Linda Dickey, MS, APRN-CNS, CCNS
Mercy Hospital
Kristy Hagen MSN, RN, APRN~CNS, TCRN
Mercy Hospital
Stacy Jepsen, MSN, APRN - CNS, CCRN
Abbott Northwestern Hospital
Katie Kollmann, BAN, RN
United Hospital
Krista Lee, BS
Allina Health
Pam Madrid, RN, MS, CCRN, CCNS
Mercy Hospital
Melissa Simon, BSN, RN
Abbott Northwestern Hospital
Justin Smith, DNP, APRN, CNS
United Hospital
Sharon Wahl, MSN, APRN- CCNS, CCRN
Abbott Northwestern Hospital
Exhibiting Opportunities are available, if interested please contact Krista.Lee@allina.com