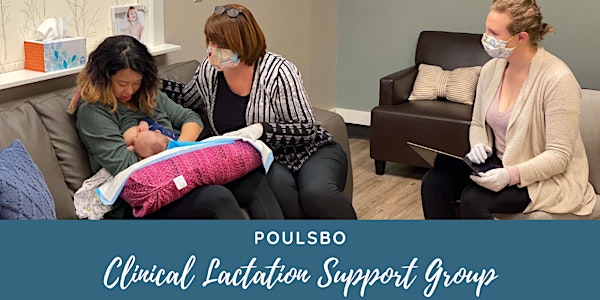 Clinical Lactation Group | Poulsbo
The lactation clinic is organized in a group setting, but Rebecca Kusche, MS, CN, IBCLC works with each parent individually.
When and where
Location
Nurturing Expressions Kitsap County 19950 7th Avenue Northeast #102 Poulsbo, WA 98370
About this event
We know that nursing can come with challenges, which is why we offer a Lactation Clinic led by Rebecca Kusche, MS, CN, IBCLC. The clinic is organized in a group setting, but Rebecca works with each parent individually. Rebecca can help with latch and positioning, assess lip and tongue ties, make feeding plan recommendations, and answer any questions you may have regarding breastfeeding and/or pumping. We also weigh babies before and after nursing as necessary to evaluate milk transfer to determine how much breast milk baby is receiving per breast.
All chestfeeding and breastfeeding parents who exclusively pump are welcome from pregnancy through weaning! Our lactation team is here to help with any questions or demonstrations.
WHEN: Every Friday 11:00am - 12:30pm
WHERE: Nurturing Expressions Poulsbo Boutique
COST: The cost of the group is $30.00*
COVID 19 Precautions
Nursing parents and nursing child only (unfortunately we can't accommodate support persons at this time)
All adults must wear masks
All Nurturing Expressions staff wear masks and practice social distancing and good handwashing
Clinic will be limited to 5 attendees
If you also need help with your breast pump, be sure to bring your entire pump, with flanges and accessories.
*The first admission is FREE if you received your breast pump from Nurturing Expressions and for expecting mothers. Fee waiver is also available for Apple Health clients.