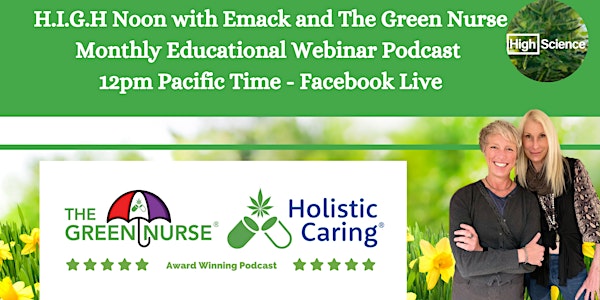 Multiple dates
Clinical Conversations with Holistic Caring & The Green Nurse Webcast
Holistic Caring & The Green Nurse Monthly Webcast - optimize CBD & plant medicines!
By Elisabeth Mack, RN, MBA
When and where
Date and time
April 13, 2022 · 12pm - March 12, 2025 · 1pm PDT
About this event
Join Holistic Caring & The Green Nurse for our monthly 'Clinical Conversations' Webcast with Elisabeth Mack and Sherri Tutkus - LIVE ON YOUTUBE - SUBSCRIBE TODAY! https://www.youtube.com/channel/UCO9UhH3t0sDi5SmdeI1Exyw
Welcome to our Monthly Medical Cannabis & CBD Webcast where we educate you on a clinical condition, explain how cannabinoids may help reduce symptoms and improve quality of life, and provide tips on how to get started.
We are here to change the dialogue and stigma around plant medicine, and what it means to feel good or be high, hence H-for Hope, I- for Inspiration, G-for Growth, H-for Healing.
Feb: Heart Health
March: Endometriosis, Immune, PMS and Cannabinoids
April: IBS, Crohn's and Cannabinoids
May: Chronic Pain, Immune, Movement and Cannabinoids
June: Physical and Mental Health Basics, Sex and Cannabinoids
July: Pride, History and Cannabinoids
August: Skin conditions, Gut/Immune Health and Cannabinoids
September: Addiction, Cannabinoids as Harm Reduction
October: Cancer / breast, ovarian and Cannabinoids
November: Alzheimer's symptom management and Cannabinoids
December: Vaccines, Immune and Cannabinoids
Join us in our FREE community
https://holistic-caring.mn.co
Free intro to cannabis course, free patient portal, book club, and access to patients and professionals across the globe.
SHOP our Green Nurse Approved CBD Marketplace
https://holisticcaring.com/product-category/cbd-products/
www.BloomHemp.com - CHECK OUT THE DAILY ESSENTIALS "DIgestive Formulation"
Greennurse for 10% OFF and Free Shipping
ALL WEBCASTS WILL BE LIVE ON FACEBOOK, ROKU, AND YOUTUBE
SUBSCRIBE to The Green Nurse YouTube
https://www.youtube.com/channel/UCO9UhH3t0sDi5SmdeI1Exyw