Description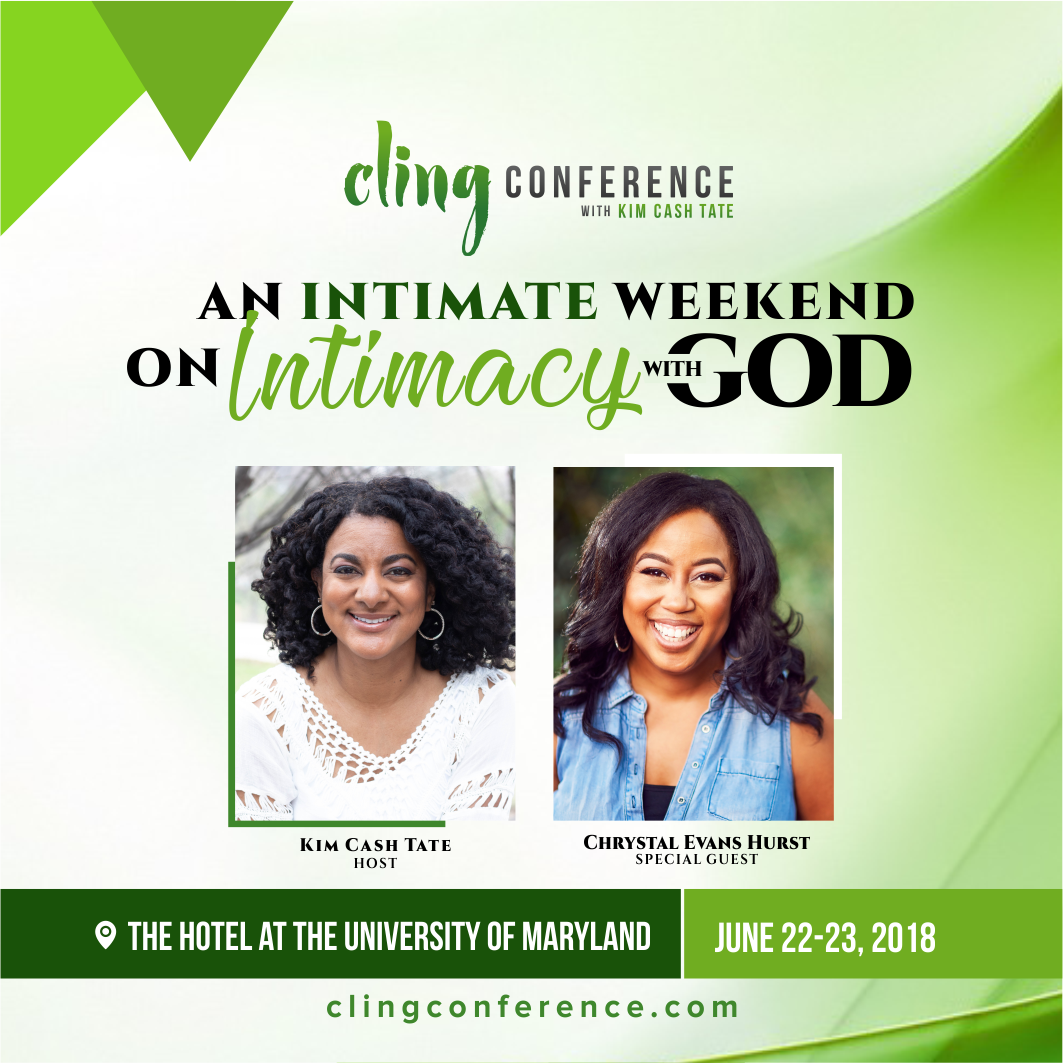 CLING CONFERENCE (clingconference.com)
Host: Kim Cash Tate
Special guest: Chrystal Evans Hurst
* Space is limited
* Registration includes lunch on Saturday
* Discounted rate available on a limited number of rooms under "Cling Conference with Kim Cash Tate" ~ call 844-954-6835.
---
"You shall follow the

Lord

your God and fear Him; and you shall keep His commandments, listen to His voice, serve Him, and cling to Him." (Deut. 13:4)
So often intimacy with God seems wonderful in theory but hard to walk out. We view God as too distant, and in order to get to Him we have to be good enough or jump enough hurdles—and even then He may not receive us.
Or our schedules are too jammed for quality time with God. Or maybe we don't even see the point. As long as God is there when we need Him, that's enough.
But here's the amazing truth—it's what God wants from us . . . a close, intimate relationship. We were created to cling to Him, and He's put everything in place for us to cling to Him. Do you have a longing in your heart to walk closely with Him? It's because a gracious God put it there.
The heart of the CLING Conference is to encourage and help foster an intimate walk with the Lord. The weekend is hosted by Kim Cash Tate, Bible teacher and author of the book Cling: Choosing a Lifestyle of Intimacy with God. "Cling" has been on her heart for nearly eighteen years, beginning with a study of Deuteronomy. That word became a prayer—Lord, help me to cling to You—and from season to season, has remained the cry of her heart.
The CLING Conference will also feature special guest Chrystal Evans Hurst. Chrystal is the best-selling author of She's Still There and Kingdom Woman. She is an energetic, life-loving "girl-next-door" who loves encouraging others to fullfill their potential in Christ. With humor and vulnerability, Chrystal tells it like it is but does so with grace, integrity, and love. Conference attendees will be blessed as Chrystal shares with frank honesty and practical wisdom. She firmly believes God's promise in Jeremiah 29:11, "I know the plans that I have for you…" and she desires to help other women believe and apply that truth to their lives.
WHAT TO EXPECT
Concentrated time in the word of God. We will look to the word to deepen our understanding of what it means to not only cling to God, but to impact our generation as we cling.

Real talk as we apply the word to real-life issues.

Fellowship.

In particular, the Friday night meet-and-greet is designed for extended conversation and lots of hugs.

Panel discussion featuring Kim and Chrystal.

Fiction Spotlight: we will kick off the evening with some old school fun & fellowship then talk about what it means to cling in the context of Kim's latest novel.
WEEKEND OVERVIEW
Friday
7 pm – 10 pm ~ Registration and Meet-and-Greet
Saturday
8:00 am – 9:00 am ~ Registration
9 am – 11:30 am ~ Morning Session
Lunch (included with registration)
Book signing
1:30 pm – 4:30 pm ~ Afternoon Session
Dinner (on your own)
7 pm – 10 pm ~ Fiction Spotlight