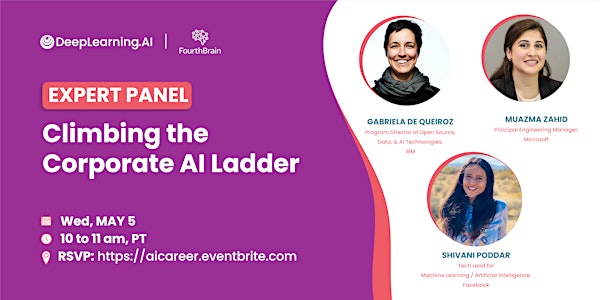 Climbing the Corporate AI Ladder
Join us at Climbing the Corporate AI Ladder, and hear our speakers share their first-hand experience on how to level up your career.
About this event
If you have been working in the AI field for a few years, you might be thinking about leveling up your careers. What are the career pathways that you can look at? What are the skills that you need to build? What are the requirements if you want to switch to a managerial role?
Join us for a live virtual event on May 5 - Climbing the Corporate AI Ladder, and hear our speakers share their first-hand experience. This event is co-hosted by DeepLearning.AI and FourthBrain. FourthBrain creates accessible and flexible pathways to AI careers by training candidates with valuable practical and interpersonal skills.
Speakers:
The event will start off with a panel discussion and follow with a Q&A session. We'll be using Slido for Q&A. Please note that only the people who sign up for the Slido ticket will have access to Slido to post and upvote questions.
Topics that the panel is going to cover:
Is it better to focus on a specific topic within the AI world or to develop a broader knowledge in several topics?
When trying to land their first job, what should someone do to stand out from the crowd?
How did you navigate the path of junior MLE to senior MLE roles to leading teams?
What do you get out of a Master's or PhD degree? How can you get that without the formal program?
What are the characteristics or the most important skills you look for in the people you are adding to your team?
What are some of the most prominent challenges you have faced as a manager/leader?
What are your opinions on moving up the corporate AI Ladder vertically in one company versus moving companies?
How to access the event:
This is a virtual event. Below you can find the online access links, including a YouTube link and a Slido link where you can submit/upvote questions :
After registering, you'll receive an order confirmation email which includes the links
You can also find them in the reminder email sent 3 days before the event.
Alternatively, you can log in to your Eventbrite account and access the online event page.
Can't attend the live YouTube event? Don't worry. Register now to get the recorded session.
About speakers:
Gabriela de Queiroz is a Program Director at IBM where she manages and leads a team of developers working on Data & AI Open Source projects. She works to democratize AI by building tools and launching new open source projects. She is passionate about making data science available to everybody and is actively involved with several organizations to foster an inclusive community. She is the founder of AI Inclusive (ai-inclusive.org), a global organization that is helping increase the representation and participation of gender minorities in Artificial Intelligence. She is also the founder of R-Ladies, a worldwide organization for promoting diversity in the R community with more than 180 chapters in 45+ countries. She has worked in several startups and where she built teams, developed statistical models, and employed a variety of techniques to derive insights and drive data-centric decisions.
Muazma Zahid is a Principal Engineering Manager at Microsoft Azure, where she enables customers to deploy the most demanding Data workloads on Azure. She has been a Data Engineer/Architect and Speaker for over fourteen years working on several Big Data, Cloud Computing, and AI Technologies. Her ML research software is used in EKG machines all around the world. Muazma is an advocate of diversity, equity, and inclusion. She is President of the non-profit organization Pakistani Women in Computing which is on a mission to connect, learn, and grow together. She leads the AnitaB.org Seattle community and also a leader at Women Who Code and Women at Microsoft. She was recently awarded Mentor of the year by Women Tech Network. Connect with Muazma: https://linktr.ee/muazma
Shivani Poddar is the tech lead of the Machine Learning team for the development of Assistive Technology in Workplace @ FaceBook. She's working on a full stack of machine learning problems, direction setting, implementation of models, experimentation, XFN relationship building and mile-stoning for the team. Before Facebook, she was at Carnegie Mellon University, where she helped build the CMU Magnus system for social chit chat ground up for the first wave of Amazon Alexa Prize Challenge. She has also published work on modeling user psychology, and building argumentation systems that help in negotiation. Her research background spans across-disciplines such as computer science, psychology and machine learning.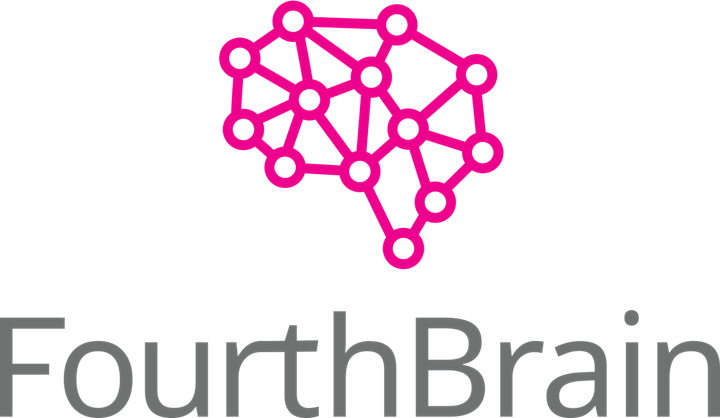 About FourthBrain
FourthBrain's mission is to bring more people into the growing fields of Machine Learning and Artificial Intelligence. We are increasing the talent pool and enabling more people to make an impact in this field with our flexible, accessible education programs that create pathways into ML and AI careers.
We offer 2 Programs:
1. Machine Learning Engineer Program
Our 16 week program will prepare you with the technical skills to be a machine learning engineer including web analytics, deep learning, computer vision and time-series analysis.
2. MLOps and Systems Program
Our 12 week program will help get you prepared with the MLOps tools, skills, and best practices for deploying, evaluating, monitoring and operating production ML systems.
With FourthBrain's live, online, instructor-led programs in Machine Learning, you can join a career path that has been ranked as one of the best in the world. Our programs are designed with a flexible and practical curriculum, paired with hands-on projects that apply the concepts you've learned to make you career ready. FourthBrain is backed by the AI Fund, which was founded by Dr. Andrew Ng in 2017.