Description
Starting to climb can be intimidating, but climbing outside just kinda seems out of reach (pun intended) especially if you haven't had any experience. Whether you're totally new to climbing, have only been to the climbing gym a couple times, or a seasoned gym climber wanting to brush up on proper belay technique and crag etiquette, this workshop is for you! Learn to conquer the crag with other climbing newbies and have some exciting, adventure-filled fun in a non-intimidating and supportive environment! We're partnering with ACMG Apprentice Guide Katie Orman to get you geared up on the following:
Intro to Gear (harnesses, helmets, ropes, carabiners etc.)
Basic knots
Top rope belaying
Communication and climbing vocab
Safety checks & systems
Basic climbing movement
Rappelling
We're limiting this workshop to only 6 womxn so everyone can ask as many questions as you want and receive focused attention/instruction! Gear required:
Helmet
Harness
Rock Clmbing Shoes
Belay Device
lunch and something warm to wear!
We will have helmets for everyone! Other gear can either be rented from Climb On in Squamish or borrowed from a nice friend of yours :)
About the Instructor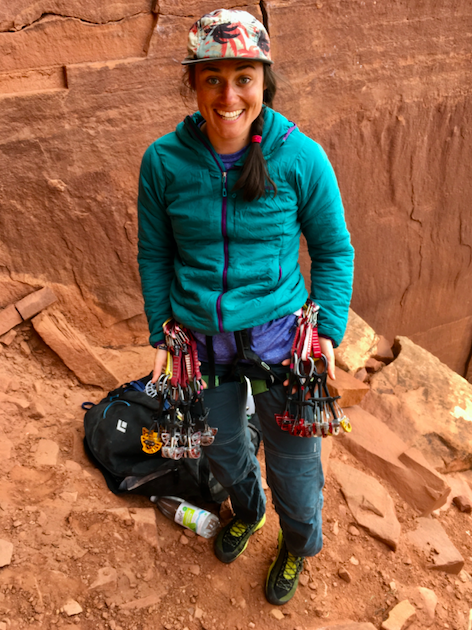 Katie Oram is an ACMG apprentice rock guide living in Squamish and has worked with the Treeline Women's Climbing Festival. She grew up playing in the mountains of New Hampshire and has always had a love for the outdoors. Before becoming an ACMG Guide, Katie led climbing, skiing, and mountaineering expeditions for NOLS (the National Outdoor Leadership School), traversing mountain ranges such as the Wind Rivers and North Cascades and teaching in climbing venues like City of Rocks, Cochise Stronghold, Red Rocks, Ibex, and Sinks Canyon. She loves the way climbing allows her to grow both physically and mentally. Sharing this passion with others is one of her biggest joys. Katie has been on a skiing expedition to the Waddington Range and has done extended climbing trips in places like Yosemite, the Tetons, the Valhallas and the Wind River Range. After a long day of climbing in Squamish, her favorite way to relax is to take a dip in the Stawamus River!
event photo by @adrianthephotographer