An experience to better position yourself, your business, your organization and your team for greater results post-covid-19.
About this event
The Level Up One-Day Leadership Gathering is a high energy, information filled experience to better position you, your team and organization for greater results. Participants will walk away with practical strategies to transform their organizations from the top down!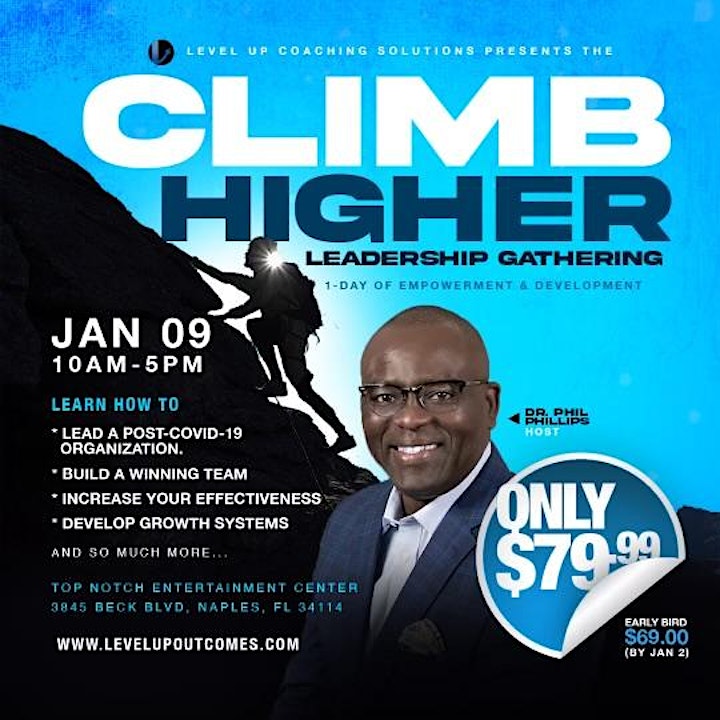 Organizer of CLIMB HIGHER LEADERSHIP GATHERING
WE'RE ADDING VALUE TO OTHERS DAILY
Level Up Coaching Solutions is a partner and resource for leaders to help them succeed through coaching and consulting services. Everything starts and ends with leadership, and we collaborate with you to sharpen and grow those skills. Level Up positions businesses and organizations to conquer their paths to advancement through motivational encounters, actionable strategies, enhanced organizational development, and results-focused leadership coaching.
Let us meet you where you're at. We will listen to and reflect on your story and conduct a resource inventory to assess needs and weaknesses. Then, we'll work together to develop personal and business growth plans built on achievable personal, financial, and strategic goals to measure your wins. Level Up provides gentle pressure, experiential knowledge, and invaluable resources to guide you in a direction of health and triumph. Our proven methods have resulted in success time and time again