Description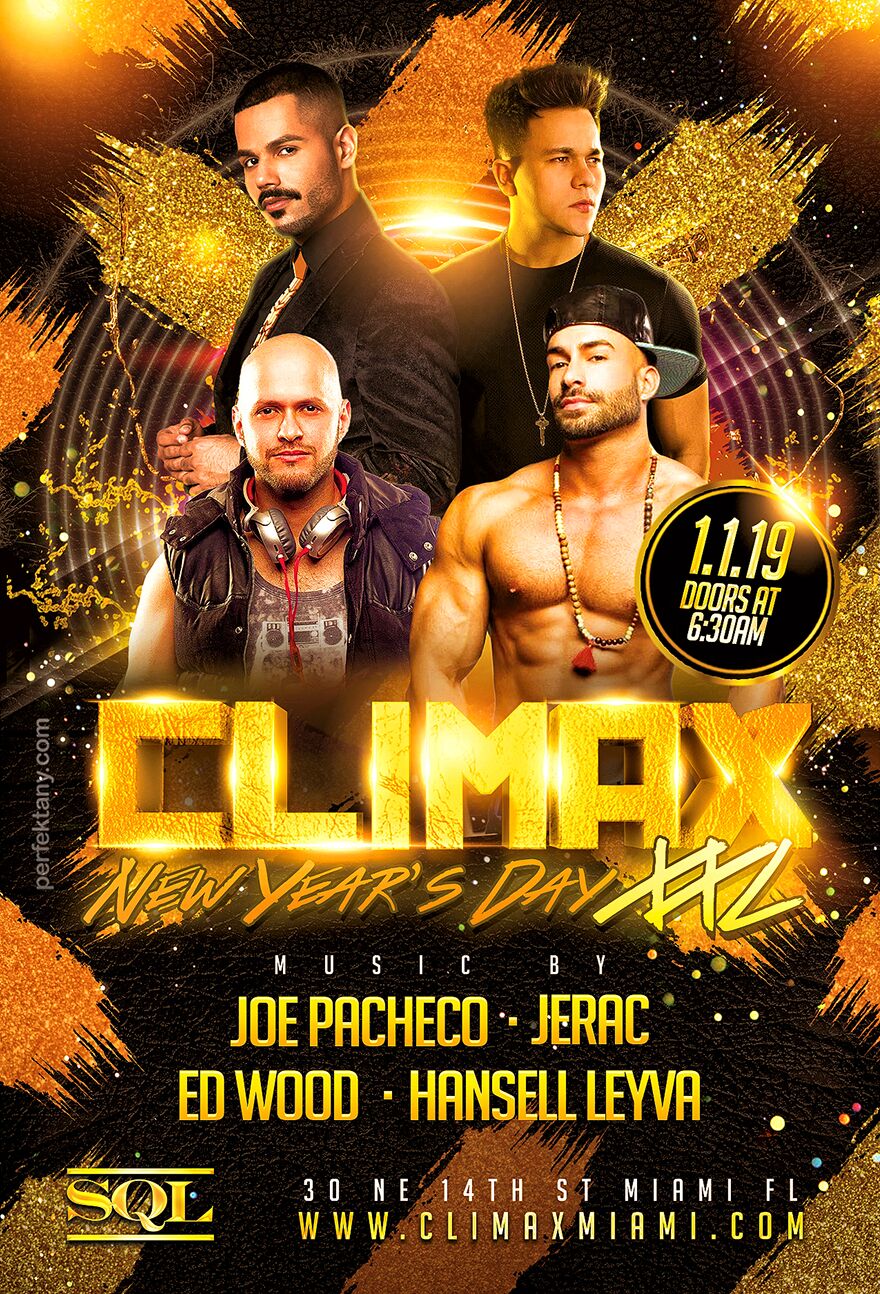 NEW YEARS DAY IN THE MORNING!!
WE'RE GOING SUNUP TO SUNDOWN ALL DAY LONG!!! XXL!
CLIMAX is BACK with XXL Edition! New Large Venue, with state of the art patio and garden area, several rooms and lounge areas and 4 CIRCUIT DJ's for your all day extravaganza!
XXL - SPACE
XXL - SOUND
XXL - LIGHTS
XXL - DJ LINE UP! 4 Circuit DJ's!
INCLUDING ALL PAST CLIMAX DJ's
JOE PACHECO - NYC
HANSELL LEYVA - MIAMI
ED WOOD - PUERTO RICO
and CLIMAX RESIDENT - DJ JERAC - COLOMBIA
DOORS OPEN at 6:30AM Immediately following URGE Day One
Limited Early Bird Tickets SOLD OUT
INFORMATION REGARDING CLIMAX BLACK CARD 2019
VIP SINGLE ENTRY TO ALL CLIMAX, CLIMAX TRIBAL and XXL events in 2019, Including New Year's Day I Hydro Festival Puerto Rico I Winter Party I Miami Pride I July 4th I Labor Day I Massive/Circuit Miami and MORE!! BLACK will feature your name on the card and will work in MIAMI and ANY city there is a CLIMAX Party! Hate to wait in line? BLACK will grant you EXPRESS no line - no waiting entry for each event. Just show your card to security and they will escort you right to ENTRANCE of the party! (Miami) CLIMAX Black Card 2019 Pass Dates Valid 1.1.19-12.31.19 Black Card members will also recieve discounts for guests in their party.
*** Plus Black Card Members get the exclusive Black on Black VIP CLIMAX HAT included in the membership! (Not Included in Early Bird Pricing)
**LIMITED TO JUST 25 VIP BLACK CARD MEMBERS**
I Name on card must match ID for entry I Non Transferrable I *Replaceable
*If card is ever lost or stolen, we will replace your card and the old card will be deactivated.
SAVE $50 Now Over Door Price!!